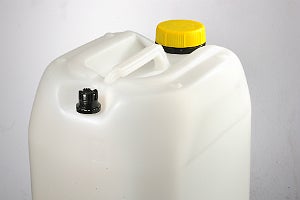 BERICAP, one of the global leading producers of plastic closures, has been presenting its products for many years at FachPack and will again be present at the event in 2013.
BERICAP's closure knowledge is based on the needs of various markets, such as food and beverages, supplying closures to multinational players for the beverage, sauces, dressings and edible oil industries.
Non-food market experience is justified with a leading supply base in markets such as closures for metal containers, special closure applications for the automotive industry and finally with closure's supplied to globally-leading companies in the chemical and detergents industries.
With several R&D centres around the world, BERICAP is committed to innovation in plastic closures for its customers' success.
BERICAP will present closures for the food and non-food industry with a special focus on closures for the chemical / agro-chemical industry, for the automotive industry, sauces, dressings and edible oil producers.
Perfect extension to existing BERICAP DIN-closure family
The development of BERICAP's DIN-closure family for plastic containers, which has taken place in the last few years, has convinced the market and is a success story.
With its standard closure sizes DIN 42, DIN 45, DIN 51/55 and DIN 60, BERICAP covers more than 80% of the closure sizes applied by the container industry.
All BERICAP DIN closures are made according to corresponding UN-Hazardous Goods approvals and can be equipped – child-resistant variants of DIN 45 and DIN 60 included – according to customer specifications with either venting membranes and / or an ANTI-Glug pouring devices.
To guarantee product safety and quality, the closures are assembled fully automated, process-controlled and made with the latest technology assembly machines.
SK 42/21 SFB
Another new closure to complete the BERICAP range of DIN closures is the SK 42/21 SFB. This closure, with a new slitted band, is available in two different sealing versions: SK 42/21 SFB MK – with a bore sealing system for lightweight containers, for non-UN containers and the SK 42/21 SFB MDS – with a foamed PE liner for all containers which require UN approval.
As a big advantage the TE-band will remain on the bottle.
The SK 42/21 SFB's main purpose will be for use with automotive / windshield / anti-freeze-products, detergents for professional cleaning, liquids for the health care sector and liquids for the food industry.
Venting cap – BV 21/24 MAB MDR provides better and safer pouring
BERICAP has proven to be a solution provider for the chemical industry and is committed to supporting its customers by developing adequate closure systems.
To provide safer and better pouring out of canisters, the blow-moulding industry was asking for a solution. To support constant and safe pouring, BERICAP recently developed the venting cap – BV 21/24 MAB MDR.
This system has been developed for UN-approved containers and is mainly used in the AGRO, chemical and the lube-oil business.
Closures for the agrochemical industry: protection against product piracy
Product piracy and forgery of filled products is a serious problem when it comes to chemical products for the agricultural sector.
BERICAP has developed a comprehensive range of closures for the agrochemical industry to protect such sensitive filling processes from counterfeiting and manipulation.
All closures have folded and slit guarantee bands which are hard to manipulate and tear once the closure has been opened. Further protection is afforded by using customer-specific designs and attaching a safety label over the guarantee band.
BERICAP will be introducing an appropriate range of closure solutions.
As an option, BERICAP also supplies canister handles to agrochemicals fillers so containers can be safely handled.
BERICAP presents necks for use with edible oil
Based on its experience with closures for bottling, BERICAP sped up development of lightweight closures, particularly in connection with a bottle neck reduced in weight, and developed a series of edible oil closures in one-piece and two-piece versions with differing equipment features for bottle neck diameters of 26mm.
In 2010, a well-known international edible oil producer converted its 29/21 neck to the 26/21 neck and has since saved significant amounts of resin and therefore costs.
There are smaller edible oil bottling companies on the market which may have problems switching easily to special lightweight necks for edible oil bottles.
Also, some companies producing different product categories, such as beverages and food edible oil, would look for opportunities to rationalise their bottle portfolio and bundle their pre-form purchase power by concentrating on one neck size.
Last but not least special lightweight necks, such as 26/21 or 29/21, may simply not be available locally and would need to be imported.
For such cases it is an advantage to use pre-forms, which are available from multiple suppliers at competitive prices and which are available locally. The PCO 1881 neck is a lightweight neck, which is available in many countries around the world.
For supporting companies working in different product categories or edible oil bottlers that prefer a widely-available bottle neck, BERICAP has developed the EV 28/26, a press-on closure suiting the lightweight bottle neck PCO 1881.
The EV 28/26 snap-on closure is equipped with a screw closure to open the bottle and content is protected with a membrane as a tamper-evidence feature.
As a standard feature, the screw cap is designed with a special drip-less function to avoid spillage of the closure and bottle after pouring, and can be supplied with or without a flow regulator.
Typically the EV 28/26 can be used, besides edible oil, for products such as sauces, dressing and syrups etc. Other closures for standardised necks are in the trial phase.
New features for aseptic filling: DoubleSeal™ 33mm offers cost savings
As part of the cost-saving and CO2-minimisation process, BERICAP developed a 33mm closure as an alternative to the commonly used 38mm closure.
Fillers who switch from the 38mm closure size to the 33mm size profit from reduced costs, due to a weight saving of about 30% for the closure and neck.
Bottles with the new 33mm closure differ in terms of their appearance on the shelf from the conventional beverage products with large closures, thus contributing towards a marked visual product differentiation.
Compared to the 38mm bottle used to date, the consumer enjoys a more pleasant drinking experience thanks to the narrower bottleneck.
The 33mm closure that is based on the BERICAP DoubleSeal™ has a folded and slit safety band that breaks the first time the bottle is opened. It can also be used on all conventional aseptic systems with dry or wet sterilisation.
At FachPack BERICAP will present a new version of the 33mm aseptic closure that is slightly higher as an alternative for these bottlers, who like to have a closure that is small in diameter but offers a better grip to open the bottle (consumer convenience).
Dispensing valve from BERICAP
BERICAP has acquired the assets and technology to manufacture a dispensing valve.
Called BericapValve, the dispensing valve is bi-injected to offer superior tightness. The BericapValve is manufactured from TPE material, thereby avoiding contamination of the PET recycling stream.
The BericapValve has been on the market for several years and performs to the satisfaction of consumers, thanks to its soft dispensing start and superior tightness.
To ensure user-friendly dispensing for various products and viscosities, BERICAP offers different degrees of valve hardness.
BericapValve is currently used for applications such as ketchups, chocolate sauces, products containing pieces, body care products and is also in the pharmaceutical industry.
BERICAP offers a wide range of standard design hinge closures for insertion of the BericapValve. BERICAP also has the resources to develop customised closures for BericapValve applications.
Recycling-friendly TPE valves are also suitable for the beverage market. BERICAP will present valve solutions for sports closures in the near future.