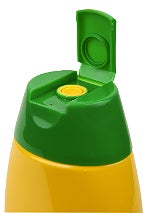 BERICAP has acquired the assets and technology to manufacture a dispensing valve.
Called BeriValve, the dispensing valve is bi-injected to offer superior tightness.
The BeriValve is manufactured from TPE material, thereby avoiding contamination of the PET recycling stream, a phenomenon known from competing valve solutions made of silicone.
The BeriValve has been on the market for several years and performs to the satisfaction of consumers, thanks to its soft dispensing start and superior tightness.
To ensure good, user-friendly dispensing for various products and viscosities, BERICAP offers different degrees of valve hardness.
BeriValve is currently used for numerous applications, such as ketchups, chocolate sauces and body care products, and is also used in the pharmaceutical industry.
BeriValve can be used with all viscous products and even for the dispensing of viscous products containing pieces.
BERICAP offers a wide range of standard design hinge closures for insertion of the BeriValve. BERICAP also has the resources to develop customised closures for BeriValve applications.