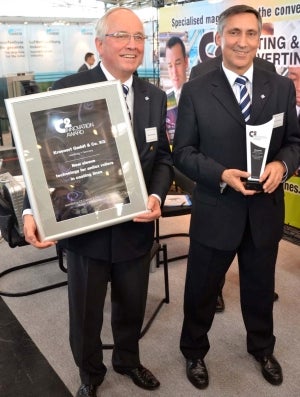 The coveted C2 Innovation Award, an internationally recognised prize for innovation in the converting industry, was awarded at ICE Munich this year. More than 40 companies from around the world submitted their concepts in competition for the award, and waited in anticipation for the international jury's decision.
Prizes were awarded for the five most innovative products, processes and technologies in the processing of paper, film and foil in 2011.
The award, presented for the pioneering development of the new gravure sleeve technology for coating and laminating equipment, was accepted on behalf of Kroenert with great pride by Dr. Tarik Vardag and Michael Schmalz. This technology not only saves time and reduces costs, but also improves working conditions in the coating processes of the systems.
Sleeve technology has been standard in coating applicators for pressure rollers for some time. When coating width changes are necessary, sleeve changes can be performed in minutes by one person. However, changes in coating compounds are more problematic. Usually the entire screen or gravure roll has to be changed to accommodate the change in material – a process which can take two people at least an hour, while the machine stands still. In addition, because of the heavy weight of the components, a lifting crane and conveying system are mandatory.
The continuation of these circumstances could no longer be accepted at Kroenert. Consequently tests and experiments, based on the experience of the company with its trolley technology for screen roll changes, were conducted at the technology centre in Hamburg.
The results have been truly impressive; our engineers have been able to develop sleeves which are only 10% of the weight of gravure rolls without losing the flexibility of the screen rolls previously in use. The diameters of 250mm or 300mm permit working widths of more than 2,000mm web width. The direction of rotation of the gravure roll to the web can vary between reverse and standby at relative web speeds. Various designs are used, from hexagonal to hachure. The gravure roll sleeve technology works with both fixed coating head designs as well as trolley versions, and can be fitted or removed, without tools, by one person.
The advantages are clear: the significant reduction in set-up times and the improvement in plant running times reduce costs. The decrease in weight simplifies the logistics of transport and storage of the gravure roll sleeves. It also facilitates the handling of the gravure rolls, improving the working conditions of the operator considerably. Technical compromises and changes in work processes caused by exchanging the gravure rolls are something of the past.
If you are interested in our gravure roll sleeve technology please contact Michael Schmalz at michael.schmalz@kroenert.de or on +49 40 853 93 160.