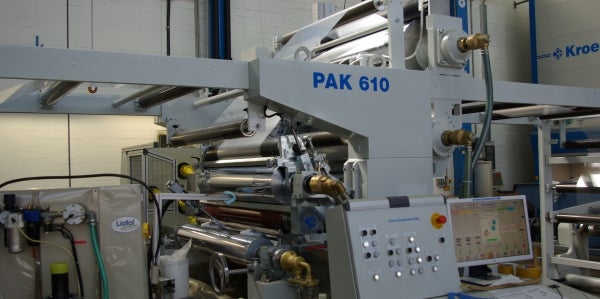 For decades, the PAK series by Kroenert has been the benchmark in the domain of wax and hotmelt coating for flexible packaging. Its multifunctionality, thanks to variable laminating techniques, sets the PAK apart from the industrial standard.
The basic configuration is available in different variations, depending on requirements, for example:
Anilox/gravure roll coating (hotmelt) in register
Aluminium stripe laminating for candy wrappers
Moisturisation
Sleeve technology for the counter-pressure/backing roll
Turret winder
Coating of high-viscosity hotmelts from the nip
The combination of high-precision gravure coating technology and the special PAK lever settings establish ideal conditions for the processing of high-viscosity media. What could be more logical than to develop PAK applications in this direction?
In partnership with Henkel, solvent-free lamination was tested on the PAK 610 at the Kroenert Technology Center. The material tested was the LA 7785/LA 6025-23 adhesive, one of Henkel's most successful products.
The PAK 610 roller sequence is well-suited to the processing of high-viscosity hotmelts through the nip. Thanks to the PAK 610 lever settings the necessary initiation pressures in the stretching process can be individually adapted. By process control through the top box, spraying and changes in viscosity caused by temperature changes are excluded.
The trials were successful from the start. Coating weights of approximately 2.0g/m2 were evenly applied at a velocity of 300m/min and correctly laminated on the chill roll. The bond was created without any problems and meets all market requirements.
Alll Kroenert customers will benefit from these new developments with immediate effect. Solvent-free laminating is now a standard item in the PAK 610 portfolio. Existing machines can be retrofitted with additional components, and no costly rebuilding is required.
Interested in solvent-free laminating? Contact Jens Vollpott at jens.vollpott@kroenert.de or on +49 40 853 93 159.