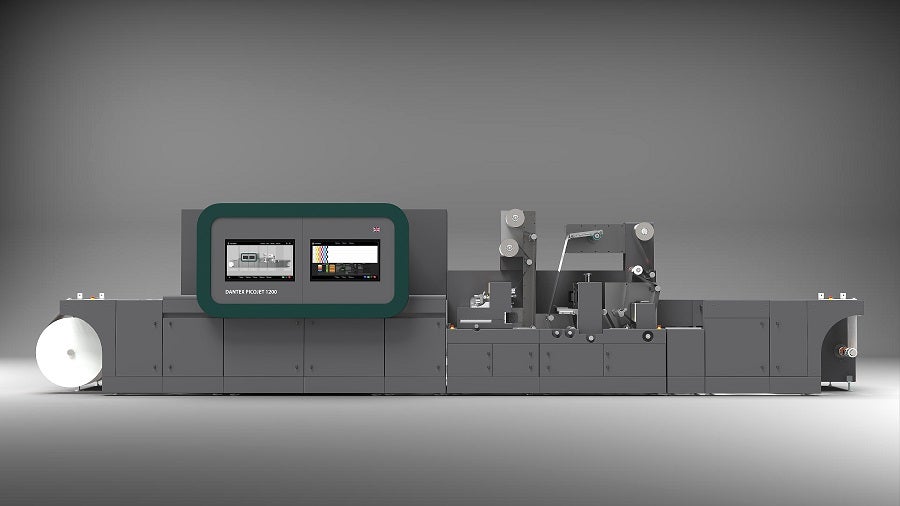 Specialist digital label press manufacturer, Dantex Group, has launched its next generation of Pico UV inkjet digital presses, heralding a new era of technical advancement at the company, and further cementing its reputation as a leading global supplier of printing equipment and consumables.
Representing a breakthrough in digital press technology and design, the impressive new look range, revealed at Labelexpo Americas 2022, offers a multitude of facilities to benefit customers. With four different modular print platforms from entry-level to full hybrid, 8-colour and high-speed models, this new technology takes digital label production to new limits.
Having been in development for the last 2 years, the range includes the robust PicoColour HD 1200, PicoJet 1200, PicoJet 1200i, and the flagship high-speed model, the PicoJet 1200s. Built to the highest quality industry standards, each press is based on a modular design incorporating inline finishing and a new innovative touch screen operating system.
SuperWhite® technology and DecoTactile is included as standard. Superwhite being capable of producing a white ink opacity up to 92% in a single pass, making it the highest opacity inkjet white available on the market, while DecoTactile can create a wide range of high-quality textured embellishments to enhance detail and add vibrancy to print. The presses also offer three new additional colour options of orange, violet and green, extending the colour gamut to more than 96% pantone colours at a Delta E of 3 and below.
Elsewhere, Pico's software capabilities have been strengthened through partnerships with Esko and other industry leaders. Together with Ricoh's next-generation print heads, Pico delivers an outstanding print result at the highest of speeds. Additionally and with environmental concerns high on Dantex's agenda, Pico offers a number of waste reduction features as standard.
Commenting on the new range, Dantex Group CEO, Ben Danon, said: "After several years of unwavering commitment, I am proud to launch this incredible industry-changing solution for the digital label market. Developed in line with our philosophy of always providing the market with the most modern high-tech equipment, Pico will now offer our customers an incredible new experience, whilst ensuring the highest quality results are achieved every time. This defining moment takes us even deeper into digital technology and confirms our ongoing commitment to the digital label industry."
The company's increased presence in the global digital print market has led to the expansion of its digital division, based at a state-of-the-art production and R&D facility in Corby, Northants. Having been serving the label printing industry for over 50 years, Dantex established its digital division in 2015, principally to develop its own range of digital presses, launched under the Pico brand. The Pico range of digital presses, which have recently achieved the internationally recognised Made in Britain accreditation, offers highly productive, affordable label printing for short to long runs, no minimum run quantity, minimal waste and a super-fast turnaround.