HoloGrate is one of the leading hologram companies in the Russian packaging market. The company has been a vendor of tailor-designed flexible packaging foil for brand protection for more than ten years.
HoloGrate's portfolio is used in the authentication and high security printing market worldwide.
The company develops and produces bank note / tax label high security foils, passport lamination foils, hot stamped holograms for plastic cards and travel visa stickers, and authentication hologram stickers for the pharma and automotive industries.
The key aim of HoloGrate's activity is to create a unique, for-customer-made anti-counterfeiting solution.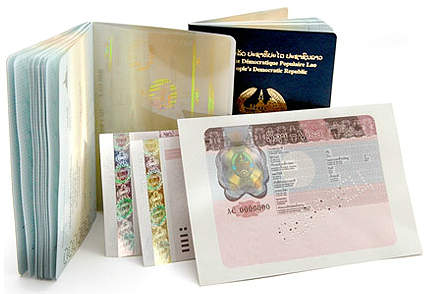 Holographic high security foils for bank notes and documents.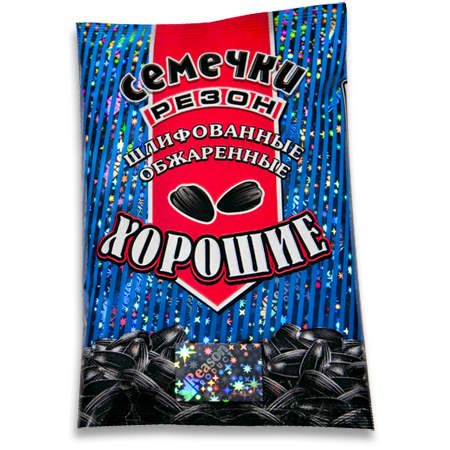 BOPP films for flexible packaging.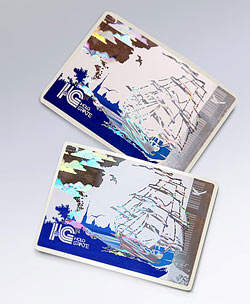 Authentication cold foil for flexo printed labeling.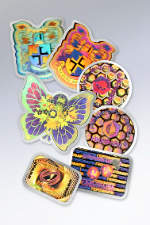 Tamper-evident security labels, tapes and seals.
Brand protection BOPP films for flexible packaging
Biaxially-oriented polypropylene (BOPP) film is one of the most popular materials within the packaging industry.
Brightly-coloured overprinted flexible packs and bags, both big and small, fill up boards in supermarkets for everything from dry breakfasts to washing detergents. That is a large variety of brands and trademarks. All merchandise specialists know very well the importance of fixing potential customers' eyes on a targeted product. Now there is a solution.
HoloGrate's team transforms transparent BOPP to rainbow coloured film, which gives a chance to win the sight-fight and create sharper-effect hologram BOPP foil covers with aluminium.
All foil can be overprinted with a wide range of print technologies: flexo, silk or gravure prints. To avoid contact with inks and protect the hologram, the BOPP foil is laminated with other foils, such as BOPP, PE or PET.
Logo hologram BOPP for laminated carton boxes
A wide range of products, from food to pharmaceuticals and automotive spare parts, are packed into overprinted carton boxes. To protect from moisture and other agents such as oxygen, a lot of printers use lamination with polymer foil. One of the most useful foils is BOPP.
HoloGrate offers BOPP foil for carton lamination with specially-designed holographic effects, including customer logos with 3D and kinetic effects. The company's engineers and artists create all images in collaboration with graphic designers to enable maximum attraction.
Holographic images on packs add an anti-counterfeiting feature and show customers that this product is safe and not fake.
Authentication cold foil for flexo printed labeling
Graphic and holographic hot stamping foils are used widely for decorative paper and polymer-based pressure-sensitive labels. The alternative cold foil uses more progressive dieless technology for creating pressure-sensitive labels. HoloGrate specialises in holographic cold foils with tailored art images.
Tamper-evident security labels, tapes and seals
Tamper-evident labels and sealing stickers are very useful media to protect boxes, envelopes and cases. HoloGrate adds security features based on holographic technology to a wide range labels and seals. All adhesives are specially adjusted for surface variety.
High security foils for documents
HoloGrate is an experienced company in the high security printing industry, supplying holographic foils for tax stamp labels, visa stickers and banknote applications.