AirTAC manufactures pneumatic actuators, control components, air preparation products, and related accessories.
The company's products are widely used in the packaging, industrial, electronics, environmental protection, lighting, textiles and medical equipment industries.
Filter and Dripleg units, regulators and pressure gauges for air preparation applications
AirTAC's G Series metallic bowls are radiation-proof and durable, suitable for outdoor and rugged environments. They is easy-to-install in most instances.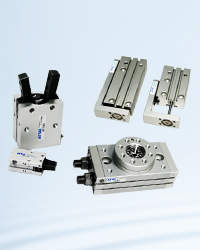 AirTAC's pneumatic actuators vary in size and configuration to suit a wide range of applications.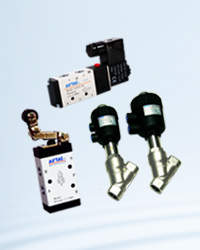 AirTAC specialises in fluid control valves, actuators and air preparation equipment.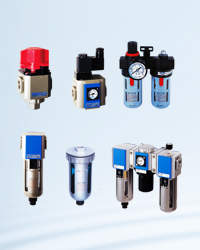 The company's air preparation range includes regulators, pressure gauges and drainage units.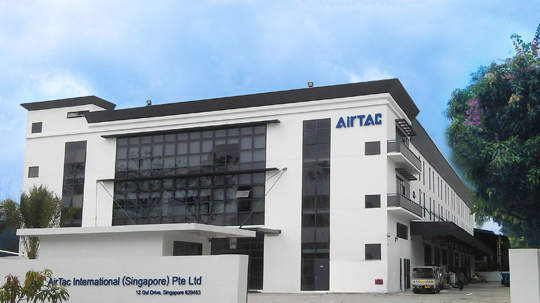 A Taiwan public listed company (1590:TW) based in China and Taiwan with offices in Singapore, Italy, Japan, Malaysia and Thailand.
ADW Dripleg drains are housed in a steel case. Their low position and double strainer enables a more stable drain procedure. The large-sized drainage bowl stores a certain amount of water, which reduces discharging time, extends service-life and cuts rust and dirt.
AirTAC's regulators feature self-locking mechanisms, panel / bracket installation options, and are compatible with broad range of regulating pressures.
The company's pressure gauges are sensitive and work under low-pressure. There is a wide range of models available, featuring various installation methods, accessories and screw thread dimensions.
Filter and Filter/Regulator units effectively remove sold particles and liquid to ensure a clean downstream air supply.
Fluid control and solenoid valves
AirTAC supplies a wide array of valves for fluid control applications.
Its 2/2 way solenoid fluid control valves are small and lightweight, making them easy to install and dismantle. Featuring various body materials: Nylon 66, brass & stainless steel, with heat-resistance Class B & Class H coils and seals are available in nitrile rubber (NBR) or Viton® or Teflon, for wide range of applications. The valve coil has an IP65 protection class and a grommet electrical entry.
AirTAC's 3/2-way, direct-acting, normally closed valves are flexible in direction flow. They feature a coaxial blanking mode structure, which helps stop leakages and large air-flow. There are affiliated manual devices are equipped to facilitation installation and debugging. Normally closed and open types, as well as several standard voltage grades are optional.
The company's non-return valves feature a wide range of port sizes, starting from 1/8in to 1in. They allow the fluid to flow only in one direction and prevent backflow from the sudden drop in pressure or decrease in air consumption. The unit features a polyacetal (POM) spool, a rubber-sealed valve core and a compact structure.
AirTAC's ASC flow control valve has a small and compact structure, and is designed to allow air to exhaust and cut-off air flow. The adjustment screw is both sensitive and precise. The ASC valve can be mounted in various positions to facilitate installation and application.
The 4V series 3/2, 5/2 and 5/3 way valves with manifolds meet most quality solenoid valve applications with value proposition.
Actuator cylinders
AirTAC supplies a wide range of pneumatic actuators and cylinders, which are available in different configurations to specifically suit the client's installation.
The NPM Series boosting unclamping cylinder is composed of special sealing materials that prevent leakages. The special surface treatment on the inner cylinder wall can enhance resistance to wear and corrosion.
The company's ISO 15552 (original ISO6431) cylinders' piston seal is composed of two cup seals, which has a compensation function, long service-life and low start-up pressure. The SGC series of cylinders are made of aluminum barrel, and the buffer adjustment is smooth and steady. The seal material has high-temperatures resistant option, which designed to maintain operations at 150°C.
AirTAC's mini cylinders are designed in accordance with ISO6432, and their stainless-steel piston rod and cylinder body ensures corrosion protection. The front and back covers have an attached bumper pad, which can reduce the impact of direction-change, and the selection of available back cover modes enables easy installation.
AirTAC's pen-style mini cylinder features a lightweight, compact and small volume structure, which can be either front-mounted or nose and rear-mounted. The stainless-steel barrel & piston rod is highly accurate and adapts the cylinder for general corrosive working environments without the use of additional lubricant. It has small cylinder diameter (from ø4 to ø16mm) and quick reaction, making it suitable for environments with higher frequencies.
About AirTAC
AirTAC International Group has an extensive sales network, including ten offices and 62 branches in mainland China, as well as hundreds of worldwide distributors in Europe, America, Asia and Africa.
Approximately 90% of material and parts is produced in-house in order to supply clients with superior products with short lead times and cost-effectivity.