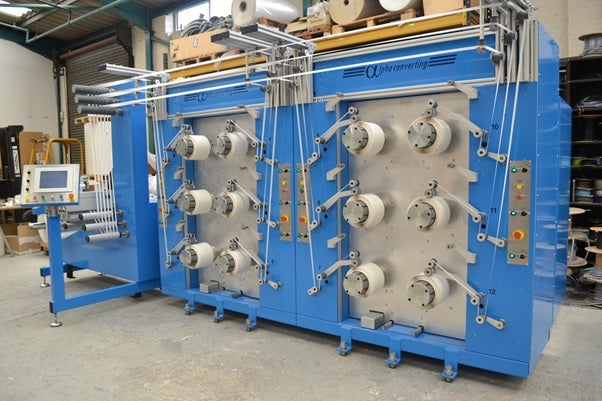 Alpha Converting's new ALPHASPOOL-6 modular spooling system has six spooling heads working together on a common traversing platform, providing an economical spooling solution for multi-head slitting and spooling machines.
Typical tape widths are from 3 to 30 mm, with spool sizes up to 300mm wide by 400mm diameter.
"Starting at six heads, spooling modules can be added at any time – most customers are expected to buy 12 to 24 spooling stations, with the layout for each machine individually optimised for the customer," says Trevor Pimm, Alpha Converting's sales manager.
"To make the ALPHASPOOL-6 particularly versatile, narrow width slitting systems are available with razor blades, shear cutting or crush cutting according to the materials," he added.
"This modular knife arrangement means the slitting system can be easily changed to give the best slitting results. Precision slitting systems are available with tape width accuracy of better than 0.1mm."
The computerised system for setting the slitting and spooling patterns is easy to use, with instant recall through a recipe-driven system of standard jobs.
"The operator interface is similar to all the other spoolers in the ALPHASPOOL range, making it easy for customers as they move from single station spoolers, often used for limited production or market testing, through to high capacity multi-station spoolers," says Pimm.
The first ALPHASPOOL-6 has been installed at PAL Adhesive Products, Wednesbury, UK and configured to wind PAL's pressure sensitive finger lift tapes. Neil McLean, PAL's sales manager for spooled products, commented "I am absolutely delighted with the quality of the spools from our new ALPHASPOOL-6; this is going to make my job very much easier"
The ALPHASPOOL-6 complements a large family of ALPHASPOOL winders, both single station, for converting pancake to spools, and large multi-station units. The ALPHASPOOL-L is the largest spooler and is typically used for nonwovens, with spools of up to 1,200mm diameter by 1,000mm wide, while the standard ALPHASPOOL will spool diameters of 600mm or 800mm.