FROMM
Unitising and Palletising Systems

Address
(Stretch Wrapping Division),
Via del Lavoro 21,
37013 Caprino Veronese (Verona),
Other,
Italy
Phone
The FROMM Group designs, develops and produces a wide variety of systems for unitising and palletising goods for transport: strapping machines and systems, pallet stretch wrapping machines, and the patented Airpad pillow system, together with all necessary consumables.
Semi-automatic and automatic stretch wrapping machines
The stretch-machines business unit is responsible for the marketing, production, sales and after-sales of the FROMM wrapping machines. A complete range of machines can be offered, from semi-automatic budget FS1 'CENTO' with low pre-stretch, to the famous FS4xx with 400% two-motor pre-stretch unit. Self-propelling robots, orbital and fully automatic wrapping machines are also included in the complete package which FROMM can offer.
Plastic strapping tools
In addition to the conventional systems for steel strapping, FROMM has developed equipment for polyester strapping. This new type of strapping is flexible, absorbing shock impact during shipping, loading and unloading more effectively than steel strapping.
Protective packaging and void-filling material
Product protection and void-filling with air, the compact, portable and easy-to-use Airpad machine produces protective packaging and void-filling material at the touch of a button. No operator is required.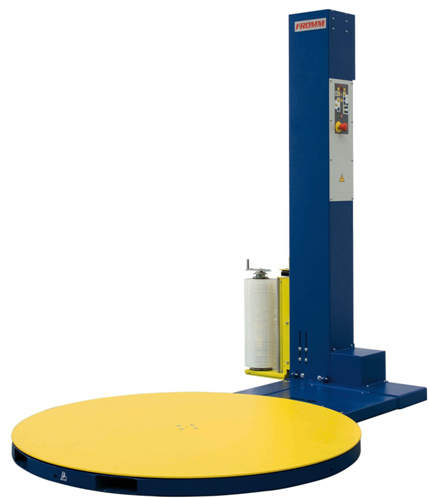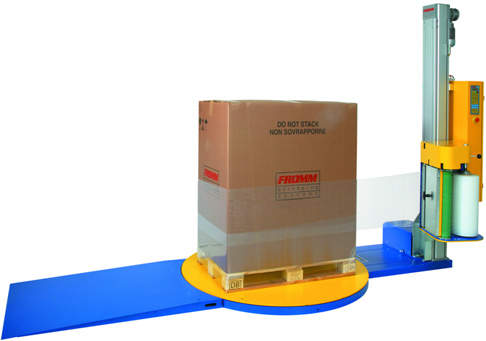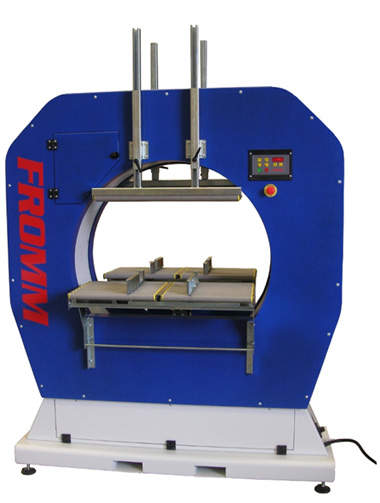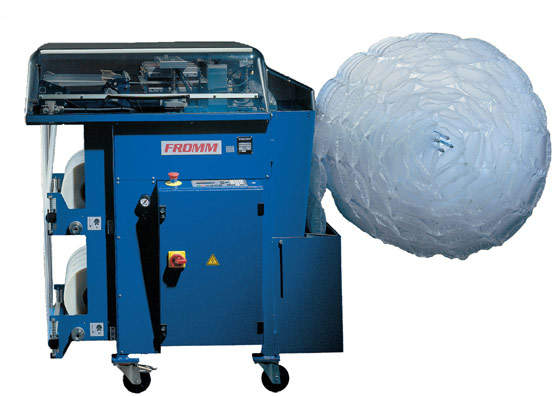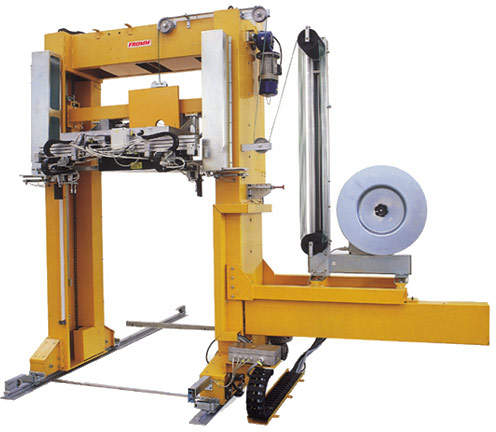 Automatic and semi-automatic strapping machines
FROMM builds a full range of semi- and fully automatic strapping systems for integration into production lines. The machines are available for various industries and applications. Each system is custom built, meeting the exact packaging requirements for the respective industry and application.
Production centres for polyester plastic strapping and multilayer blown films
STARstrap™ plastic strappings are produced in the FROMM production centres exclusively from recycled polyester bottle material on a modern, state-of-the-art extrusion plant. These bands guarantee the high quality of the strapping carried out with FROMM machines and equipment.
All kinds of film types for the Airpad pillow material are produced on blown film extrusion machines. Special film types guarantee a high loading capacity of the individual pillow elements. The plants are certified in accordance with ISO 9001 and ISO 14000.
We have production plants in Germany, Chile and Thailand to serve customers all around the world.
PET recycling
Produced in the FROMM recycling plant from used PET bottles is high-grade ground material, agglomerates and regranulates for the production of PET strapping, foodstuff films, textiles and drink bottles. This enables FROMM PET products to satisfy the most rigorous ecological requirements. The plant is certified in accordance with ISO 9001 and ISO 14001.
Development centres
In the FROMM development centres in Achern, Germany, and Verona, Italy, long-established and experienced teams of engineers are constantly developing new techniques and products using the very latest 3D CAD systems. Up-to-date test procedures guarantee the high FROMM quality standards.
Production centres for machines and equipment
Production takes place round the clock in the FROMM production centres. Highly qualified teams of specialists manufacture FROMM products satisfying the highest demands of quality on computer-controlled machines. All machines are tested before leaving the factory. The company has ISO 9001 certification.
About FROMM
Established in 1947, the Swiss family business generates a turnover in excess of €155m and employs a workforce of around 800 worldwide. Over 30 subsidiaries in Europe, North and South America, South Africa and Asia, along with a multitude of specialised sales partners throughout the world ensure – in your vicinity – professional advice, prompt customer service and maintenance.
The company pursues a policy of logical vertical integration while upholding traditional values such as proximity to customers, quality consciousness, continuity, independence and environmental awareness, which are the reasons for decades of success.
FROMM Italiana S.r.l.
(Stretch Wrapping Division)
Via del Lavoro 21
37013 Caprino Veronese (Verona)
Other
Italy



Telephone Number




Fax Number




Email Address