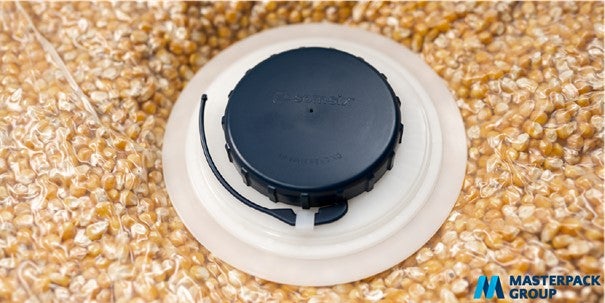 We're continuously improving our existing products and are also developing new ones to better fit your needs. And after years of hard work in close cooperation with Somsix, it's time to present the latest addition to our product line: the new MA Valve 125.
What does the MA Valve 125 do for your production process?
Before we dive into some of the features and design of the MA Valve 125, let's look at some of the practical benefits our new valve will give you.
Shorter process times
Thanks to the large surface and construction design, we've established 40% shorter process times. For example, bags with corn can now be filled in three minutes instead of five.
More space for bags
Due to its super flat design, the valve can be easily integrated into the production of the FIBC and up to 25% more empty bags can be stacked on a pallet in comparison to bags with filter tubes.
Safer than traditional valves
This also minimises the risk of contamination simply because there is less exposure time, and it helps keep the liner intact.
Additionally, the new MA valve allows you to measure through the soft TPE membrane. This makes the process more secure than traditional needle measurements, where the needle gets in direct contact with the product, increases the risk of contamination and damages the liner.
Ready for high pressures
In addition, the new MA Valve is suitable for high pressures and there is less risk of filter damage during packaging or transport compared to filter tubes.
Low oxygen levels maintained
We've had excellent results using this valve, keeping the atmosphere in bags under one percent rest-oxygen levels.
Other benefits of the Ma Valve 125
Easy to use: Our new MA valve can easily be opened and closed by hand, with a simple 90-degree turn.
Hermetic seal: Its double ring and soft TPE give you the security of a hermetic seal.
Smart design: The valve can be easily connected to the vacuum head.
Ready to upgrade your Modified Atmosphere Packaging?
Go to the Masterpack Group website and talk to our experts to find out how solutions like the MA Valve 125 can optimise your production process.