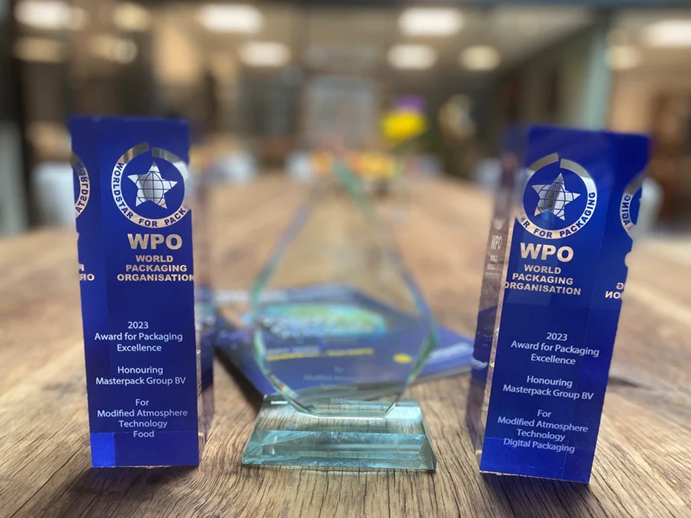 We're happy to inform you that we have won the Bronze WorldStar Packaging Awards 2023 that Saves Food Special Award with our 'Modified Atmosphere Technology' solution. Managing director Tim de Winter and Business Development manager of our sister company Somsix Ewoud Overduin have received the Bronze Award in Düsseldorf (Germany).
Modified atmosphere technology
A core challenge to the packaging world is to keep track of what we are doing: where and when the process of packaging takes place, as well as the consumption and disposal of the emptied packs. This innovation embarks on using ICT and the appropriate packaging materials, dramatically lowering food waste and possibly also improving responsible Collect-Control and Backend-processing in the world's supply chains.
High-quality foodstuffs maintain their quality longest under extremely low oxygen levels. Our FIBC extends the shelf life from months to years. The innovation consists of a connection 'MA Valve' that is sealed into an airtight inner bag. The Sensor Valve can be attached to this connection, monitoring oxygen, temperature and humidity.
Previously, the oxygen level was measured with a needle. This required a lot of manual work and brought with it a high risk of contamination because the new liner pricked directly into the product. With our new connection and sensor, measurements are done continuously without having to puncture the FIBC.
About the competition
Since 1970, the World Packaging Organisation has been organizing WorldStar awards and providing awards to numerous packs from all around the world. The WorldStar Competition is one of the major events of the World Packaging Organisation (WPO) and is the pre-eminent global award in packaging. WordStar illustrates the continual advancement of the state of packaging design and technology and creates a living standard of international packaging excellence from which others may learn.  Each year WPO is recognising the best of the best in packaging innovations from across the globe. The objective of WPO in organising WorldStar is to increase awareness of the importance of packaging in having a better life and to recognize the innovation and efforts of brand owners, designers, students and branding agencies for creating packaging solutions of the future and in responding to new challenges and global trends such as sustainability, hygiene and other trends.