Multipack is a leader in flow wrap technology, specialising in handling and wrapping biscuits and cookies, bakery products, chocolates and cereal bars, and instant noodles among high-volume food categories, as well as soap and detergent bars, mosquito repellent coils and sanitary products among other high-volume consumer product categories, all of which require product handling experience and solutions that offer high efficiency at the optimal total cost of ownership.
With over 2,700 installations operating in 24 countries, wrapping some of the most trusted national and international brands (such as Parle G, Britannia NutriChoice, ITC Sunfeast, Nestle's Maggi Noodles and Oreo) of food and consumer products, Multipack has earned the confidence of 173 customers.
We offer customised solutions with integrated lines and enhanced automation at an economical cost with short lead times.
Our range of equipment includes: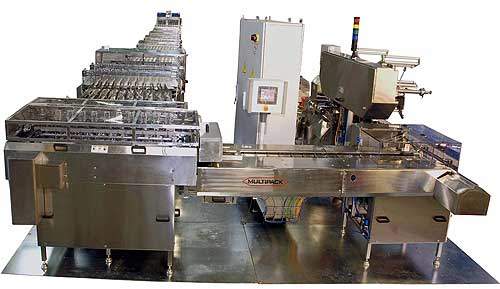 Biscuit autofeeding system developed for large ovens and small portion packs, 50 slugs per lane. Flexibility to change distribution of lanes between flow wrappers.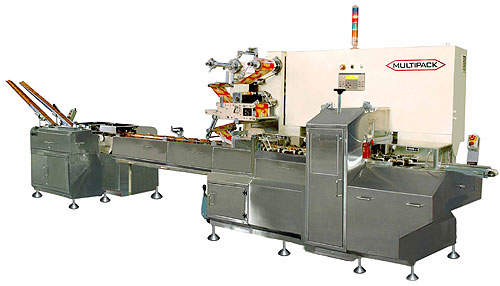 Flow wrapper for direct biscuit on-edge packing 50 GMS to 120 GMS, with twin magazine feeding system - an excellent solution for packing a wide variety of biscuits in small portion packs.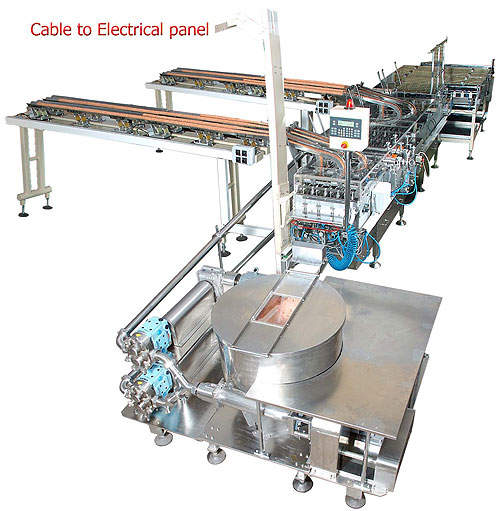 Four-lane cream sandwiching machine with sanitary design, optional facility, dual hopper, dual deposition, individual pumps.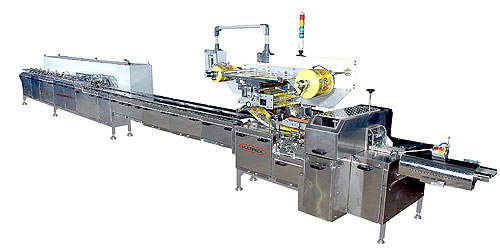 A flow wrap machine with inline feeding system for packaging instant noodles. Speed up to 320PPM.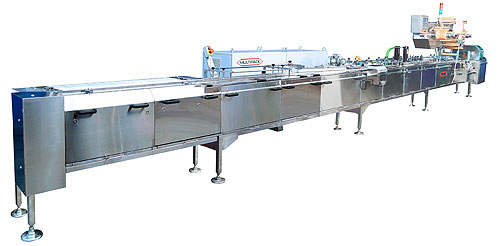 Electronic chocowrap with inline feeding system. Speed up to 800 bars/min. Designed to handle bars with nuts.
Horizontal flow wrap machines for biscuit and cookies
We provide horizontal flow wrap machines for biscuit and cookies:
Slugwrap: to wrap biscuits / cookies on edge; a flexible solution from small slug of 60mm to long slug of 200mm with easy change-over facilities
Miniwrap: to wrap biscuits / cookies from a single pile of two to three biscuits to multiple piles
Jumbowrap: to wrap a large pack of biscuits, cookies, crackers and cream sandwich cookies standing on edge without pre-packing or tray
Overwrap: to wrap secondary packing of Slugwrap or Miniwrap for ease of distribution
Flexible auto feeding system
Our flexible auto feeding system handles a wide variety of biscuits in various shapes, sizes and output formats. It is suited to feeding different volume of biscuits to each slugwrap, miniwrap and jumbowrap to meet market requirements. In addition it can feed multiple flow wrappers for scaling up the line output.
Cream sandwiching machines with auto feeding and integration with flow wrappers
We offer two-lane and four-lane cream sandwiching machines with single or multiple deposition with the possibility of feeding through the cooling tunnel, using a lane multiplier or directly feeding into a slugwrapper or miniwrapper.
Flow wrap machine and integrated line for instant noodles
Having significant experience in handling noodle cakes, our machine has been designed while keeping in mind the typical characteristics of noodle cakes and the requirement of packing multiple sachets with single, double, four or six noodle cakes. We offer a complete range from standalone noodlewrap to an integrated noodlewrap line with hot standby and reversible buffering system.
High-speed flow wrappers for cereal and chocolate bars
Our high-speed flow wrappers for cereal and chocolate bars feature different feeding systems to handle product characteristics, arrival rate and wrapping speed, and row feeding systems with reversible buffer.
Flow wrappers for consumer products
Multipack has in-depth product handling experience for soap bars, detergent cakes, mosquito repellent coils, sanitary products and the like.
Unique experience of packaging and handling of food and consumer products
Multipack has the unique advantage of being in one of the world's largest consumer markets – India – with demanding multiple price point packs, sold through tiny kiosks to mega retail stores in a country which is growing at a phenomenal speed and enterprises that demand high-quality finished products since competition is high in every segment.
This dynamic has allowed Multipack to perfect its applications for products such as biscuits and cookies. Our team has acquired an unparalleled experience in the packaging and handling of biscuits and other high-volume food and consumer products. In addition, given plant conditions in countries such as India, our machines / systems are designed to operate in challenging production environments.
Multipack – the solution provider
Our teams composed of various specialisations ensure that we are able to offer customised solutions. Some of these dedicated teams include:
Design engineers using cutting-edge design software
Automation engineers experienced in the latest in motion control technology
Application and project engineers with hands on experience in setting up projects in the food industry
Our enthusiastic experienced team of engineers and technicians ensure 24/7 customer support all year round and can also provide assistance during the start-up stage.
Multipack is located at Vadodara, 400km north of Mumbai in western India. Our 6,000m² plant located on a 40,000m² site facilitates scalability as well as taking pre-shipment trials of the entire line prior to delivery.