With over 140 years of combined experience, the PAC Machinery Group companies provide flexible package sealing solutions for just about every industry and application.
The PAC Machinery Group companies (Packaging Aids Corporation, Audion Automation, Vertrod and Converting Technology Inc.) manufacture an extensive product line that includes Vertrod impulse sealers, Audion shrink machines and form fill seal machines, Packaging Aids vacuum sealers, MAP tray sealers, baggers and more.
CONSTANT HEAT SEALERS
Though less common in bar sealers, the constant heat system is used when high heat is required to seal films that will not shrink when heat is applied. Constant heat machines are best suited for sealing heavy laminated films and foils. Constant heat sealer products include the TITAN heat sealer, the JR 300, PB, PB-G, PVB and TT300 constant heat sealers.
CONTINUOUS BAND SEALERS
These sealers operate by having the pouch to be sealed conveyed through one or two continuously heated bars. When seal belts are used to do this, these are also know as band sealers. An external conveyor may be added to these units. Products include: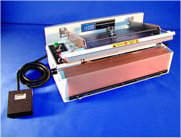 The Titan Electro-Sealer is a small, pedal operated electric sealer that is capable of sealing through many hard-to-seal bag materials.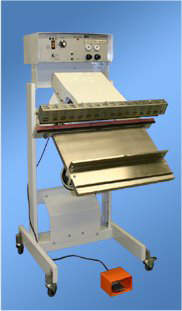 Our PB constant heat sealer is designed for sealing MIL-spec barrier bags, coated paper, film and foil laminates, and other multi-layer materials.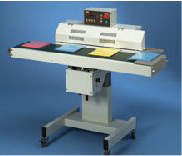 We manufacture a large range of continuous band sealers, such as the 552 continuous horizontal band sealer, for applications requiring speed and convenience.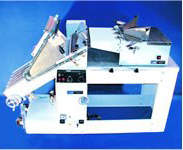 Perfect for low cost operations, our fill and seal machines will speed up production and improve the look of your product.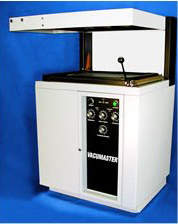 The uniquely efficient Vacumaster skin packaging machine will work with virtually any skin packaging film and board.
552- Audion Model 552 horizontal band sealer
552 MED- validatable horizontal medical sealer
TT550 H
TT550 V
555
CONTIMED 665
CONTIMED 666
FILL AND SEAL MACHINES
PMG's horizontal form, fill, and seal machine (flow wrapper) is ideal for suppliers of products that must be packaged individually. This may include candies and confections, bakery, electronics, hardware, and medical products. Products include: 350T.
HAND HELD SEALERS
We manufacture a broad range of heat sealers. Our hand held heat sealer products include the FUTURA and FUTURA POLY hand sealer, the SUPER CELLO and SUPER POLY, and the VH MANUAL SEALER.
IMPULSE SEALERS
The impulse system has become the most common sealing system in use today on jaw or bar sealers. Its advantages are that it works with a large variety of bag materials, and applies heat only when the jaws are closed. Products include:
MAGNETA
PRONTO
SEALBOY
SEALMASTER
VERTROD VS
VERTROD PS
VERTROD VH-HTV
MAP TRAY SEALERS
Modified Atmosphere Packaging (MAP) typically allows a gas cycle to be introduced either before or after the vacuum cycle. The SLB line provides an economical and efficient method of extending the shelf life and protecting fresh products without the use of a vacuum. Our MAP tray sealers include the SLB 1000 Series, the SLB 1500 Series and the SLB 2000 Series.
ROLLBAG BAGGERS
These machines automatically open a bag and then seal and separate the finished package. Our Titan Rollbag machines work with bag-on-a-roll systems. PMG provides preprinted bags-on-a-roll in any quantity our customers require. Products include:
TITAN 1055
TITAN 555
TITAN 575B
TITAN 1075
TITAN 6500
SHRINK PACKAGING
This method produces a tight, transparent (scratch-safe) overwrap for perfect presentation. It can wrap products together in a tight package and can apply shrink bands for increasing food safety. Shrink packaging products include:
DEMPACK H18
DEMPACK H22
DEMPACK 450
DEMPACK F-AUTO
SERGEANT 160B
SERGEANT 300B
SERGEANT COMBO 115/220
SERGEANT COMBO JUNIOR
SKIN PACKAGING
Our Skin Packaging machine will work with virtually any skin packaging film and board. Loaded with features, these stationary oven machines take about half the floor space of moving ovens.
These Skin packers have no moving parts to wear out and you get precise control in a stationary oven which eliminates the dangers and mechanical failures associated with moving vents or those with heating block devices. Our skin packer products include the Vacumaster series.
VACUUM CHAMBER SEALERS
These vacuum chamber machines are ideal where high vacuum levels are required. They are designed to meet the most demanding requirements of many industries including food processing, medical, hardware and electronics. Vacuum chamber machines can also be used to package products with a modified atmosphere and are available in table top and floor standing models. Products include:
VMS 153
VMS 163
VMS 223
VMS 333
VMS 503
VMS 883
VACUUM / GAS SEALERS
Our line of standard vacuum sealers are among the most efficient and durable. We have a wide range of machines from tabletop to floor standing. Most machines can be equipped with gas flush for Modified Atmosphere Packaging (MAP). In addition, these machines can be built in stainless steel for the food and medical industry. Products include:
COFFEE PAC
COFFEE PAC LITE
ELECTRO PAC
ELECTRO PAC LITE
FRESH PAC
MED VAC
Specialty machines are customized to fit the most difficult sealing applications including explosion proof sealers and sealers for applications where precise vacuum/gas level measurements are needed.