ROFIN is a global leader in developing and manufacturing industrial lasers and laser-based products used in material processing applications. With a variety of CO2, rod, disc, fibre and diode lasers, both pulsed and cw, ROFIN offers the widest and most powerful product range for industrial materials processing. The company combines the benefits of an experienced laser manufacturer with application-specific professional competence.
ROFIN has always developed not only laser sources but also complete turnkey laser systems for most diverse applications. That means 30 years of experience – not only in building lasers but also in application development, laser systems manufacture and the entire range of material processing technologies.
Laser systems for the packaging industry
In the consumer goods industry the quality of the packaging is as decisive as the product itself for the consumer's buying decision. Manufacturers in the food and packaging industry have to meet quite a number of challenges: safe transport and storage, control of freshness, attractive presentation in the shelf, and easy preparation and treatment.
Laser solutions from ROFIN are the answer. They provide selective weakening of individual packaging layers for easy opening or perforating of tiny holes to create a modified atmosphere within the packaging.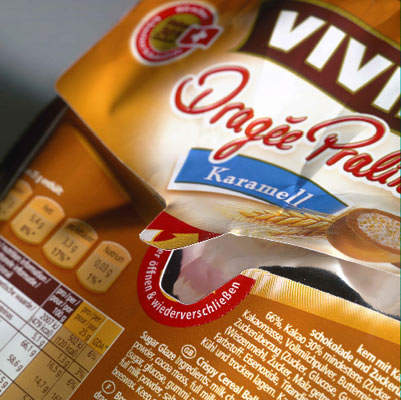 Double-sided laser scribing of reclosable pouches.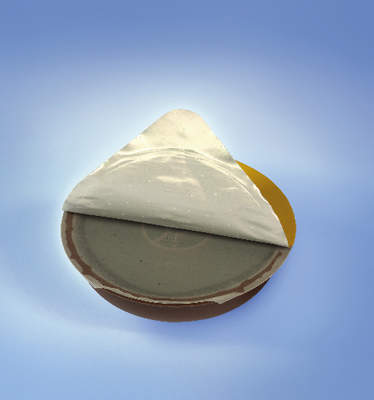 Laser perforation for controlled microwave preparation.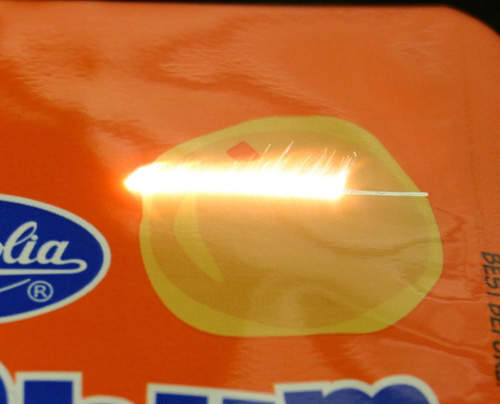 Laser scribing for easy opening.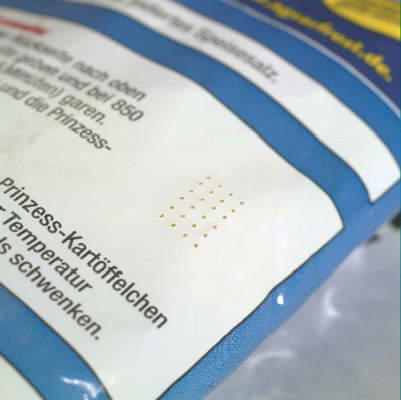 Laser perforated vapour pressure valve.
Laser systems and application labs
The processing of packaging foils is commonly performed with winding systems featuring high web speeds of several hundred metres per minute. High demands to product functionality are met by ROFIN's highly sophisticated laser technology, offering a wide range of customised system solutions.
After starting with flexible packaging in 1998, today we count the largest converter companies among our customers. ROFIN offers not only a wide range of laser systems and excellent control software, but also innovative application labs and an extensive training programme.
Laser scribing – easy opening by selective micro weakening
Many packaging foils are multi-layered structures consisting of several layers. Different layers usually have different functions: PET, for example, is used for stiffness and aroma conservation, PE for sealing and tear resistance, PP for water vapour tightness and aluminium for general light protection.
With easy opening, the supporting layer is weakened without affecting other functionalities. Laser scribing offers excellent solutions using the various optical characteristics of the foil layers. Packaging with laser-processed easy opening material can easily be opened without tools.
Laser perforating – enhanced shelf life, simple preparation
The added value of perishable food is significantly determined by the product's shelf life. A longer shelf life, which is determined by modified atmosphere or humidity conservation, often makes the difference between profit and loss. New laser perforation technologies allow selective perforation of micro holes into the packaging.
In order to create the ideal atmosphere within the package, micro perforated foils are adjusted to the breathability of the product and adapted to the amount of oxygen. Today gas exchange can be controlled in order to accelerate the ripening of cheese. In addition, the micro perforation balances the vapour pressure that is created during heating of already packaged product in the microwave.
Cost-efficient marking of packaging materials with variable data
Most packaging has to display variable data, which cannot be printed cost-efficiently with the elaborate, multi-colour printing process used for the most attractive packaging presentation; examples are expiration dates and batch or serial numbers. The marking very often has to be applied at the end of the production process, even after filling.
The laser is a perfect tool to mark materials commonly used in the packaging industry, like paper, cardboard and polymers. Laser marking is a contact-free process without any mechanical stress for the packaging. As a flexible, computer-controlled process, laser marking is perfectly suited for on-the-fly applications, like high-speed marking of moving products or roll material.