Sinter Ibérica Packaging (Sinterpack) specialises in the design, manufacture, integration and installation of turnkey end-of-line automation systems and innovative palletising solutions for the packaging sector.
Our extensive catalogue of solutions includes a variety of handling systems capable of working with all types of consumer products, as well as a broad range of grouping, packaging, transport and palletising units for boxes, trays, sacks and other industrial containers.
Furthermore, the company has recently established itself as a pioneer in the development of collaborative robotics systems through the introduction of its cutting-edge collaborative palletising cell (CCPS) solutions.
Comprehensive end-of-line solutions for the packaging industry
Sinterpack offers an extensive selection of packaging units and auxiliary equipment that have been carefully optimised for integration within industrial end-of-line systems.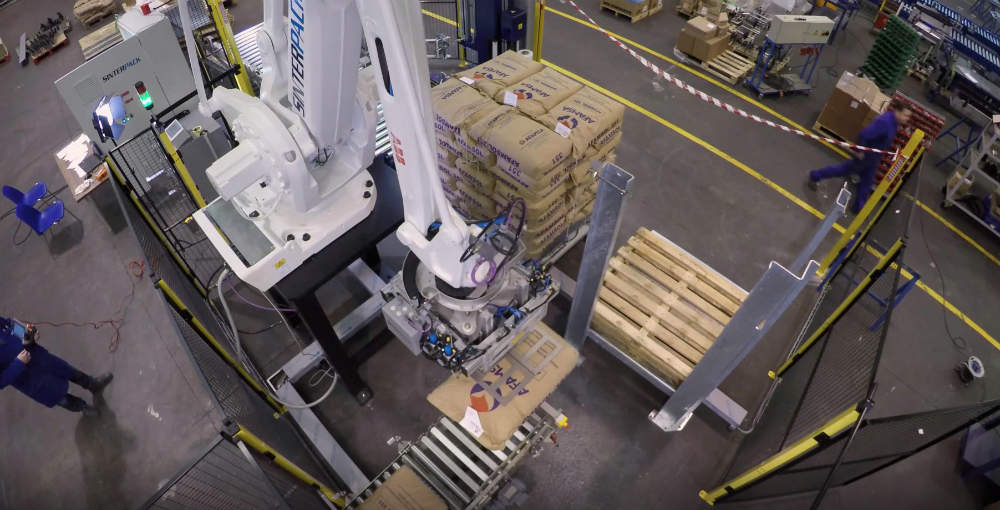 Sinter Ibérica Packaging (Sinterpack) offers an extensive range of innovative end-of-line palletising solutions in accordance with customers' individual project requirements.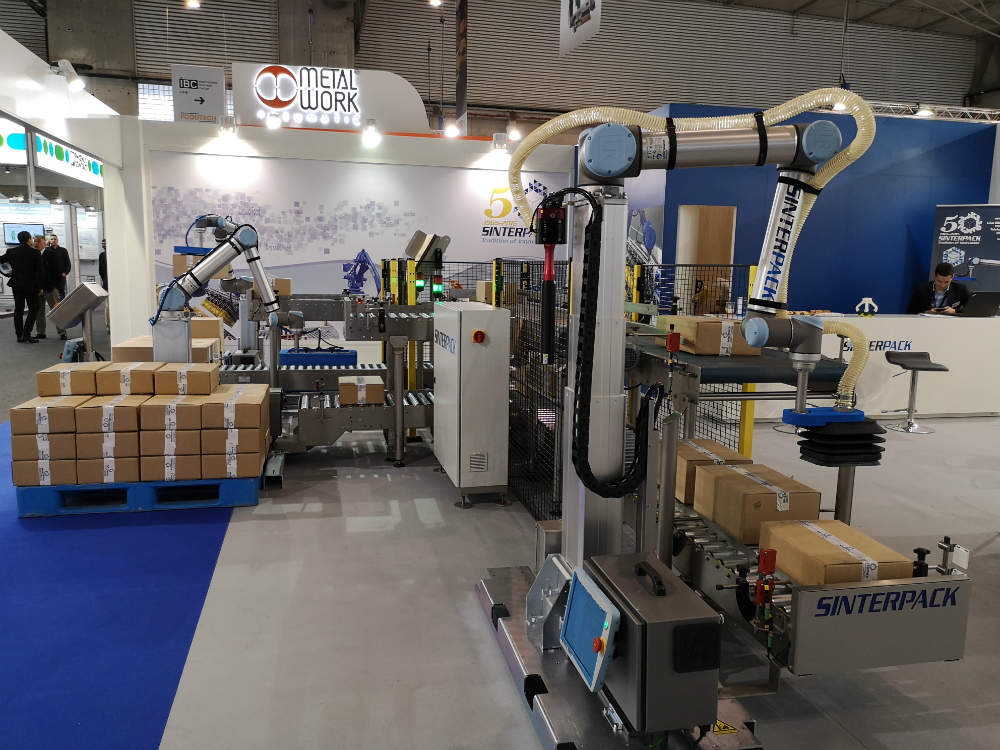 Our easy-to-use collaborative palletising cell (CCPS) units provide vital assistance during industrial packing processes and can be safely deployed without installing barriers or perimeter fences.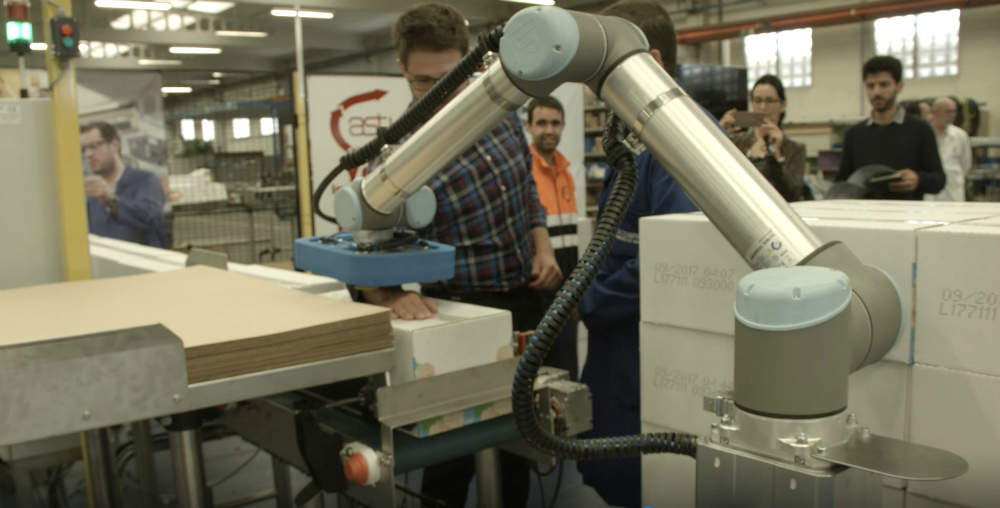 Sinterpack's collaborative robotic systems feature technology supplied by leading manufacturer Universal Robots and are equipped with telescopic columns capable of reaching more than 2m in height.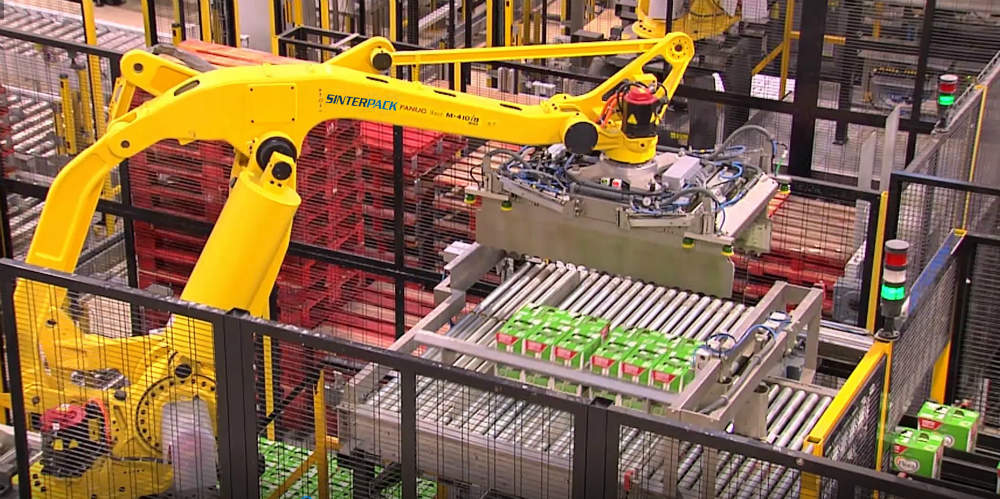 We specialise in the supply of solutions for the food and consumer products sectors. Our systems are also regularly used for a diverse array of applications, including pharmaceuticals, household appliances and cosmetics.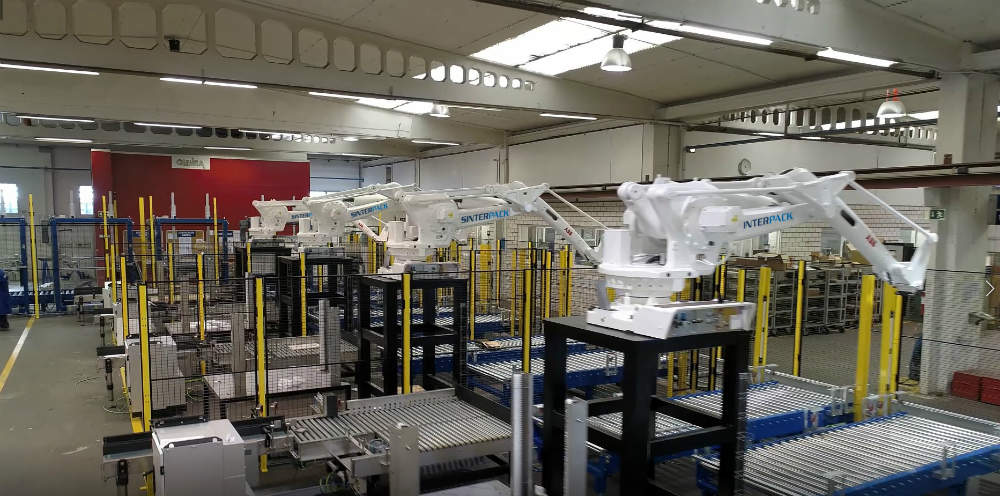 Each Sinterpack system is fabricated and tested in-house at the company's manufacturing facility to allow customers to see the device in operation before it is installed at their own site.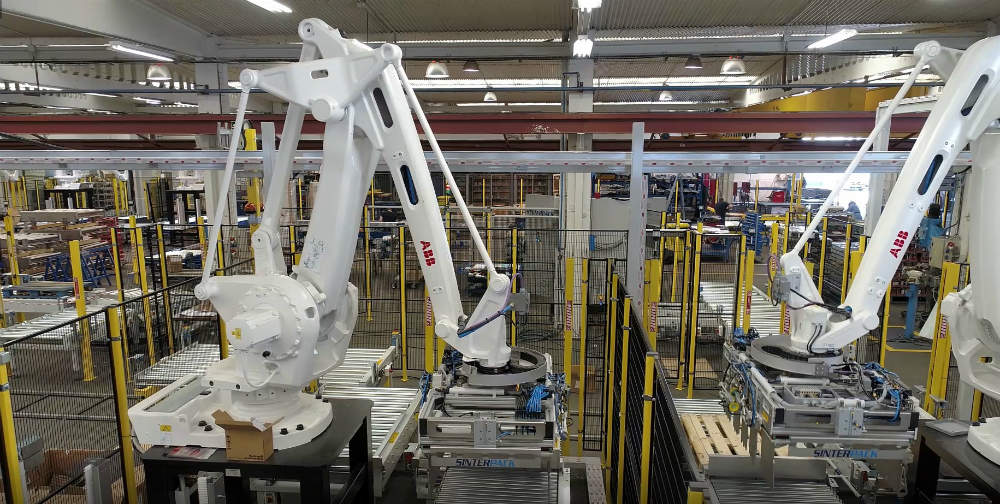 We provide a complete portfolio of smart palletising and de-palletising solutions that are specially designed to optimise the productivity of customers' packaging and transportation activities.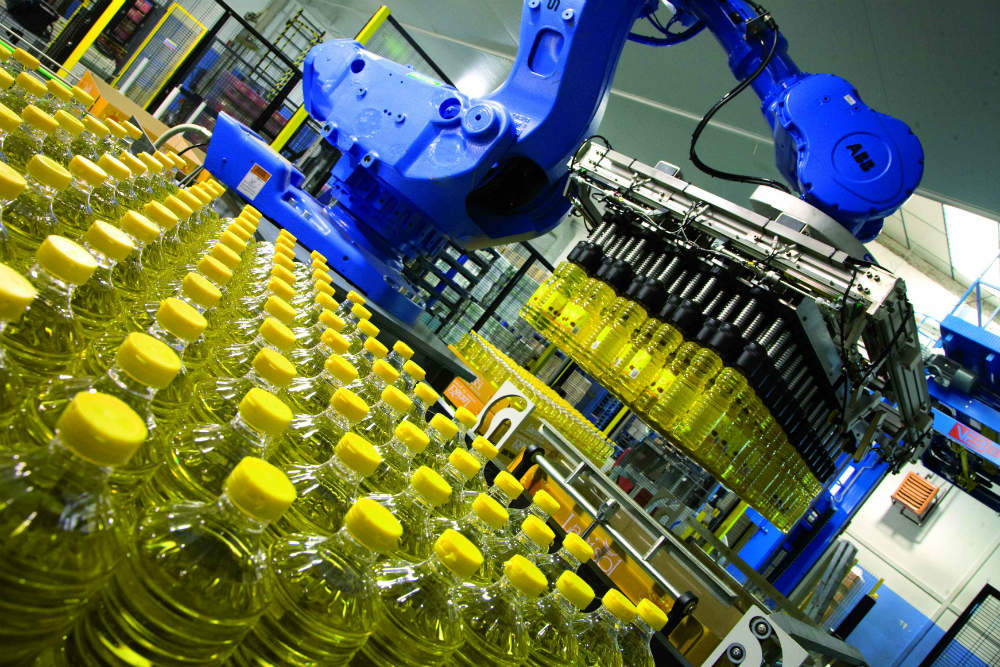 Our cutting-edge palletising systems are compatible with an extensive range of packaging formats such as PET plastic bottles, box pallets and Doypacks, while specialist systems can also be provided for high-quantity applications.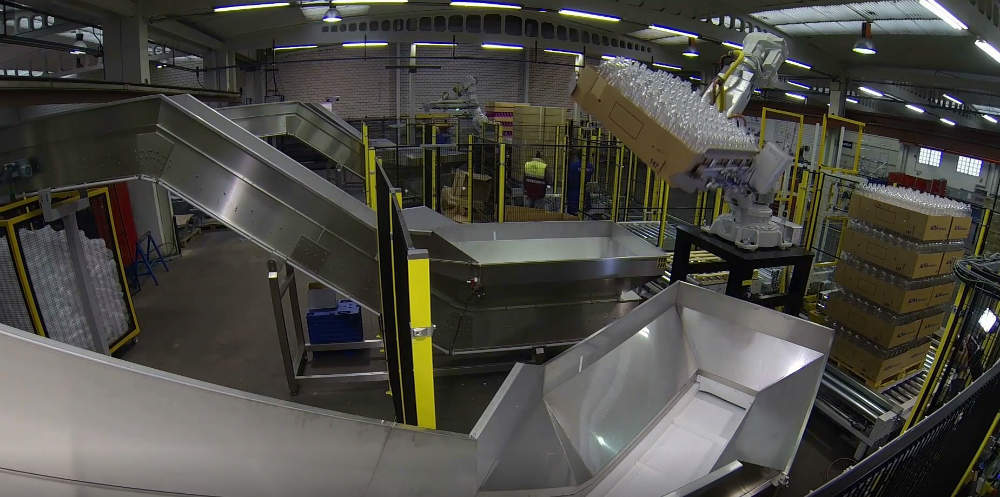 Sinterpack's experienced personnel give special consideration to customers' own operational requirements during design and production to ensure each end-of-line system is fully tailored to suit the chosen application.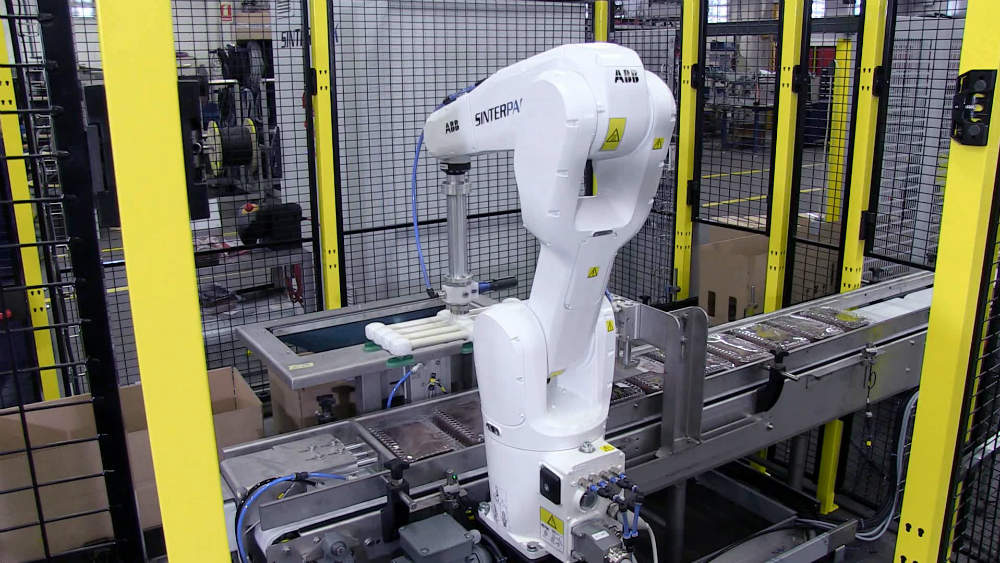 Our dedicated team provide detailed after-sales support and tele-assistance services following installation of our solutions to ensure consistently excellent performance and long service-life.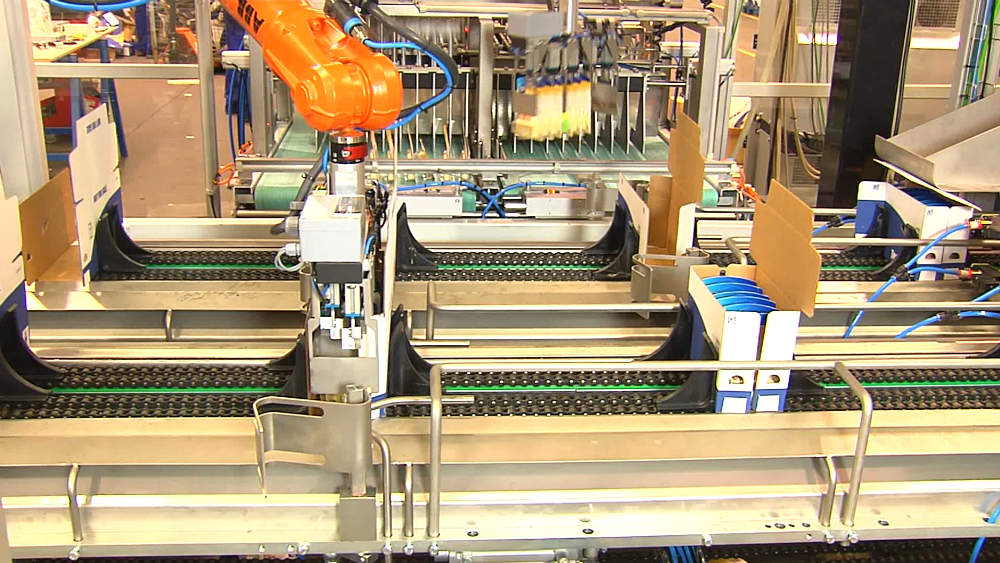 We offer comprehensive on-site training services to enable clients' personnel to effectively operate and maintain our technologies, enabling them to achieve optimum processing performance.
Our solutions provide assistance throughout the entire logistics chain, beginning with products in primary packaging through to the final delivery of finished pallets to warehouses or loading docks.
We integrate a wide variety of end-of-line equipment such as box-forming machines, seamers, labellers, strapping units and high-capacity baler systems. Our expert engineering staff assess the special handling requirements of clients' individual products during the planning and installation phases to create customised solutions that ensure optimum results.
Sinterpack's portfolio of advanced technologies includes automated 'pick and place' systems, boxed and uncaged top loader units, wraparound case packing  systems, and internal logistics and management solutions that are intended to optimise the competitiveness of clients' activities. We also offer a number of robust palletising and de-palletising devices to address a wide array of operational needs.
In addition, we design and produce a wide variety of claw systems, which can be tailored for maximum compatibility with customers' unique project requirements.
Collaborative robotics technology for industrial applications
Sinterpack is an industry-leader in advanced collaborative robotics solutions for packaging facilities.
These light, flexible and easy-to-install systems are designed to assist on-site personnel during packing and palletising operations without the need for perimeter fences or barriers.
Our innovative CCPS systems comprise a UR-10 robot manufactured by Danish robotics specialist Universal Robots, as well as two independent palletising stations, a box dosing solution and a durable telescopic column that is compatible with pallet heights of up to 2.3m.
The straightforward, user-friendly functionality of our collaborative robotics solutions enables users to practically 'plug and play' without extensive practice or prior training, facilitating much simpler operation than traditional industrial systems.
Our robotics systems can be used to carry out potentially hazardous, noisy or unsanitary tasks, allowing workers to concentrate on other activities, while granting clients a competitive edge and increasing operational efficiency.
Versatile automated palletising systems for consumer products
Sinterpack understands that optimising the efficiency of production lines is a vital part of successful packaging operations. The company's systems have been specifically designed to work at high speeds without risk of damaging products.
Our unique solutions can be used for the packaging of liquid products such as glass and PET plastic bottles, Brik cartons or Doypacks, as well as solid-based packaging formats such as box-pallets and sacks depending on the customer's individual product specifications.
We offer systems to assist in the de-palletising and transportation of E2 plastic trays, including robust baskets and drawer units. Versatile solutions are designed to efficiently stack and palletise containers filled with fresh or frozen meat, fish and vegetable produce, making them ideal for deployment across a diverse range of sectors.
Additionally, Sinterpack is able to provide compact automated palletising units featuring heavy-duty full-layer grippers for high-volume applications, which are able to accurately process large quantities of products, while minimising damage or wastage.
We have expanded the scope of our services beyond the food and consumer products sectors in recent years. Our automated palletising systems are now relied on throughout a number of industries, including cosmetics, pharmaceuticals, cellulose products, automotive components and household appliances.
About Sinter Ibérica Packaging
Sinterpack, previously part of the Stork Group, is a Spanish end-of-line integration engineering company comprising a team of 48 highly qualified packaging specialists.
Our dedicated personnel work in close collaboration with clients to devise the most suitable solution for their required application, combining our unique proprietary innovations with a superior technological capacity and more than 50 years' experience in the development of high-quality package-handling systems.
All Sinterpack solutions are manufactured and extensively tested at the company's plant in Burgos, Spain, allowing clients to view and verify their performance prior to installation at their own premises to reduce assembly and adjustment times.
We provide detailed training programmes for customers' own staff during assembly and start-up in order to enable them to confidently manage and maintain the technologies themselves, increasing productivity, while minimising operating costs.
Sinterpack offers comprehensive tele-assistance and personalised after-sales support services to ensure customers' systems achieve consistently excellent results throughout project lifecycles.