Historically, heat sealing has been the technology used on many horizontal form fill seal (HFFS) and vertical form fill seal (VFFS) packaging machines. Although this has become the established process for many applications, it can have its drawbacks. Common issues include leakages attributed to product contamination within the seal area, coarse particles such as sugar or coffee causing puncturing, odours from trapped product and unsightly burnt edges.  
In addition, applications with short cycle times, especially where complex laminate materials are used, also pose a risk that the seal does not have sufficient time to bond and cool, causing packages or cartons to re-open with resultant leaks and spillages.
Packaged product can also be heat-sensitive and products such as chocolate can cause downtime problems with machine stoppages when melting occurs. The ultrasonic process also offers additional benefits, not possible when using radiant heat processes.
Ultrasonic cross sealing
Telsonic has developed compact, rigid ultrasonic cross seal and cut modules, designed to be readily integrated into HFFS and VFFS packaging machines. The ultrasonic process brings a number of significant benefits to sealing and cutting operations in packaging applications. The controllable precision of the ultrasonic process ensures that any heat generated is focused precisely within the seal area. This is commonly referred to as 'seal on demand' and 'cold sealing'.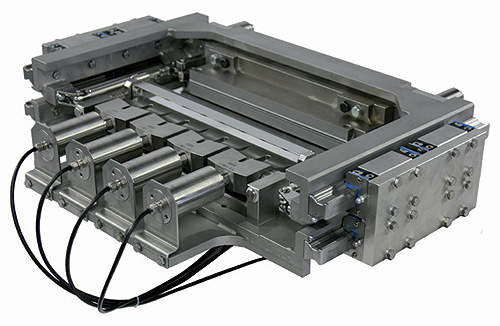 Telsonic's ultrasonic cross seal and cut module, designed for HFFS and VFFS machines.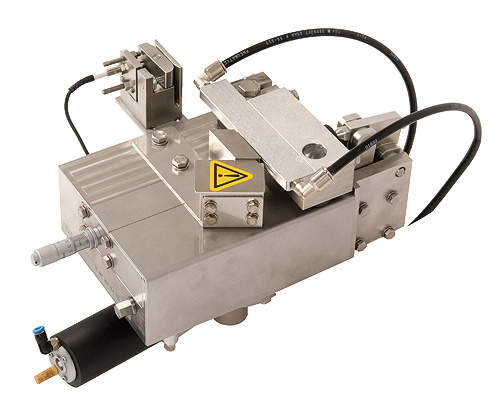 Telsonic's new continuous longitudinal sealing module, incorporating Soniqtwist® technology.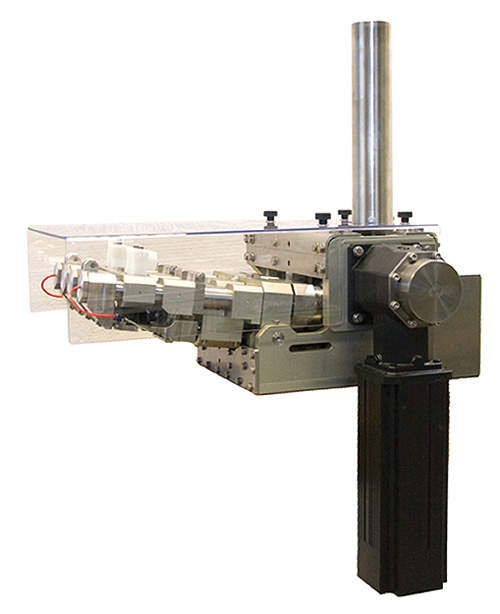 Telsonic stand-up pouch sealing module.
The ultrasonic vibration effectively 'pushes' any trapped product out of the sealing area, ensuring predictable seal integrity and eliminating leak paths. The vibration and pressure inherent in the ultrasonic process generates localised heat from within the material itself. This is the key differentiator in the way that the more difficult packaging materials respond to radiant heat, imparted from heated jaws.
Advantages of ultrasonic heat sealing
Considerable energy savings can be realised where ultrasonics is used, when compared with traditional heat sealing systems. As there is no pre-heating required, the ultrasonic process is immediately available upon line start-up and the extremely short ultrasonic pulses used in each seal cycle result in very low energy consumption.
The characteristics of the process, combined with process-compatible materials, provide opportunities for a reduction in 'head space' on packages, which in turn can generate considerable savings on the amount of material used, reduce wastage and ultimately generate significant cost savings.
Other benefits which should not be overlooked are the ability to define the process control window and the capability to record process data for each and every cycle if required. This is of particular interest in safety-critical packaging applications as seen in the pharmaceutical, medical device, medical care, baby food and military sectors.
Longitudinal packaging sealing
Soniqtwist® is the patented torsional ultrasonic technique developed by Telsonic. The Soniqtwist concept offers exceptional advantages, over and above those normally associated with the traditional linear ultrasonic process in continuous sealing of packaging.
This concept offers a unique approach to 'fin sealing' applications on flow wrapping machines. Combining all of the usual benefits of ultrasonics, such as the ability to instantly stop and start without heat related issues, Telsonic's patented torsional principle allows a compact and, Telsonic claims, much more consistent weld solution to fin sealing applications. This new concept is more tolerant of variations in the thickness and density of packaging film, has a trim cut option and is capable of accommodating jointed film, therefore ensuring a robust and reliable sealing process.
Stand-up pouch sealing module
Using the same technology, Telsonic offers a stand-up pouch (SUP) sealing module for linear or rotary machine installations.