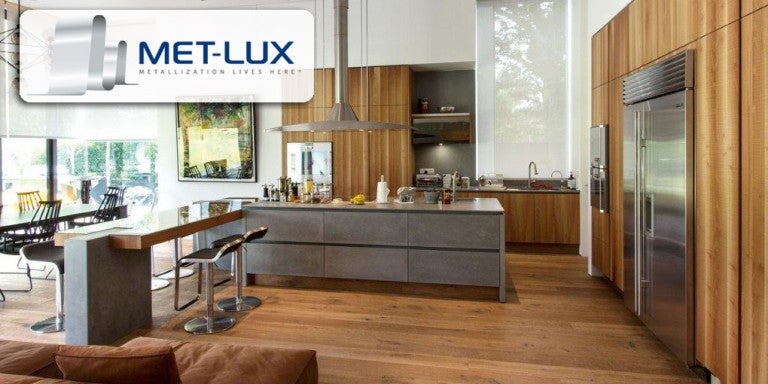 As a specialist provider of metallization, MET-LUX produces around 16,000t of materials per annum and has been a renowned expert in vacuum metallization for 20 years.
The home of metallization
The old saying goes that you cannot judge a book by its cover, yet we do this every day when we choose our food. We look at the packaging. The packaging begins with raw materials, such as cardboard and plastic, and these can be vacuum metallized to add decoration or a protective coating.
"We apply aluminum roll to roll," says Valerio Cassio, R&D and business development manager. He has been with the company for a decade and has 18 years' experience in the business. "We are proud to provide good services to our customers. We may not be the most competitive in terms of prices, but we offer the best services, logistics and quality."
The company is extremely flexible, and its customers appreciate solutions tailored to their precise needs. This service comes as a result of MET-LUX's capacities in adapting the metallization process as it happens today with digital printing.
"A number of companies involved in film production began metallizing, but they were not able to diversify their production," Mr Cassio explains. "They lack our flexibility of scope. We can customize labels for companies that want different names, like Coca-Cola. We can personalize labels according to customers' needs, even for small volumes. Design is also within our know-how, as are stock-keeping units (SKUs)."
MET-LUX guarantees the highest levels of food safety with its metallized packaging products and is BRC/IoP and AIB (American Institute of Baking) certified. Extensive experience using different and critical polymers such as polyamide, polyester and polyethylene makes the company stand out from others.
"We innovate continuously," the business development manager says. "Most of our solutions are developed for the food industry. About 80% of our turnover comes from there."
MET-LUX also produces coated flexible substrates for the insulation of buildings. The metallized materials are more effective as heat reflectors and humidity barriers. More and more products are going to the textile industry, as well.
Under the category of architectural solutions, MET-LUX's foils are used in solar control systems for applications such as blinds for hotel meetings rooms and stores. Metallized blinds reflect the sun in the summer and keep heat inside the room in the winter.
MET-LUX is a market leader in Europe. "Few other companies can offer the same variety of products we have," Mr Cassio explains. "We have experience in all plastic substrates. We can also analyze different substrates and deliver various thicknesses, from 10μ to 100μ."
New in the company's production facility is the 2,920mm machine, which was installed at the end of last year. It allows MET-LUX to coat wider rolls, operate more quickly and at the same time consume less energy.
"We managed to lower our CO2 footprint," Mr. Cassio enthuses. "Luxembourg doesn't have any renewable energies, so we can't reduce emissions that way. All we can do is reduce energy consumption through wider rolls and faster machines."
Last year's production encompassed 540 million square metres of foil, about 760,000 football fields. The complete production capacity is exported throughout Europe, in particular to Germany, France, the Benelux countries and Denmark.
MET-LUX also attends exhibitions and fairs, like the Interpack in Düsseldorf, the Anuga in Cologne and the IPACK-IMA in Milan.
For the future, Mr Cassio is convinced that the company will need to work as closely with its customers as possible to find the best solutions for them.
"We have to tune in to our customers to satisfy their needs without overpacking," he says. "Lower costs for the right packaging is also important."
Environmental awareness is gaining prominence, and with the world population growing, the question of how to feed everyone will persist. "Packaging is one way to preserve food," Mr Cassio supplies an answer. "Our packaging provides barrier properties. Without it, food would spoil much more quickly. At the same time, we have to consider pollution costs and develop a fitting solution."