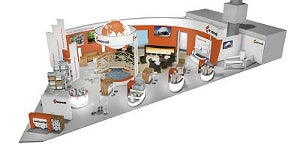 International paper and packaging specialist Mondi has selected 'Discover the world of Mondi' as its slogan for this year's FachPack. The leading trade show for the paper and packaging industry takes place in Nuremberg from September 25 to 27.
Visitors wishing to take a closer look at the company's innovative packaging solutions will find Mondi in Hall 7, Booth 7-266. It will also be represented in the special show entitled 'Unpacking made easy' (Hall 8, Booth 8-325 b).
For Mondi, this year's presentation is focusing on two themes, namely intelligent and lightweight product solutions, and the Green Range product family. Explaining the concept adopted by Mondi, marketing and communication director Albert Klinkhammer comments: "We are showcasing innovative packaging products for our customers. Reflecting the importance of sustainability throughout the company, we are also highlighting the Green Range.
"Our topics are sure to prompt some interesting discussions with visitors to the booth, concerning not only product solutions, but also the influence being exerted on the packaging segment by the changing social environment."
Among the innovative solutions which can be seen at the Mondi booth is the intelligent SmartID Bag, an industrial bag that can be authenticated and tracked. Other product highlights include lightweight solutions, such as Modulo, a case design that can feature a number of variations.
Also on show is EcoVantage, the new umbrella brand for the lightweight containerboard range. The booth will also be featuring packaging solutions for the consumer goods industry that not only prolong shelf life, but also bring the customer's brand to the fore at the point of sale, thanks to their outstanding printability. These products are just a few of those that await Mondi's visitors.
The key visual of the 243 square metre booth is the Mondi globe, which will catch the eye of visitors to Hall 7 even from a distance. At the centre of the booth is a pond with a bridge, stressing the company's commitment to conserving natural resources.
In addition, visitors are being given the fascinating opportunity to interact with Mondi from the vantage point of comfortable seating manufactured from its products.
Summing up the significance of the event to Mondi, Albert Klinkhammer remarks: "We expect to have many good conversations with customers at the fair again because it has emerged as an excellent communication platform for our industry."
For more information on Mondi's presence at the show, please visit the company's website.