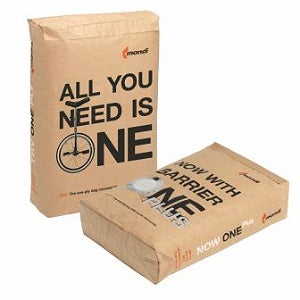 Mondi participated at last month's international cement conference Intercem held in Istanbul, Turkey. About 400 international delegates from the cement industry got together from 26-28 June 2012 to hear speeches on recent developments in the industry and speak with cement industry colleagues. Mondi Industrial Bags presented bag solutions specifically developed for filling cement, such as the Terra Bag or ONE.
"We are very proud to represent Mondi Industrial Bags at this event and get in touch with so many cement experts from all over the world," says Kaan Özkan, managing director Mondi Industrial Bags Turkey.
"It is an excellent opportunity to get the latest insights on market developments, meet new customers but also touch base with some of our long-term customers", he adds.
Matching high-speed filling with sustainability
Mondi's bag solutions include industrial bags specifically developed for the cement industry, where high-speed filling is crucial and sustainable packaging solutions are more and more sought after. Two specific solutions presented at the Intercem were the ONE and ONEPlus one-ply solutions, as well as the biodegradable Terra Bag.
Saving resources with one-ply bags
ONE, Mondi's one-ply bag solution, significantly saves resources and waste by reducing packaging weight and volume compared with two-ply 70gsm bags for 25kg and 35kg.
With ONE and ONEPlus, customers benefit from lower weights, less waste and tangible cost savings e.g. in transport and efficient filling. ONE is especially suited for high-speed filling as the excellent porosity of the paper ensures quick de-aeration of the bag, while the outstanding strength and stiffness of the paper guarantees a smooth application on the filling spout and high handling resistance of the filled bag.
ONE Plus, the one-ply solution featuring a film for enhanced moisture protection, is available with a classic PE film or a biodegradable film.
Intelligent waste management with biodegradable bags
Terra Bag is the first biodegradable valve bag with certified compostability. The compostable paper bag features an optional biodegradable film for humidity protection.
Through the different types of Terra Bags (one or two plies, with or without film), fillers can now select the bag solution best suitable for their filling equipment and logistics – and at the same time underline their commitment for sustainable development.
With either composition the entire bag is biodegradable and optimised for industrial composting – turning waste into valuable humus. Life-cycle analyses of bioplastics show that CO2 emissions can be 20% lower than those for commodity polymers when properly disposed of in industrial composting facilities.
The OK Compost logo can be applied to the customers' bags, therefore clearly showing their green commitment and making the compostable bags easily identifiable for further waste treatment.