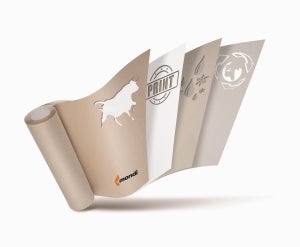 Mondi Containerboard has introduced new key visuals. The new visuals communicate the key properties of each of Mondi's Containerboard segments, namely Appearance, Kraft, Semi Chem and Recycled.
Each of the new visuals depicts a mini paper reel and communicates a single key message. The result is a visual impression that is functional, attractive and modern at the same time.
Commenting on the visuals, Mondi E&I sales and marketing director Florian Stockert says, "It is important for us to paint a picture of Containerboard and establish a strong and recognisable visual impression. By using key visuals, we can underpin our communication materials with a consistent key message and develop a clear positioning for Containerboard."
Depiction of key messages
A collection of five Containerboard visuals has been created, consisting of one general visual for Containerboard, and four visuals reflecting the most important messages for each of the Containerboard segments.
The print mark for the Appearance segment highlights the excellent printing properties of the white-top kraftliners in the range. The bull reflects the brilliant strength of the paper qualities in the Kraft segment. Compatibility with humid storage capabilities is the major advantage offered by the Semi Chem paper grades, which is expressed by water droplets and ice crystals. A globe encompassed by arrows represents the lifecycle of the Recycled containerboard qualities and serves as a synonym for our cautious and responsible use of resources. The general visual for Containerboard combines all four visuals in the style of a mini paper reel, still showing the four main key messages.
Creative approach
The creative approach was developed by the Austrian agency Brainspiration. The owner of the agency, Markus Kopeinig, explains the challenges facing his creative team: "Containerboard is purely an industrial product and not linked to emotions at all. Our creative approach focused clearly on developing visuals that express emotions. We are confident that the solution elegantly blends together the product attributes and the evocation of positive, strong emotions."
The Containerboard key visuals can be downloaded at Mondi's website.