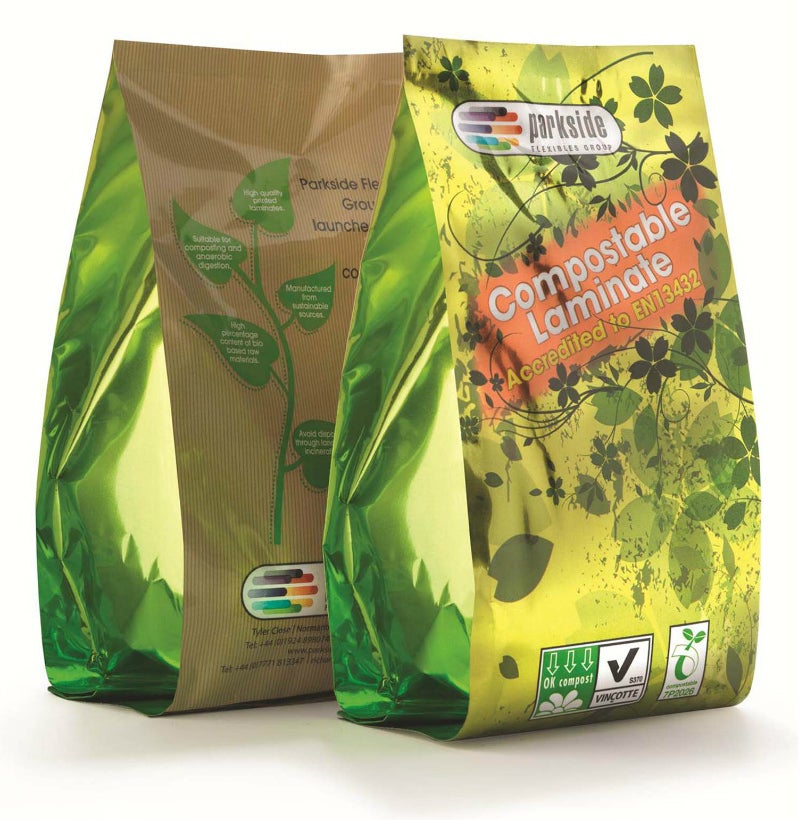 Speciality packaging manufacturer Parkside has created a pioneering range of paper and film barrier lamination films that are fully compostable and suitable for both home and industrial composting.
Parkside is the first flexible packaging company in the world to successfully produce a range of barrier laminates that have completed the rigorous disintegration and eco-toxicity testing for home composting with recognised European laboratory, OWS. The duplex and triplex laminate structures have attained full accreditation under Vincotte's OK Compost Home and Seedling certification after achieving a high-degree of compostability even at ambient temperatures.
Flexible packaging materials are often unsuitable for recycling due to their multilayer lamination or co-extrusion nature as the recycler cannot separate the different materials. As a result, many flexible packaging products end up going to landfill or being incinerated. The compostable flexible packaging solutions developed by Parkside are a credible alternative to landfilling and incineration for non-recyclable packaging designs and environmentally sensitive brands.
Developed under the brand Park-2-Nature®, the compostable laminates are manufactured from sustainable sources whilst remaining aesthetically pleasing, offering excellent graphic shelf appeal for retailers and brand owners to drive sales.
Steve McCormick, new product development director at Parkside, said: "Our compostable solutions have taken more than four years to develop to ensure they meet the demanding testing standards. They demonstrate Parkside's advanced packaging expertise and are a major step forward in the industry.
"Our success in this area means that environmentally aware brand owners, retailers and consumers have a choice of barrier packs that can be disposed of in a composting environment. The Park-2-Nature compostable range is disposable through both composting and anaerobic digestion, offering a viable end-of-life solution for non-recyclable packaging and avoiding disposal in landfill."
The oxygen and moisture barrier performance of the Park-2-Nature packs is designed to deliver extended product shelf life, helping both retailers and consumers minimise food waste. In addition, the lightweight flexible designs offer a lower carbon footprint solution compared to other heavier packaging formats, such as metal or glass.
The packs are approved for industrial composting to EN13432 and have been subject to a 12-week test where 90% of material must degrade at temperatures between 55c and 60c and no more than a 10% residue may remain after passing through a 2mm vibrating mesh plate.
For the home compostability accreditation, the materials were subject to a 26-week test where 90% of material must degrade at no more than 28c (ambient temperature) and no more than 10% residue may remain after passing through a 2mm vibrating mesh plate. This means that once the consumer has used the contents, the pack can be mixed with other organic household waste and composted in a home composting bin, avoiding the need for landfill and without any detrimental effect on the environment.