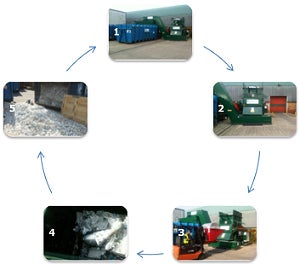 At Parkside Flexibles we are always looking to innovate, not only in the products we produce, but in the services we offer and in the way we manage our business. Always keen to improve our environmental credentials, the company has chosen to invest in a 100% secure waste management system.
The system is provided by our partners Roydon Group PLC, who have installed and commissioned a shredding and compacting system at our West Yorkshire site, in Normanton. Material now leaves our premises in a format that offers us and our clients full security for all printed products.
The system is designed to handle the two types of material produced by Parkside, laminated plastic specifications and paper products. Once processed, both products are either sent for recycling or to a waste-to-energy plant, to be used as a fuel in the production of green renewable energy.
The system ensures that all waste is destroyed with the residual products being either recycled or burnt for energy, providing a totally secure zero to landfill system.
Parkside are the first packaging manufacturing company in Europe to offer a totally secure waste disposal solution, ensuring any sensitive waste generated is destroyed on site. Our tobacco customers now have complete confidence in our ability to provide secure supply chain solutions up to safe delivery to their factory, protecting their business from illicit trade.
This new investment will further expand Parkside's position at the cutting edge of the tobacco packaging industry, supplying novel products and providing unique solutions to the largest global tobacco manufacturing companies.