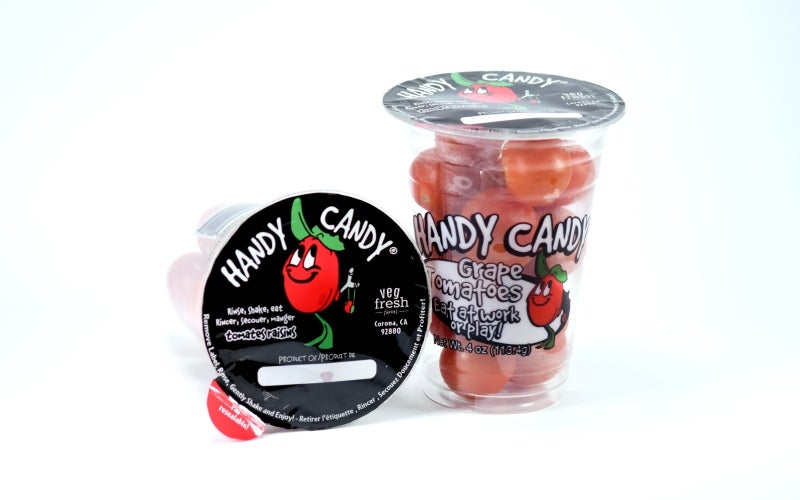 UK-based packing solutions provider Parkside is pleased to announce the launch of an innovative new reclose lidding film for a snack fruit pack in America.
The Handy Candy pack, which can contain either tomatoes, blueberries or an organic range of fruit, comprises a PET pot with complementary re-close lidding film from Parkside.
The reclosable pack, a first of its kind in the US, has been created to tap into the developing on-the-go snacking market.
According to market research group Packaged Facts, the US healthy snack market is expected to reach $25.4bn in 2020.
Parkside new business development manager Pete Ford said: "Our customer, Veg-Fresh, wanted to take advantage of the growing popularity and demand for convenience foods with a new fruit snack pot and approached us for our packaging expertise.
"Veg-Fresh had originally investigated label reseals and other reseal systems but given the size of the flange on the pot, the size of the opening and the circular shape, it was proving difficult.
"Our solution, which is similar to a yoghurt pot type opening, ticked all their boxes. It was a seamless transition from their existing standard lid to our re-close lidding film."
Parkside developed the printed reclose PET laminated lidding film with unique laser scribe technology, which could only be created thanks to the company's multi-directional laser capability.
The re-close lidding film, which includes an anti-fog coating, includes a patent applied pressure sensitive adhesive that has been specifically developed by Parkside offering optimum performance throughout the supply chain.
Mr Ford continued: "The convenience sector is highly competitive and we have innovative products which rival existing packaging formats that will help us to gain a foothold in this market and for it to become one of our largest categories.
"The Parkside reclose lidding film has been in development for two years. We already have relationships with many key brands and retailers in the convenience sector and will be working closely with our customers to develop opportunities and ensure we continue to deliver solutions which meet the needs of this fast-paced market."
The Handy Candy pack will be distributed to the US market through partner agency Platinum Packaging.
Please contact Parkside via the enquiries form for more information.