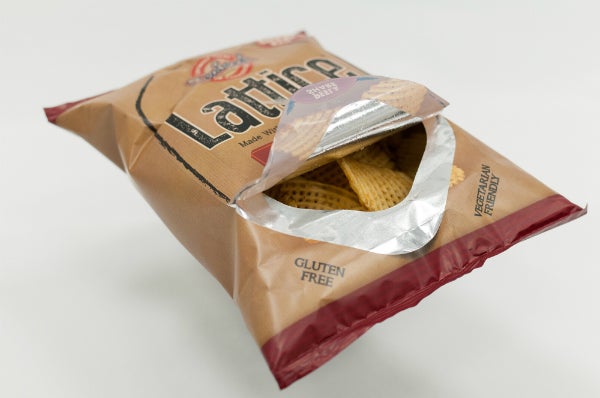 Seabrook Crisps has launched a new reclosable share bag, created with unique laser technology, after collaborating with speciality packaging manufacturer, Parkside, at its new creative innovation suite.
The new lasered pack enables consumers to peel open the front of the packet, making it easy to share the contents with friends, before re-closing it and saving for later. The reclosability feature helps to keep crisps fresher for longer when compared to an open pack, making it an ideal solution for the snack market.
Kevin Butterworth, marketing and international sales director at Seabrook Crisps, said: "We wanted to create a premium product which rivals existing crisp pack designs by offering a point of difference. The novel front peel pack includes a reclosable design and is ideal for the growing demand for convenient snacking and sharing, whilst also appealing to the foodservice market."
The pack format, which will be available on the Seabrook Lattice Cut range, utilises laser-scribing technology from Parkside that creates an integral opening of any size, shape or position as part of a pack design.
Unlike most reclosable openings, the laser creates a solution which is integral to the laminated pack structure, rather than a label attached to the pack. Furthermore, the range uses specialised, high quality materials to emphasise the premium positoning of the range.
Seabrook Crisps has been working with Parkside in its new creative innovation suite, where retailers and brands can outline a packaging problem and work with Parkside's 'Advanced Packaging Expertise' (APEX) Innovation team to overcome the issue, creating a functional fully printed prototype whilst still on-site.
Sales director at Parkside, Paula Birch, said: "The APEX innovation team, based at our site in Normanton, West Yorkshire, manages projects from concept to consumer. The creative suite allows us to demonstrate our capabilities whilst working closely with our customers to ensure we have clearly understood their needs and the problems they face in taking a product to market. The brands that have visited the suite already have been very impressed with the approach that we take.
"It opened October 2015 and already we have had around 30 brands visit us and created more than 3,000 samples since January. I think it is safe to say the creative suite and laboratory is proving popular with the packaging industry."