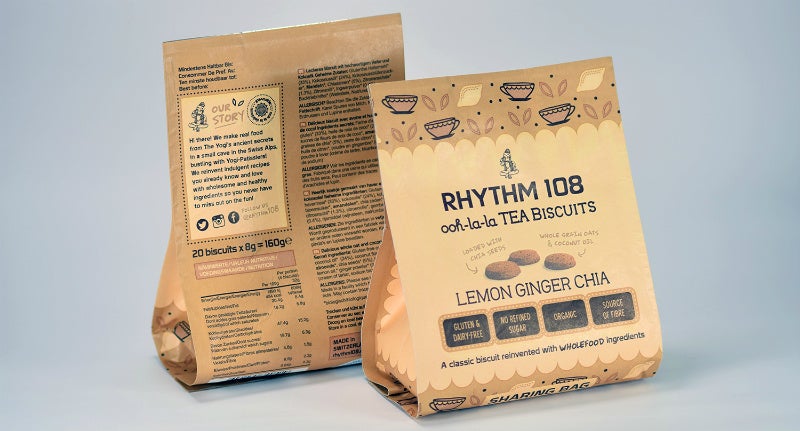 Parkside has expanded its sustainable packaging range with the launch of Ooh-la- la tea biscuits, a new share bag manufactured with a substrate utilising eucalyptus tree.
The company worked with ethical food brand Rhythm 108 with the brief to develop a pack made from sustainable sources, including eucalyptus trees, which is fully compostable at the end of its service-life.
The pack comprises a bio-film called NatureFlex® which is created from wood-pulp from sustainably sourced eucalyptus plantations in Brazil. For every tree used, another is planted in its place.
Paul Lenihan, new business development manager at Parkside, said: "Sustainability remains a hot topic of conversation within the packaging world. Consumers are demanding more environmentally friendly processes and retailers are responding by asking their supply chains to come up with innovative ways to save carbon and avoid end-of-life incineration and landfill."
Mr Lenihan added: "Rhythm 108 wanted packaging that addressed the needs of consumers and that fitted with its natural organic ethos. Parkside has answered this demand. From a sustainability perspective, we have utilised sustainable materials to develop the pack instead of oil based polymers. In addition, the pack is fully compostable."
The Ooh-la- la tea biscuits pack, which is available in lemon ginger chia, almond biscotti, coconut cookie and double chocolate hazlenut varieties, includes a triple-layer structure made up of paper, metalised NatureFlex® and bio polymer sealant web. The design provides an excellent moisture and oxygen barrier that extends product shelf life to help both retailers and consumers minimise food waste.
The compostability of the pack is a further eco-bonus for consumers. Parkside has devoted four years of research, development and testing before making a breakthrough in compostable multi-layer film barrier laminates. The Rhythm 108 pack has attained Vincotte's OK Compost Home and Seeding certification after achieving a high degree of compostability.
Siddhi Mehta, founder of Rhythm 108, added: "More and more, customers are looking for healthy organic snacking options. With our convenient packets, we believe our Ooh-la- la tea biscuits target all three customer preferences: healthy, wholesome ingredients and fabulous taste. The packaging is not only convenient and suited to today's on-the-go lifestyle, it is environmentally friendly as it's made from bio-based materials and can then be thrown in the compost bin at home."