The tesa® group is one of the world's leading manufacturers of technical self-adhesive tapes for industry and end consumers. For the paper and printing industry and for flexible packaging printing, tesa develops innovative adhesive solutions that accommodate the progressive trend toward automation, while at the same time optimising production processes and increasing their safety and efficiency.
In close cooperation with equipment manufacturers, tesa offers a wide variety of state-of-the-art, customer-specific system solutions, including double-sided adhesive tapes for flying splices in offset and heatset offset printing, and plate-mounting tapes for flexographic printing, covering flexible packaging, printed labels and corrugated board die-cuts.
Flying splice tapes
The performance of offset printing presses remains impressive – depending on the type of system, more than 100,000 newspapers can be produced hourly. In this high-speed production process, heavy paper rolls rotate at print speeds of up to 2,000m/min. More colour, ever-increasing paper quality, and especially the increase in standardisation, and with it profitability, are the most important trends in newspaper printing.
This, in turn, points to the trend towards higher levels of automation, shorter changeover times and reduction of waste, such as that caused by web breaks during splicing. With the development of its EasySplice® line of flying splice tapes, tesa has set standards worldwide for the efficient, fast and secure performance of flying splices during roll changes in newspaper printing.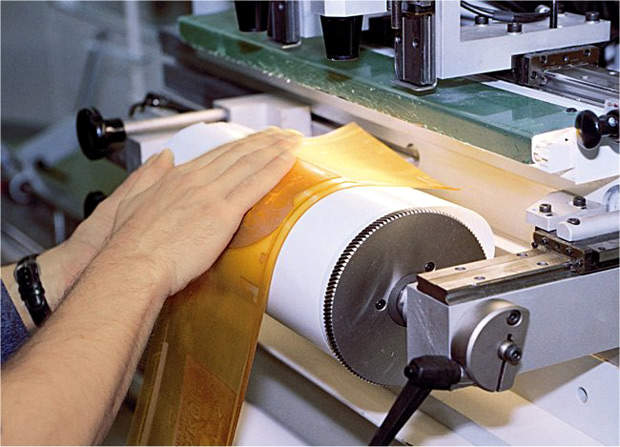 tesa manufactures a wide range of technical self-adhesive tapes, including double-sided adhesive tapes for flying splices, and plate-mounting tapes for flexographic printing.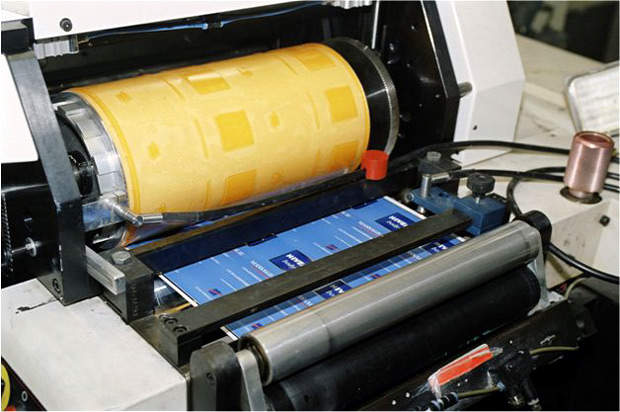 tesa Softprint plate-mounting tape.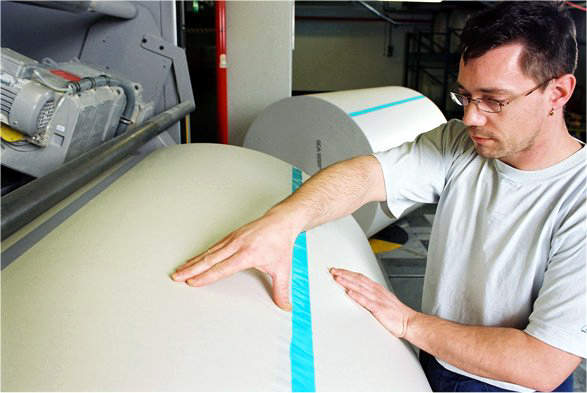 tesa EasySplice PrintLine flying splice tape.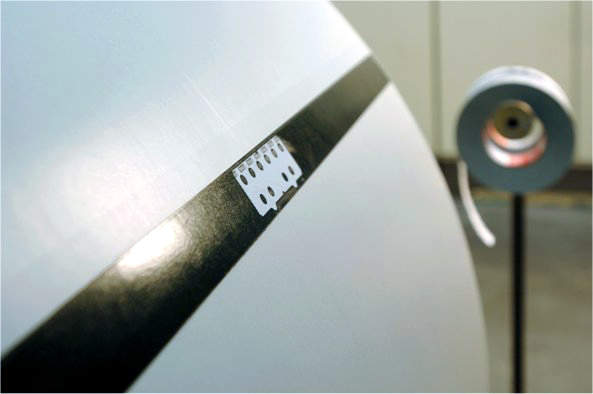 tesa EasySplice Heatset flying splice tape.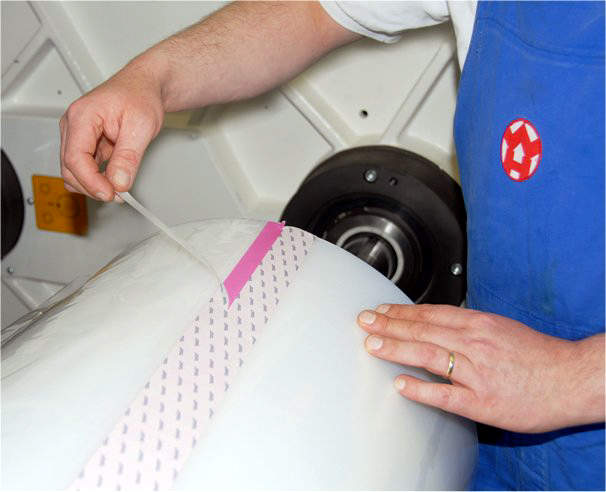 The tesa EasySplice FilmLine makes flying splices possible for packaging printing.
Flying splice tapes for heatset offset printing
tesa EasySplice is also the right solution for flying splice processes in heatset offset printing. High-performance heatset offset printing machines reach speeds of 80,000 to 100,000 copies per hour. A flying splice is necessary about every 20min. The tesa EasySplice product line offers state-of-the-art technology for fast, secure splicing in the heatset process.
Flying splice tapes for packaging printing
With tesa EasySplice FilmLine tesa goes one step further and makes flying splices possible for packaging printing too. In flexible packaging printing, which works with both flexographic and gravure techniques, roll changes still typically take place at reduced print speeds. tesa EasySplice FilmLine offers a completely new solution, tailored to the specific requirements of packaging printing and the film processing industry.
Plate-mounting tapes
Another core application for tesa adhesive tapes is mounting printing plates on printing cylinders or sleeves in flexographic printing.
To achieve optimum print results, tesa offers a full line of plate-mounting tapes (tesa Softprint), each tailored precisely to different printing process requirements; for example, the mounting of thin plates used for sophisticated screen printing. This technique demands a softer foam plate-mounting tape. Firmer foams, on the other hand, are better suited to colour transfer in solid and combination printing.
Filmic and fabric-based plate-mounting tapes
In corrugated board postprint applications, as well as in applications involving compressible foam sleeves, tesa also offers an extensive range of filmic and fabric-based plate-mounting solutions, each tailored to specific, application-driven demands.
The diverse foam thicknesses, acrylic and rubber-adhesive masses and different adhesive strengths permit customised use in all modern-day flexographic printing techniques. Printing plates can be mounted smoothly, repositioned easily and removed simply, all without residue after demounting – additional advantages that make tesa plate-mounting tapes the best possible choice for flexographic printers.
Plate-mounting tapes also play a crucial role in flexographic label printing. tesa offers tapes with the right foam hardness and adhesive properties for all printing techniques.
UV strips for UV dose measurement
Today, UV varnishes and coatings are used in an ever-wider variety of industrial applications. Until now, no UV dose measurement technologies have been developed that are simultaneously accurate, reliable and easy to use. With tesa UV-Strips, tesa now offers a completely new system solution to precisely determine the dose of UV radiation, thereby regulating processes both dependably and quickly.
The new tesa technology comprises the tesa UV-Strips and a special reader, which also allows all data to be digitally saved and documented. This means that processes can be monitored continuously, sources of error identified quickly and production waste dramatically reduced.