YUPO has been offering high-quality synthetic papers for more than 40 years. YUPO's product range is deployed widely across the labelling industry – in-mould labels, face stock for self-adhesive varieties, direct thermal labels, tags, food labels, direct food contact labels, and more.
Recyclable synthetic paper
YUPO is a 100% recyclable, waterproof synthetic paper with attributes and properties that make it the perfect solution for a variety of marketing, design, packaging and labelling needs.
YUPO synthetic papers are extruded from polypropylene pellets. The various grades, weights and thicknesses of YUPO are supplied in rolls and sheets.
YUPO synthetic papers have a super-smooth surface. They print consistently and effortlessly, and hold ink with razor-sharp precision. They are durable, waterproof, tear-resistant and bright white.

In-mould process for extrusion blow moulding.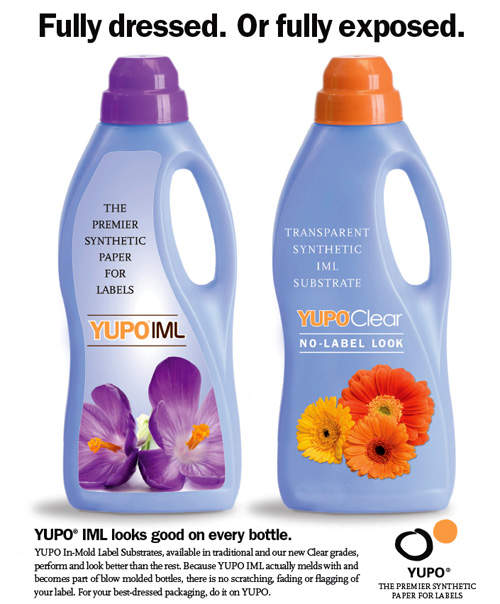 YUPO in-mould substrates are available in opaque and clear versions (metallic and holographic are also available on demand).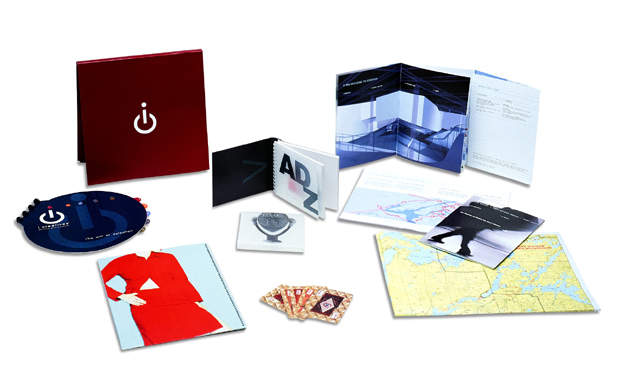 Applications for YUPO's synthetic paper products include maps, catalogues, brochures, labels and cards.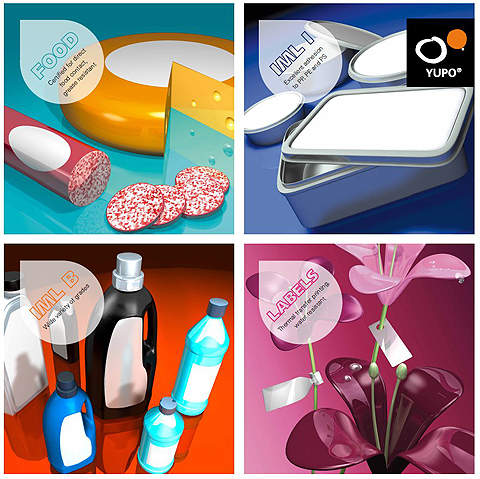 Different applications where YUPO's synthetic papers are used.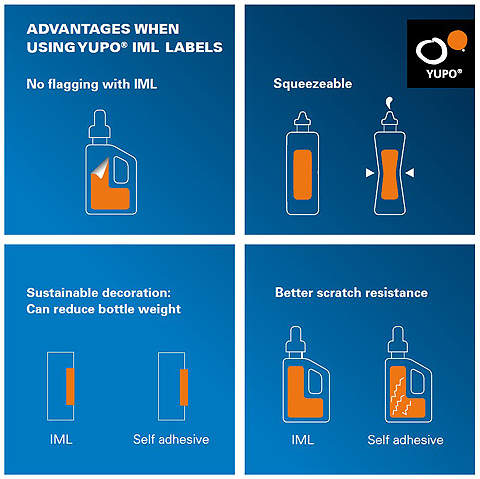 Advantages when using in-mould labels.
In-mould labelling services
YUPO's presence in the in-mould labelling market is world-renowned. Add YUPO to your blow-moulded packaging and you have a brand item that is scratchproof, won't scuff, tear or flag, and eliminates the need for adhesive backing liner, which is great for the environment.
For many years extrusion blow-moulding, an in-mould labelling process, has been used in Europe, Asia and the US to decorate plastic bottles. In this process, a pre-printed and die-cut label is placed in the front and/or back of the plastic mould. The melted plastic is blown to acquire the mould form, and when it touches the IML label, it melts together in one piece.
Benefits of in-mould labelling
In-mould labelling offers many advantages, including:
Reduced overall resin weight
Integration with bottles for 100% recyclability
Increased wall strength for better shape and volume control
Reproduction of razor-sharp images
Resistance to moisture, chemicals and scratching
Superior performance during printing, cutting, stacking and blow moulding
Excellent dimensional stability – resists curl and edge welding
Grease, chemical and oil resistance makes it suitable for many product types
Opportunity to create unique containers
No defects associated with post-mould labels (i.e. flagging, curling and peeling)
Superior graphics on large and small bottles
Extremely low scrap rate during the blow-moulding process
Widest portfolio of grades
YUPO also has products for the in-mould injection process, focusing mainly on special applications in value-added products.
Synthetic paper substrates
YUPO's full line of synthetic paper substrates includes face stocks for self-adhesive varieties, direct thermal labels, tags, food labels, direct food contact labels, and more.
When customers purchase from YUPO, they are receiving much more than just the product: they also benefit from fast service, excellent customer care, superior technical assistance, R&D capabilities and a synthetic paper that will meet the changing demands of today's marketplace. YUPO has its eye on the future as well as the present and, whatever the individual requirement, can help its clients stay ahead of the field.
Global supplier of synthetic papers
Headquartered in Japan, with production lines in Kashima, Japan, and in Chesapeake, Virginia, in the US, YUPO's state-of-the-art facilities employ the latest manufacturing technologies, including a patented heating and extruding process. YUPO also has sales offices located in Düsseldorf, Germany, and Shanghai, China, to complete its global presence.
As a prominent global supplier of synthetic papers, YUPO is no stranger to adopting advanced technologies and adapting to market situations as they arise. Its products combine an unusual smoothness with the best print durability – qualities that are crucial to customers seeking a long-term partner.