3M provides more than 60 years of experience in helping companies worldwide find better ways to improve the performance of packages and packaging operations. 3M is also your resource for bundling, reinforcing, labeling, and other solutions.
Case-sealing equipment for transporting packages
3M offers a wide selection of case sealers to make packaging for transportation easier and more productive in any size operation. From semi-automatic to fully automatic, 3M-Matic™ case sealers help improve productivity and reduce operating expense:
Bottom belt drive
Top and bottom drive
Side belt drive
Stainless steel
Accessories
Box-sealing tapes
Scotch® box-sealing tapes deliver convenience and dependability every time you use them. They're built tough to resist score line breaking and center seam splitting even when boxes are handled roughly. The tape dispenses quickly and easily to save you time. You can trust 3M to deliver the best packaging tapes available, from trusted brands, including Scotch and Tartan™. The box-sealing tapes are available in a variety of lengths, widths, and colors to meet your specific needs:
General purpose
Performance
High-strength
Industrial grade
Superior performance
High-strength tape for strapping, bundling and reinforcing packages
3M has a wide range of high-strength tapes specifically designed for the bundling and reinforcing challenges faced in the industrial marketplace. Applications for these high-performance products can vary dramatically from tabbing the end lap of metal coils to stabilizing pallets to reinforcing large bulk containers or just a single carton. These tapes balance tensile strength and adhesive holding power, even under extreme conditions. The tapes provide secure, cost-effective solutions for a variety of strapping, bundling and reinforcing applications.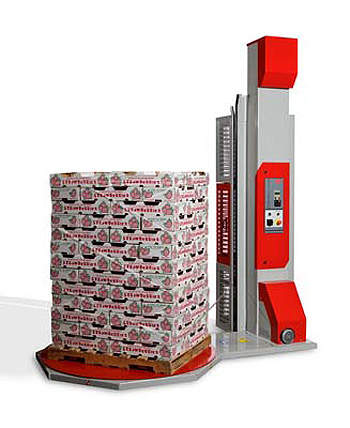 Automated wrapping ensures proper stretch ratio and consistent banding patterns, optimizing load stability. It can help reduce pallet packaging waste by up to 95%.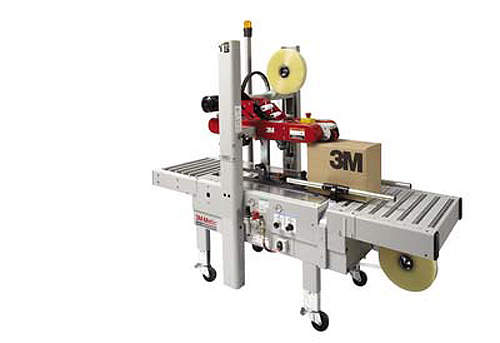 The 3M-Matic case sealer 700r with a 3M AccuGlide™ 3 taping head seals up to 19 cases per minute and automatically adjusts for case height and width.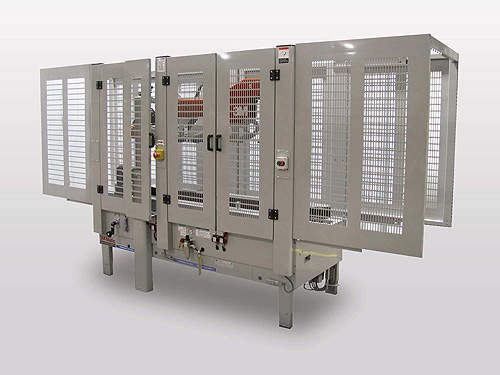 The 3M-Matic case sealer 800af automatically folds top minor and major flaps and tightly seals up to 28 cases per minute. It has a spring-loaded drive with twin gear motors for heavy-duty performance.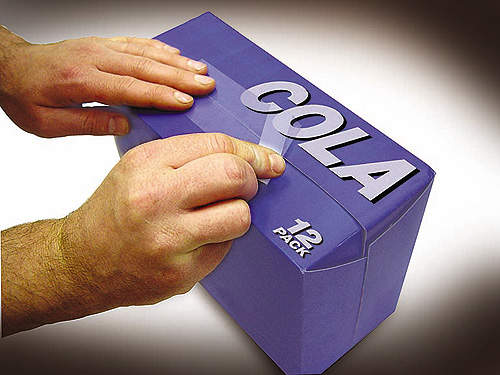 The 3M ScotchPad packaging tape pad 3750P for recouperage means delivery people can make in-field repairs of damaged or popped canned beverage carrier packs. It offers simple repair with a pre-cut tape strip.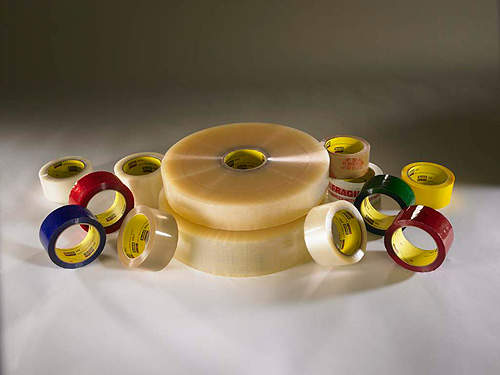 With choices of polyester or polypropylene backings and rubber or acrylic adhesives you have dependability for a wide variety of box types, sizes, contents, handling situations and storage conditions.
Diversified packaging and tape products
This group of products includes:
Package attachment and label protection products
Padded tape products
3M ScotchPad™ carry handles (standard and custom-printed)
Scotch light duty film tapes
Stretchable load containment system
The 3M stretchable tape wrapper ST1000 along with Scotch stretchable tape 8886 is the system that proves less is more. Reducing waste and meeting sustainability goals are growing priorities for manufacturers and shippers around the globe. The 3M stretchable tape load containment system can reduce pallet packaging waste by up to 95%, while keeping your loads from tipping, shifting and vibrating. The result is less waste, more stability and greater productivity.
3M stretchable tape wrapper ST1000:
Programmable system can customize each pallet by box height, number of layers, load dimensions, wrapping pattern and more
Unique approach to load containment, taping over pallet corners and top corners reduces load vibration and stack resonance
Open containment pattern secures loads while maximizing ventilation
Integrated turntable automatically adjusts speed and returns to starting position when finished
Scotch stretchable tape 8886:
Cuts pallet packaging waste by up to 95% over conventional film systems
Solvent-free adhesive coating process helps meet your sustainability goals
Strong but gentle performance holds loads securely while keeping even corrugate from becoming damaged so you can reuse more of your boxes
Unstretched tape has enough adhesive to stick on contact to corrugate for easy starting; stick tape on starting point and wrapper automatically finishes the job
Manual tape dispensers
All Scotch and Tartan dispensers for box-sealing tapes, filament tapes, label protection tapes and pouch tapes are application-designed to meet the needs of the customer. Select from a variety of hand-held and heavy-duty pull and tear table-top dispensers.