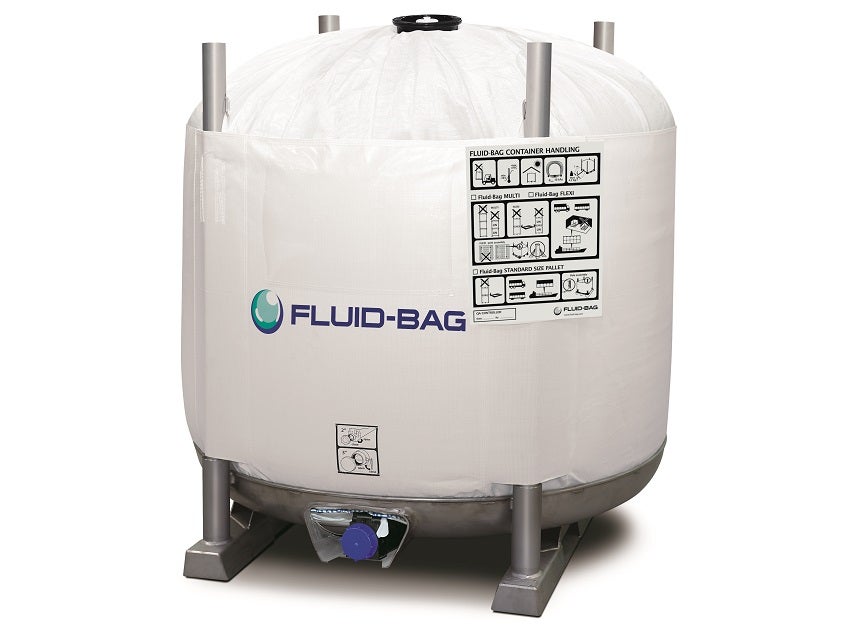 Fluid-Bag provides flexible intermediate bulk containers (IBC) for transporting liquid and high-viscous products.
Containers are available with capacities of 1,000l (265gal) or 900l (240gal). Fluid-Bag also manufactures equipment for filling and discharging Fluid-Bag IBCs.
Our technical teams offer expert services for liquid and semi-solid transportation, ensuring that they can assist you in implementing solutions and make suggestions for set-up improvement where necessary.
Single-use liquid container for bulk transportation
Fluid-Bag FLEXI is a complete container solution, which comprises a disposable inner bag, transport bag and wooden pallet. Convenient one-way journey packaging avoids the cost of returning empty containers.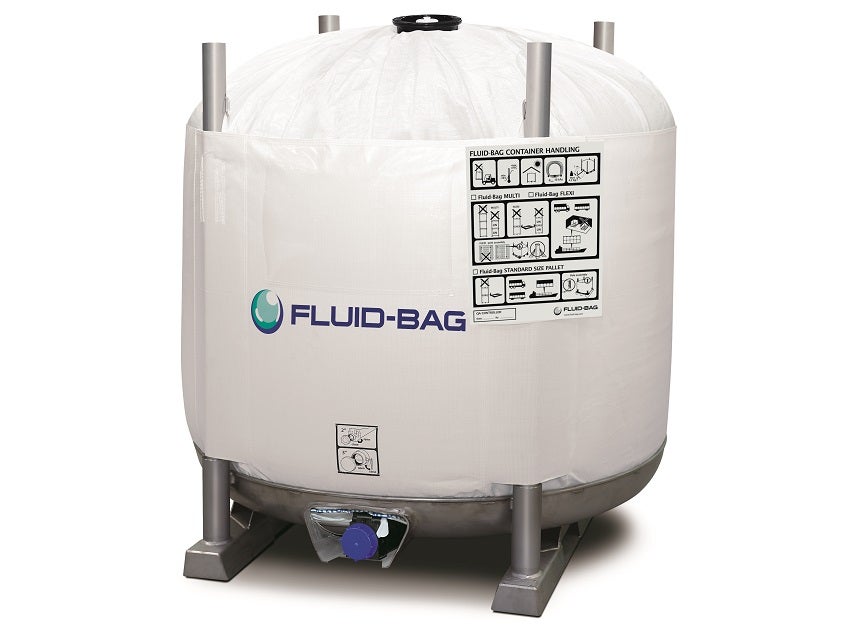 Fluid-Bag MULTI is perfect for frequent transportation.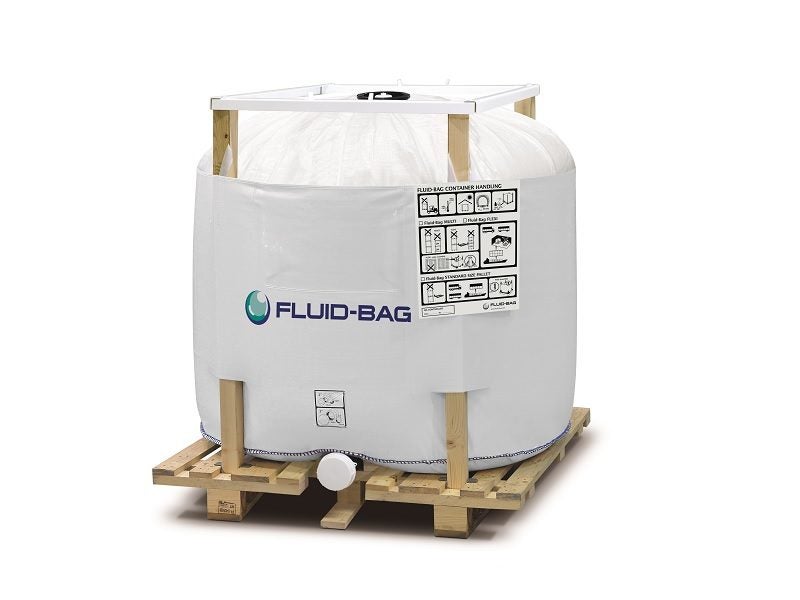 Fluid-Bag FLEXI is ideal for transportation to remote locations.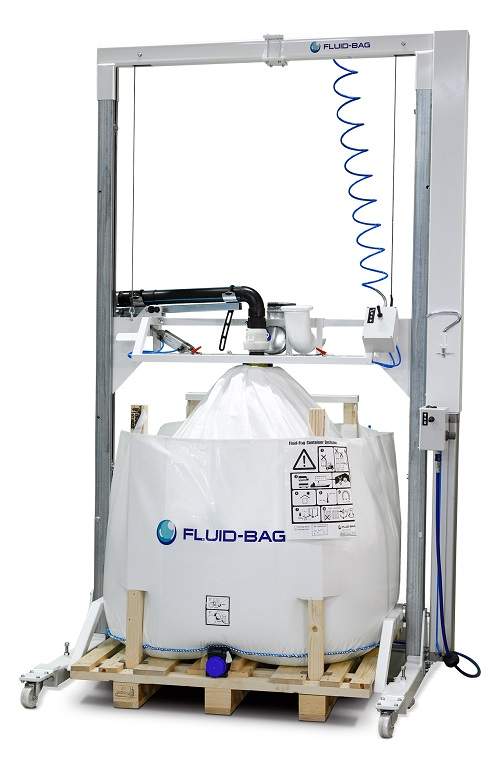 Fluid-Bag Filling Stations fill containers to their capacity.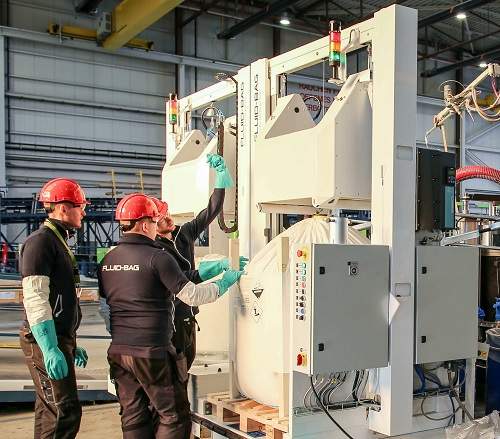 Expert technical teams operate a Fluid-Bag transfer station.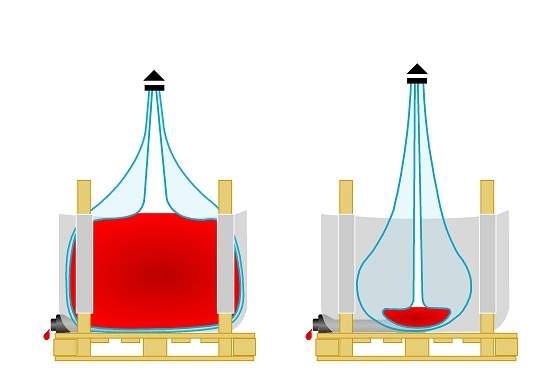 Flexible inner containers function as a closed system.
The single-trip container is suitable for road, rail or sea travel, including long-distance transportation and remote destinations.
Multi-use container for shipping liquids in bulk
Fluid-Bag MULTI consists of a disposable inner bag, a reusable transport bag and steel pallet. Single-use inner bags are replaced for each use, so no cleaning maintenance is needed.
The reusable outer transport bag can be used up to 25 times, and the steel pallet is able to handle more than 100 trips.
The MULTI container is a perfect fit for frequent transportation. The pallet and transport bag can be folded and stacked in piles of up to ten, which significantly diminishes return freight costs compared to empty rigid containers.
Fluid-Bag MULTI is also used for in-house logistics as an intermediate storage container before repacking into smaller packages.
Equipment for filling and emptying intermediate bulk containers
The company provides equipment options for emptying your Fluid-Bag in the most efficient way, as well as suitable filling equipment for the best results.
A Filling Station ensures containers are consistently filled to their maximum capacity. The empty inner container is stretched to its full length, while at the same time correctly positioning the top and bottom valves prior to the filling operation. The Filling Station allows you to fill the Fluid-Bag from both outlets.
With the help of a Discharge Roller, you ensure fast and effective discharge of high-viscosity fluids in IBCs. The Discharge Roller stretches the container, and the rollers help clean the container foil, ensuring that residue levels are minimised to 0.5%-1%.
Safe transportation packaging for liquids
The Fluid-Bag provides a closed system during the whole supply chain. There is no need to open the container and let air in at any stage in the process, which means your product travels safely without any risk of contamination from particles, bacteria or humidity.
Since the Fluid-Bag is flexible, it simply collapses when emptied, meaning that you don't have to let air in to keep the product flowing out as you would with rigid container systems.
Fluid-Bag provides effective protection for products sensitive to air and moisture exposure such as polyurethane glues, adhesives, sealants and silicones.
Fluid-Bags can be used for products in a variety of industries, including bakery fillings for the food industry, creams and ointments for the pharmaceutical industry, as well as lubricants and grease for the manufacturing industries.
Turnkey liquid handling products
An important first step is to evaluate what benefits and cost savings the Fluid-Bag system can achieve for the operations of the customer and end-user.
We have extensive experience in handling liquid products in Fluid-Bags and have developed several ready solutions that can quickly be adapted on customer sites.
The Fluid-Bag Technology Centre in Jakobstad, Finland, also has testing and training facilities for developing customised solutions.
Our technical teams can:
Evaluate your current liquid handling set-up
Plan any necessary improvements using Fluid-Bag technology
Simulate conditions to test our recommended Fluid-Bag solution
Support you during implementation
About Fluid-Bag
Fluid-Bag is a Finnish company founded in 1984. We provide efficient systems and services for transporting and handling semi-solids and liquids, ensuring that your products are handled in the safest, most cost-effective and ecological way possible throughout the production chain to the final end-user.