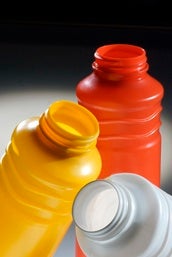 Based on Total's dedicated HDPE ISBM resin SB 1359, combining excellent processability with outstanding mechanical properties, Incoplas confirms its leadership in servicing the bottle industry with competitive HDPE solutions.
Bottle manufacturer Incoplas launches a revolutionary range of light-weighted bottles, based on ISBM HDPE technology. This innovative bottle range combines both symmetrical and asymmetrical bottles, in different sizes up to 5l, with strongly reduced bottle weight in comparison to traditional HDPE EBM (Extrusion Blow Moulded) solutions, without compromising the mechanical performance. Combining Total's ground-breaking HDPE ISBM solution SB 1359, with Incoplas' high-level processing experience, has made this development possible.
According to Elke Berges, marketing manager at Rigid Packaging: "The development of an HDPE resin SB 1359, dedicated to ISBM technology, has lead to a real revolution for polyethylene, as it offers an easy and stable processing on one-phase and two-phase ISBM machines, allowing converters to reach a new and wide range of applications and features. Total's polymers division HDPE grade SB 1359 combines smooth injection moulding into preforms with excellent surface aspect and outstanding melt strength for the stretching/blowing phase."
With the commercialisation of its new product range based on Total's SB 1359, Incoplas confirms excellent thickness distribution and increased rigidity, allowing further downgauging. Compared to traditional HDPE bottles (produced by EBM), bottle weight is further reduced by over 25%, while still fulfilling the same mechanical requirements.
Thanks to Incoplas' superior processing knowledge, both symmetrical and asymmetrical HDPE bottles with different sizes up to 5l, can be processed with ISBM technology and outperform traditional EBM solutions in terms of rigidity, downgauging, mechanical properties and production output.
Didier Desmedt, sales manager at Incoplas, confirms: "Bottle applications such as Personal Care, Household Chemicals, will be able to take full advantage of the benefits that the new ISBM bottle series has to offer, such as excellent aesthetics, outstanding chemical resistance, good impact resistance. In addition, the strongly reduced bottle weight will help brand owners to address their needs for sustainable solutions, which is a key consumer trend. The newly developed bottle series made with Total's HDPE SB 1359 will naturally flow into the existing well-established HDPE bottle recycling systems."