TexTrace specialises in custom-made woven RFID labels for the fashion industry. Our focus is on smart brand labels in the original brand look and feel, which resist the processes in the textile value chain. Brand labels with built-in RFID are an all-in-one solution for product branding, brand and theft protection, customer interaction and product availability. Our offering comprises labels as well as innovative components and production technology.
RFID hangtags were yesterday – we integrate RFID invisibly into your woven brand label, without any compromise on its look and feel. Our RFID woven labels even resist stone / enzyme washing.
Textile RFID solution
With RIFD in your brand label you have it all – with style. The textile brand label is sewn onto the garment, bag or accessory early on and stays with it throughout its lifecycle. With RFID built in, the label will provide added value from garment manufacturing through logistics to sales and after-sales management. Additional tags or labels for theft protection and identification are unnecessary.
Since it is sewn-on, the RFID label cannot fall off and deters unauthorised removal. RFID in the brand label allows for cost reductions along the entire value chain, incremental sales and higher margins, as well as increased customer satisfaction.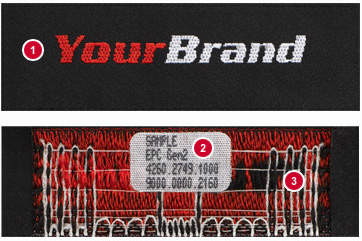 1. Sewn-on brand label. 2. Encapsulated RFID chip with protective pad. 3. Interwoven high-performance antenna yarn.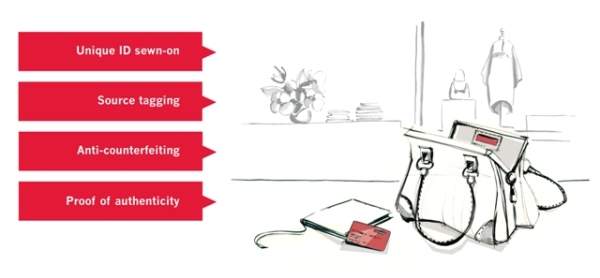 Proven authenticity, reduced shrinkage, maximum availability, improved customer experience. The textile RFID brand label makes it happen.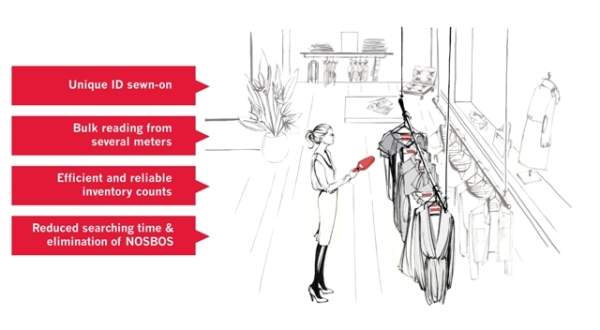 TexTrace specialises in custom-made woven RFID labels for the fashion industry.
RFID brand protection
The brand label shows the value of your product. The unique number stored on the label's RFID chip identifies the product beyond doubt as yours or a counterfeit. It proves the product's authenticity not only to you but also to your customer.
RFID labels for increased stock accuracy
The sewn-on RFID brand label is your most reliable way to achieve stock accuracy. It stays with the product from manufacturing to the POS and does not fall off. Stock-taking in the warehouse, the back room and on the sales floor is done within minutes. Whether prior to distribution or if products are returned, you always know exactly what is still there, what is gone and what has come back – down to the colour, size and even the specific item.
Customer interaction
Your customers appreciate a high-value product and great service. Info screens which identify the product by the RFID brand label are just one way to tell the customer about the product's origin, its quality or what would go nicely with it. At the same time, your store personnel has more time to assist the customer, thanks to time savings resulting from the efficiency of RFID.
Electronic article surveillance
The time has gone when special EAS tags had to be attached to your products manually and removed at the POS while customers were queuing for the checkout: with RFID in your brand label, EAS is built-in too. Since the label is sewn-on, your loss prevention is particularly reliable. Most importantly, you know exactly what has gone and can restock it on the shelf.
About TexTrace
Founded in 2010 and located in Switzerland, TexTrace is a spin-off and subsidiary of Jakob Müller Holding. The Swiss enterprise Jakob Müller has been a pioneer in developing and implementing innovative technology for the ribbon and narrow fabric industry since 1887. It is the global market leader, with a worldwide sales and service network.