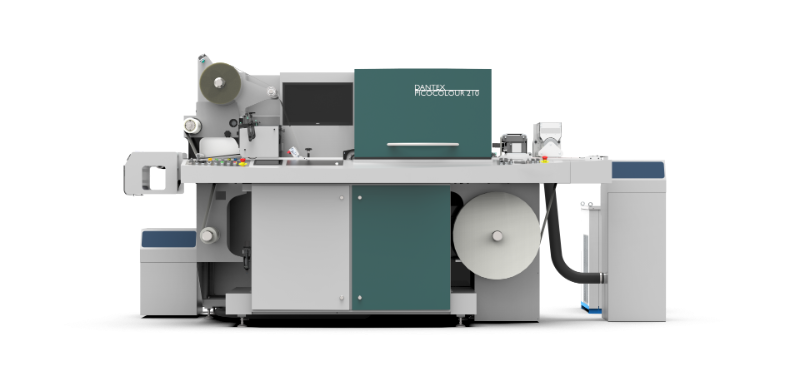 Based in Somerset, the UK, Custom Labels has invested in a Dantex PicoColour UV inkjet digital press to enhance its label printing capabilities. Designing and manufacturing a wide range of durable labels for over 20 years, with consistent growth and a commitment to invest both in people and the latest technology, the company will take delivery of the new press during May.
PicoColour is one of the most innovative printing presses available on the market and uses drop-on-demand inkjet print head technology. Versatile and with a small footprint, this label printing system offers excellent printed results and is suitable for short and long run jobs. Providing all the benefits of digital printing for today's demanding production environment, including no minimum quantity, inline finishing, no waste and a super-fast turnaround, the press is built to last and simple to operate and maintain. PicoColour is available with a number of options – Custom Labels opted for CMYK + digital gloss varnish, VDP black, Corona unit, inline back slitter & inline lamination.
As a label manufacturer for demanding applications where durability is a major factor, they also wanted to be able to offer their customers varnish as an alternative to laminate depending on their requirements.
Commenting on the investment, Custom Labels' owner/director, Nigel Foster, said: "Where waste is an issue, one of the biggest advantages was the short set-up length between jobs, making the unit highly efficient in controlling waste and thereby reducing job costs. In addition, thanks to the inkjet technology of PicoColour, the flexibility of being able to use uncoated media is a real benefit. Furthermore, as we make very few 'larger labels', the ability to use narrower web widths was a major factor in the decision making process, as was the overall cost of ownership and the fact that it is manufactured in the UK.
"The press will also open up new markets, such as being able to offer full colour durable asset labels on rolls. We have had enquiries from customers requiring higher quantities of labels on tight deliveries that we have been unable to supply, but with the PicoColour we will now be in a position to respond," he added.
"Custom Labels were looking for a quick turnaround solution to produce excellent durable and lightfast labels," said Simon Cosh, Dantex's business development manager for Inkjet. "The PicoColour, with its extensive range of options, including the new finishing edge trimming and razor knife slitters, was the ideal choice, being able to provide up to 6 fully finished reels ready for application. The continued enhancements make this excellent Inkjet press even more versatile."
Dantex launched its digital division in 2015, having served the labels and packaging industry for over 50 years.