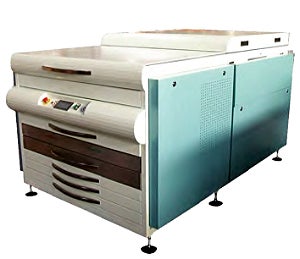 Dantex Corp USA is escalating its presence in North America with the acquisition of RBCOR's business. RBCOR, located in San Marcos, California, has long been recognized as a leading supplier of letterpress and Flexo plates to North American end-users.
Dantex Corporation USA is a member of Dantex Group, which is based in the United Kingdom and operates wholly owned subsidiary companies in Germany, France, Poland and North America, as well as sales offices in Holland, Belgium, Austria and Switzerland.
Dantex also has a network of exclusive and fully trained distributors in more than 30 countries, providing after-sales service, technical and engineering support.
Dick Bein, the outgoing president of RBCOR, comments: "Our deal with Dantex was put together in record time as we found their product offering was exactly what we needed. I am delighted with this new arrangement for RBCOR.
"Having given very personal attention to our customers over the past 28 years, I find Dantex has the same customer approach and I am confident that our long-standing, loyal customers as well as our staff will enjoy working together with the Dantex team."
Dantex is the largest distributor in Europe of letterpress and flexo plates and has been serving the needs of the packaging industry for more than 45 years. Dantex is recognized as a specialist supplier of water wash photopolymer plates and processing equipment.
AquaFlex® is Dantex's comprehensive range of Flexographic Printing Plates and is produced in Japan under a worldwide marketing arrangement. The AquaFlex® plate brand is sold by Dantex exclusively and offers unparalleled excellence in print and press performance.
AquaFlex® plates are available in analogue and digital versions. Dantex Plate distribution activity is supported by a dedicated manufacturing centre, which offers an extensive range of equipment for letterpress and flexo plate making. All water wash Flexo plate processors are fitted with Dantex-designed filtration systems, making the system totally environmentally-friendly.
Dantex has a highly visible presence in the can printing industry, thanks to its specially developed range of steel-backed plates, incorporating high ink transfer capability together with long-run and fine resolution properties.
The digital plates are promoted with Esko Spark imaging systems under and OEM arrangement, which enables Dantex to offer a highly effective digital workflow solution. The aim of the new company is to offer its complete range of letterpress and flexo products and equipment to North American users.
This latest move by Dantex marks an acceleration of the company's commitment to North America. Dantex confirms its intentions to focus on 'Value for Money', leading its sales drive with water wash plate technology, equipment and service.
Michelle Garza, VP of RBCOR, comments: "Dantex is able to bring to RBCOR an extensive line up of products for letterpress and Flexo. The combined sales activity will be greatly enhanced thanks to the high technology products brought to the table by Dantex. The RBCOR team is looking forward to working with the Dantex team."
Benjamin Danon, group senior director, adds: "After five years in North America, Dantex has finally joined forces with the right partner to bring our technology, high quality equipment and core corporate values to the North American Market.
"We are delighted with this opportunity, which will give us the capability to offer the very latest plate technology and product choice to our customers".
Dantex is optimistic about business opportunities in the US; apart from strengthening RBCOR's sales with its digital plate line-up, Dantex can offer several new plate types from the Torelief and AquaFlex ranges.
Benjamin Danon adds: "Our Torelief plate line-up includes new digital products for label and can printing sectors, while for Flexo applications we shall be marketing Optima and Sigma plates, developed for labels and flexible packaging applications, along with our Varnica plate, for use in coating applications."
We will also bring our new DigiWash equipment to the market, a range of water wash processors for various plate sizes, such as the DW2735 and DW4835. The largest at this time is the DW4260 and is capable of processing analogue or digital 42" x 60" plates.
"It is our intention to set up a Demo Center, as we firmly believe that customers will want to see and feel the new plates and equipment. There is no doubt that there is a huge level of interest in water wash flexo plate technology and we aim to satisfy this demand. From our smallest plate cleaning equipment at a throat width of 17", to our largest processor at this time at 42" x 60", all equipment will be shown and demonstrated to our customers."
Dantex manufactures a wide range of plate mounting and anilox sleeves at its ultra-modern factory in Poland. Further opportunities for this product range will be investigated and, where possible, promoted to ensure customers receive every possible technical advantage for optimum efficiency in their converting operations.
The new entity will be called DantexRBCor and will operate out of the two sales centres located at San Marcos, California, and Aurora, Illinois, and it is Dantex's intention to retain the existing staff. Michelle Garza will join the new business as Operations VP and confirms "it's business as usual". DantexRBCor will exhibit jointly at the forthcoming Label Expo Americas event in Chicago and they look forward to greeting new and old customers alike at their booth, number 535.