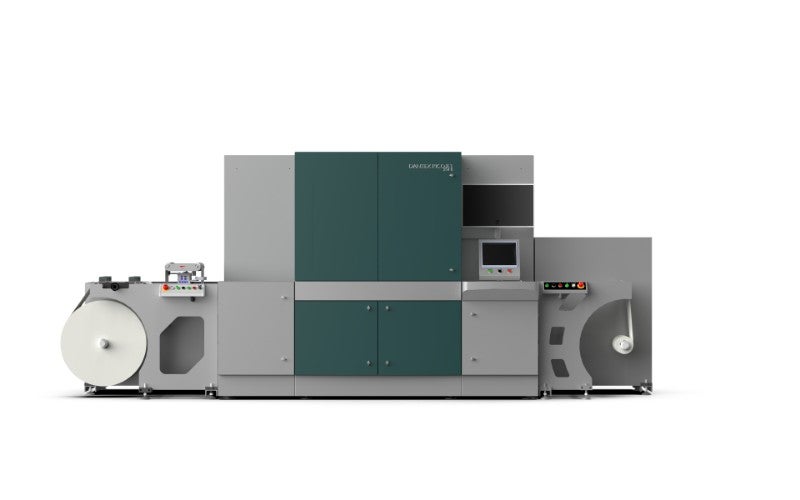 Part of the Dantex Group, Dantex Digital has recently announced the launch of PicoJet 254, a 10in (254mm) print width UV Digital Label Press.
Offered as a five-colour reel-to-reel UV system, the innovative PicoJet 254 can operate at a variety of speeds up to 75 metres per minute. The press is built for high volume printing capability offering production in excess of eight million linear metres per year. Thanks to the 2.5 picolitre droplet size and an effective resolution at 1200 x 1200 dpi, PicoJet 254 offers superior print quality. As a result of the fine resolution of this press, PicoJet is capable of printing micro text and the smallest of text point size. The software can also restrict the outline of the text, thereby enabling perfect readability even on the smallest of details.
The print system incorporates 'Web Stream Technology' – an automatic web reverse function minimising waste between jobs. An extremely useful additional feature of this press is the 'Automatic Splice Recognition' – allowing the print-heads to move out of the way of the splice during reel changes.
As with all systems in the Pico range, PicoJet 254 includes Dantex's proprietary software for the production of high-quality labels, together with all the image manipulation features inherent in the this highly sophisticated printing system.
Dantex's software team has developed an extremely sophisticated, yet easy to use front-end software system, which is available across the full range of Pico equipment. This software manages colour, ink and media and provides the operator with the facility to access and configure jobs within a single application environment. Press-ready files are processed automatically via hot folders and high resolution, colour-managed data is optimised for output. The software takes full advantage of the PicoJet ink set via its powerful spot colour matching facility and files can be exported with full accuracy of the colour match.
PicoJet 254 is also equipped with Dantex PicoPilot front-end controller, which provides the operator with the tools to deliver high quality, colour accurate prints, quickly and repeatedly. PicoPilot includes step and repeat functions, imposition templates, registration control and label counting. The highly useful label 'Cost Calculator' is also a standard feature.
The highly sophisticated paper transport system used on the PicoJet controls the paper run without displacement and maintains extremely stable reel-to-reel transfer conditions. The perfect resolution obtained from the print heads, together with the stable paper handling ensures high registration accuracy. PicoJet platform offers a highly accurate rendition for the output of QR codes, barcodes as well as other security printing requirements.
Dantex has developed the Pico range as a highly versatile platform, incorporating a digital UV inkjet system designed on different specifications to be able to offer speed, quality, versatility and cost of ownership in mind. All equipment manufactured by Dantex's Advance Engineering Team ensures the development of easy to operate systems, capable of producing high quality labels at different printing speeds.