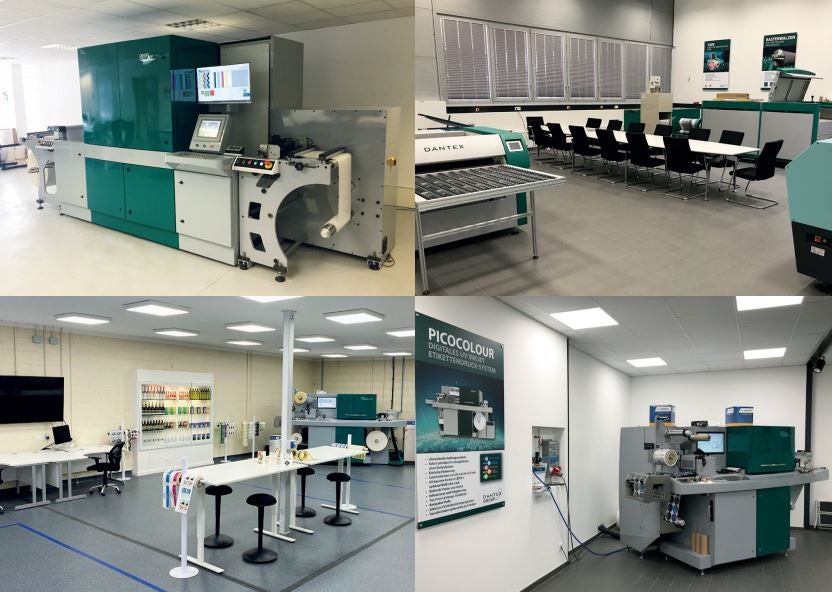 As a result of their decision not to exhibit at drupa 2021 due to the continued unstable pandemic situation of Covid-19, Dantex Group is instead channelling investments to establish state-of-the-art technology centres, located in the UK and Germany.
As a specialist supplier of UV digital presses, as well as water wash photopolymer plates and processing equipment, Dantex will be taking advantage of its new infrastructure to provide socially distanced on-site visits and events at the centres. For customers preferring not to travel, virtual presentations will be offered. The technology centres, based in Bradford, UK and Bensheim, Germany, will be used primarily to spotlight new technologies in their UV inkjet digital press line-up, specifically the high-speed, reel-to-reel PicoJet 254 & 330, in-line finishing options, as well as new plate processing equipment.
"It's unfortunate that we have had to take the difficult decision to cancel our stand at drupa next year. We have concluded that Covid-19 will continue to trouble all of us, especially in terms of travel and hospitality. We have therefore decided to focus on giving our customers the best possible presentation of our products, by using the latest technology services available," said Dantex Group Chairman, Richard Danon.
"Dantex will be providing a comprehensive showcase of our technology by every available means possible – whether that be in a virtual setting, video presentations or via open house events, whilst observing social distancing protocols. Our technology centres will be geared to deliver an immersive experience for those looking to learn more about our digital solutions, plates and processing equipment," he added.
As a regular exhibitor at industry events, Dantex Group will be closely monitoring the current situation with a view to returning to the exhibition circuit when it is safe and practical to do so. In the meantime, customers wishing to find out more about the Dantex products and equipment, either in person or virtually, are invited to contact Dantex at info@dantex.com or visit www.dantex.com.