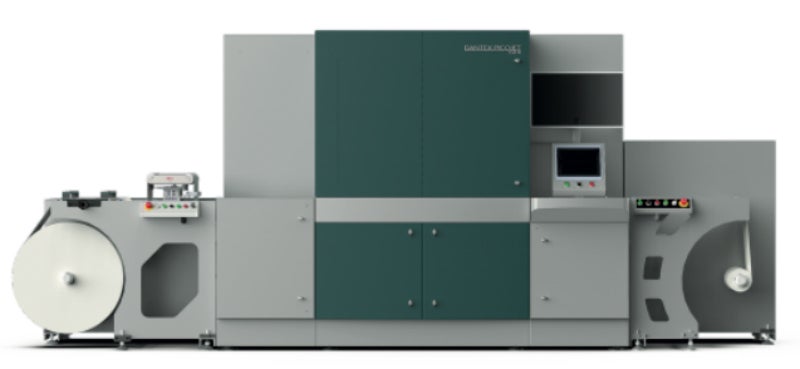 Dantex has been a regular exhibitor at Label Expo Europe, the largest label event in the world, since the 1980s.
Dantex's sole mission has always been to bring the latest label printing technology to the market; from the high-quality printing plates manufactured by Toray Industries, paired with self-designed and built processors, to the more sophisticated digital UV Inkjet digital printing presses that Dantex now offers.
PicoJet
At this year's Label Expo, Dantex will present its latest innovation: the PicoJet range, built by its advance engineering team at Kettering, UK.
The PicoJet 350RF modular digital platform with in-line finishing, ultra-high speed, high productivity label press will be showcased together with its sister models, PicoJet 350R and PicoJet 254R. These two will be shown as reel to reel production versions suitable for offline finishing.
All PicoJet models offer superior print quality and are capable of printing up to seven colours. CMYK + White + 2 are available with a range of user-friendly software and hardware options.
To meet today's digital requirements, Dantex Pico UV inkjet systems have been designed with speed, quality, versatility and cost of ownership in mind.
PicoColour 
The versatile and ever-popular PicoColour 210RF label press with inline finishing will also be running on the stand.
Designed to meet every requirement with no minimum quantity, no waste and a super-fast turnaround, Dantex Pico digital solutions provide fast, easy and cost-effective label production suitable for short and long-run jobs.
Rapidoflex
Dantex has also continued investment in traditional plates and processing and has recognised market demand for short print runs. To meet this demand, Dantex will launch the new Rapidoflex RF-M2 plate, an extremely high-quality water wash plate for UV Flexo.
RapidoFlex M2 offers VOC-free plate making in a short time of only 15 minutes, in conjunction with a new dedicated ultra-fast processor capable of offering fast inline/offlline plate making.
Pre-press and Press Solutions 
Dantex will also be promoting its extensive range of pre-press and press solutions, including water wash photopolymer plate materials, water wash processing equipment, plate cleaning systems, sleeves mounting tapes and anilox roller solutions.
Dantex Group is looking forward to welcoming all its customers to #3C15 in September.
For more information please fill out the enquiry form.