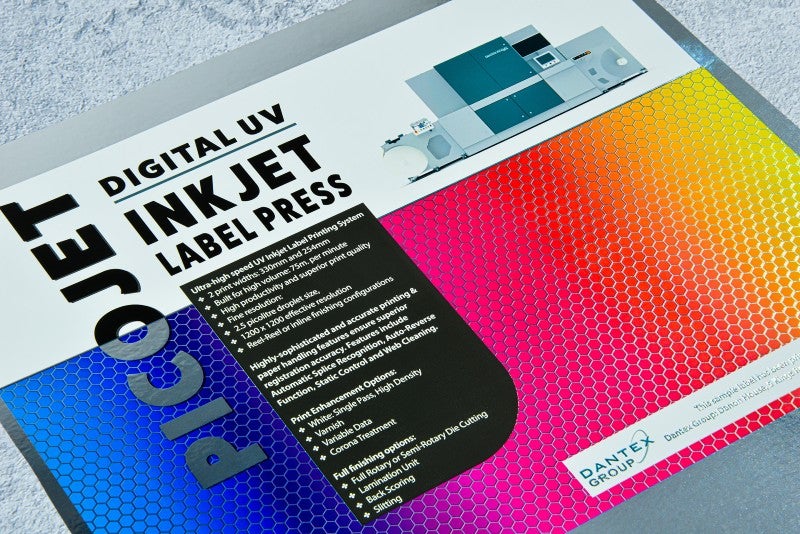 Recent successful onsite and online demonstrations of Dantex PicoJet and PicoColour, have shown how customers have been greatly impressed by the print quality offered by Dantex's UV inkjet systems. This is thanks, in large part, to Dantex's Intercolour Pinning technology.
There has always been some debate regarding the shape of dots between contact and non-contact printing systems. Whilst contact printing is able to place a dot that is well defined, in non-contact printing and especially in the early generation of inkjet technology, dots were not as well defined as we would have wished. The bigger the dot, the greater the weight of the dot, and therefore the wider spread of the dot, was the challenge facing digital printing system developers.
Dantex's Advance Engineering team looked at how the dot could be better controlled for improved laydown. A number of different ideas were explored, and finally Dantex engineers combined the benefits of "Inter-Colour Pinning" with edge defining software. The result was the laydown of a much-improved dot shape with virtually no satellite or spread. This technology was intergral to the highly successful PicoColour system thoughout its inception and has also been also applied to the PicoJet range.
This very beneficial functionality stabilises the ink and effectively fixes each colour, ensuring no ink spread and the ideal laydown of each colour on the previously printed colour. Richard Danon, Dantex chairman, commented "We are really proud of the work done by our Advance Engineering Team on Intercolour Pinning technology. We are making arrangements to introduce this innovation as standard technology feature on all our equipment, to be able to offer the best possible image printing capability to our customers. Thanks to advancing technologies in print head and software design, we have been able to achieve huge improvements in the quality or shape of the digital dot. Today, Dantex's generation of digital equipment is capable of offering incredibly fine designs, comprising sharp edge definition, as well as excellent screening capability".
Richard continues, "we wanted to develop PicoJet as a 'next generation' press as it utilises LED curing only, without the traditional Mercury Arc Lamps". LED lamps use up to 75% less energy as they turn on and off instantly and so no warm-up or standby is required. In environmental terms,
LED output is a much safer wavelength and it requires no extraction. Also, as virtually no heat is involved, Picojet has the ability to print onto a wider range of substrates.
Dantex PicoPilot software makes it easy to prepare jobs, print and switch substrate from production to production. This software also stabilises the ink and selects only the LED pinning lamps required to be used and turns off those in the non-image area. This ensures that the pinning lamps outside the web width are automatically turned off when running narrower substrates; this further ensures no chance of stray UV potentially coming into contact with the surface of the print heads.
Richard continues; "PicoJet range forms the basis of our mid-range equipment developed for high quality and high-volume work. Running at 75m per minute, PicoJet is (theoretically) capable of producing about 9 million linear meters of labels. Thanks to our inkjet innovative inter-colour pinning technology, as well as head configuration producing 2.5 picolitre droplets, we are able to reproduce excellent solids and tonal work on the equipment".
Following the successful introduction of the PicoJet 330, Dantex has now extended the range by offering a slightly smaller width of 254mm, which will be produced and marketed side by side with the 330mm UV inkjet press. PicoJet 330 can be expanded to print up to a width of 350mm according to customer requirements.
To find out more about Dantex products and equipment, either in person or virtually, please contact info@dantex.com or visit www.dantex.com.