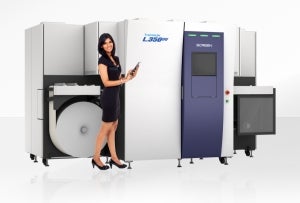 The European Digital Press Association (EDP) has voted the Screen Truepress Jet L350UV digital label press 'Best Label Printing Solution' in the 2014 EDP Awards.
Screen's Truepress inkjet system prints widths up to 322mm (12.6in) at up to 16.1m² (173.2ft²) per minute and produces photo-realistic images with simple maintenance.
The awards are selected by the EDP's technical committee of independent consultants and are based on innovation and the value of new technologies being introduced to the European market.
Screen Europe president Brian Filler said: "The Truepress Jet L350UV shows Screen's commitment to providing the label and packaging markets with high-quality, ultra-reliable imaging and digital printing solutions.
"The rigorous selection process for the EDP Awards means that only the best products win, so we're naturally delighted and honored."