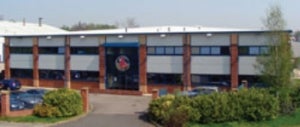 Specialist health print provider Jones & Brooks is a family-run business and supplier of print solutions to the NHS across the UK. The company has developed a wide range of products, which is used across a great number of hospital departments, from pathology laboratories to A&E. Additionally, Jones & Brooks offers a highly competitive standard printing service, in-house design service, store and supply capabilities, quick turnaround and online ordering, coupled with 135 years of experience.
Jones & Brooks sees innovation and investment as the best way to ensure customers' requirements are met in this ever-changing and demanding market. The company has recently installed some new items of cutting and folding equipment to boost finishing efficiency and quality, and even more recently have upgraded their pre-press facilities with Dantex.
Dantex DigiWash
Pre-press manager Martin Robinson said: "Prior to the installation of the new Dantex DigiWash system using the OP plate, production was plagued by excessive dot gain, where a 2% dot was printing at 40%. We had unbelievable results from the Dantex Optima test plates and a great deal of support and training from Dantex from the start and throughout the installation period. We invested in the new system and now get very high-quality printed results and up to an 18% reduction in dot gain. We now have a great deal of confidence in the quality we can produce and a greater understanding of the platemaking issues we used to have."
The plates are easy and fast to produce, and they experience no plate lift. Additionally, Jones & Brooks has since been able to print at a higher line screen and are now trialing full-colour jobs, which would not have been possible using their previous system.
Optima plates
"We had unbelievable results from the Dantex Optima test plates and a great deal of support and training from Dantex from the start and throughout the installation period."
The DigiWash system has been specially developed as an extended form of our highly successful AQF7900 combination unit. It has a dual-action wash, which gives far superior cleaning results, and an automatic brush-height adjustment option for different plate thicknesses. Aquaflex Optima flexographic plates allow high-speed processing and give excellent resolution, long press life and greater re-usability. It is compatible with all ink types including UV, water and solvent. It is available in a digital format with unique super matt black patented black mask carbon layer. Optima is achieving a print quality that is successfully challenging all other current options.
Insufficient colour strength can be an issue but Aquaflex achieves densities comparable with gravure. Traditionally produced solvent wash plates can leave images looking weak and insipid, and can suffer from heavy dot gain on highlights. Aquaflex Optima gives better colour strength and ink lay-down, leading to greater vibrancy, while its 1% minimum dot has printed as low as 3%-5% in flexibles so far. Optima has superior ink release characteristics and requires very little cleaning during printing and removal. Solvent plates want to lift from the mounting tape, hence printers edge-seal and use primers, with poor elasticity causing plates to have fit issues. Optima stays on the tape with no edge lifting, and both fit and register appear greatly improved. More importantly, common print issues normally associated with printing fine screens are overcome.
Star Plate
Jones & Brooks made the transition from using a standard chemical imagesetter for producing films to using Star Plate on Epson inkjet. Star Plate is a digital imaging solution designed for direct inkjet imaging to film with the ability to produce high-quality screening. Star Plate uses the actual dots of the original RIPped 1-bit data, preserving dot patterns, screening and dot gain calibration.
Star Plate's Actual Dot technology provides powerful imaging controls on inkjet printers to produce an extremely high-quality dot formation. The software is proven to produce fine solid line work and hard dots up to 175 lines per inch. The calibration setup creates calibration curves to suit different press dot gain requirements. Adjustments can be easily performed in the Star Plate allowing fine tuning of the calibration curve.