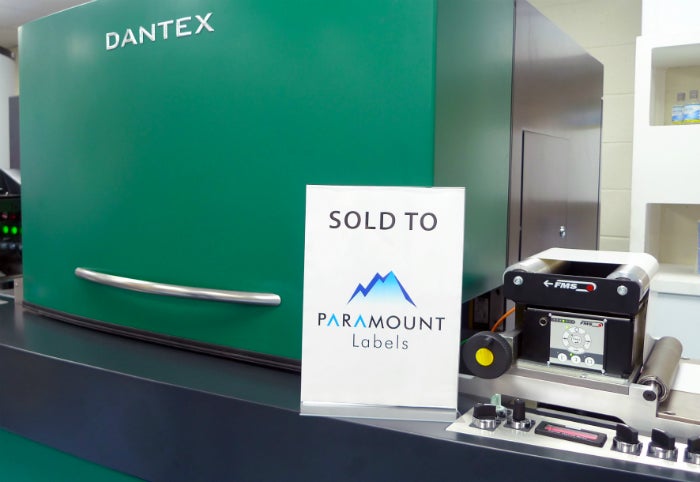 Leading label specialists Paramount Labels has recently placed an order for a PicoColour UV Inkjet Digital Label Press, manufactured and supplied by Dantex Digital, part of the Dantex Group.
The installation, scheduled for mid November, will complement Paramount's digital press offering expanding their digital capability to their growing customer base.
Delivering superb printing results, the PicoColour has been developed to address the continuing demand from major brands for value-added label and package printing. With a printing width of 210mm and running capacity of 35m per minute, the PicoColour is a versatile and highly productive printing system at a competitive price. The press works with UV-based inks and is available with CMYK + White.
Paramount Labels managing director Phil Wright said: "In creating a strategic move into new markets and opportunities, the PicoColour will be a fantastic addition to our digital offering. The team at Dantex guided us through the purchase process and have been exceptional in explaining the full capability of the press step by step, which in turn has enabled us to plan ahead.
"Supporting the British manufacturing economy is important to us, so the fact that the press is manufactured in the UK is a plus. We are looking forward to having the PicoColour installed so that our customers can benefit from the superior digital print quality."
Dantex's general manager Andy Abbott added: "With the majority of printers under market pressure to offer the benefits of digital print, shorter runs, flexibility, quick turnaround and cost-effective label solutions, the PicoColour was the ideal solution for Paramount Labels. We look forward to working together now and for their on-going digital requirements."
Dantex launched their digital division in 2015, having served the labels and packaging industry for nearly 50 years.