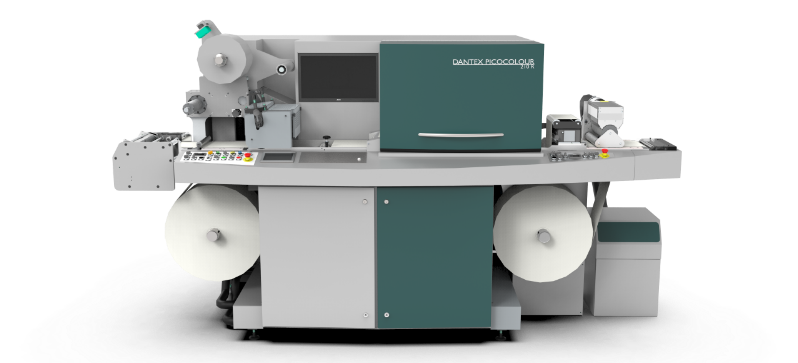 Syracuse Label & Surround Printing, award-winning, New York-based manufacturer of custom-made, printed products including flexible packaging, shrink sleeves and pressure sensitive labels has invested in a Dantex PicoColour UV inkjet digital label press to replace their aging digital press. The Dantex PicoColour will complement and markedly increase the company's digital capability to an expanding customer base. The company will take delivery of the new press in Q1 2020.
Today, Syracuse Label & Surround Printing runs multiple production lines in their newly expanded facility, utilising a number of technologies such as Digital Inkjet to manage the production of an impressive range of self-adhesive labels of different types, sizes and designs for a diversity of sectors.
Mark Howard, Graphic Services Segment manager for Syracuse Label & Surround Printing, says, "The investment in the Dantex PicoColour was specifically made to replace our inkjet digital press, which had reached its end of life. We decided to partner with Dantex to take advantage of the step-change in technology that the PicoColour offers when compared to our previous press. Providing four colours, UV white, corona treatment and in-line die-cutting, this impressive press will allow us to make our process even stronger, while significantly increasing our capabilities. We are super excited to add this press to our production floor!"
The PicoColour has been developed to address continuing demands from major brands for value-added label and package printing. With a printing width of 8.25in and running capacity of 82ft per minute, the PicoColour is a versatile and highly productive printing system, offered at a competitive price. The press works with UV based inks and is available with CMYK +white, with the option of a variety of additional features.
Commenting on the investment, Benjamin Danon, President Dantex USA, said: "The PicoColour is a fantastic model for SME printing companies entering digital inkjet and also for those replacing older digital presses. The press fits perfectly into the sector requiring fast turnaround, short or long run lengths, multi-variants and variable data. Dantex is perfectly positioned today to bring the next technological step to our global customer base."
Michelle Garza Dantex USA vice-president added: "With the market absolutely ready to accept inkjet as its future, Dantex USA is perfectly placed to supply this technology to customers who are either considering, or ready to invest in inkjet. Dantex USA will be showcasing the entire range of inkjet presses at Label Expo Chicago later this year".
Dantex launched their digital division in 2015, having served the labels and packaging industry for over 50 years.