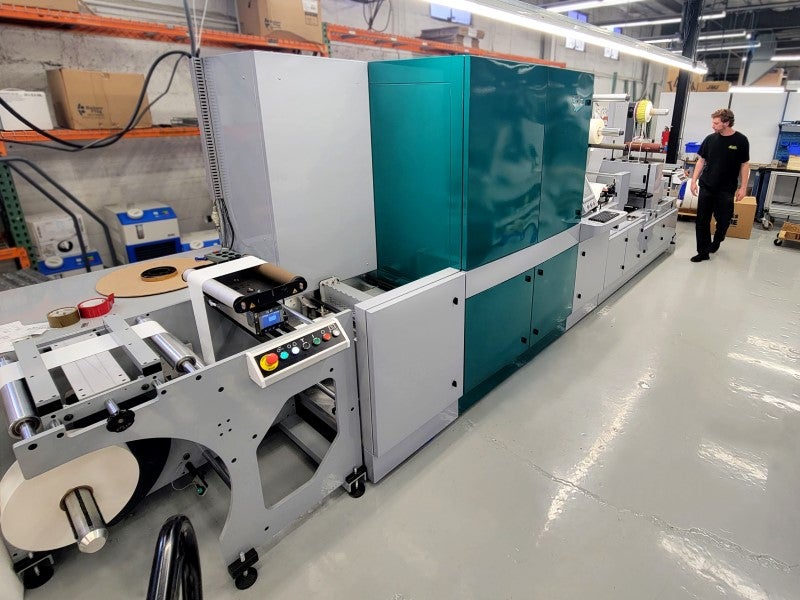 Dantex Group has supplied New Jersey-based label manufacturer, ModTek, with their flagship PicoJet 330s Digital Hybrid Label Press, built on a modular platform. PicoJet Digital presses incorporate a wide range of inline finishing options, including flexo stations, die stations, slitting, edge trim, cold foil and lamination. Other options are variable data, corona treater, mark sensor and Dantex's signature super white.
With the success of their first Dantex PicoColour Digital Label Press, installed in November 2020, ModTek has partnered up with Dantex again and purchased their second digital press from Dantex, installed in April 2022. When deciding to buy the PicoJet, Shawn Borman, owner of ModTek, said, "The PicoColour is an excellent entry-level machine, and it does everything that we need. The inks are highly durable, and the press is very user-friendly. We did, however, quickly realise that we needed more throughput. The PicoJet 330s is significantly more comprehensive, three times the speed of the PicoColour, and has superb print quality. In certain areas, we can complete 40 hours of work from the PicoColour in about ten hours on the PicoJet."
Having the PicoJet installed for a few months, ModTek is quickly seeing the advantages of having a fully integrated hybrid digital label press rivalling the capabilities of their conventional presses, in many cases exceeding their capabilities. Recently, Shawn explained how they needed to print a complex label on a metalised substrate. "An opaque white footprint with gradients would have been extremely challenging to produce using conventional screening. However, we were able to simply run the client file without any significant prepress adjustments on our PicoJet."
"Another plus is having a flexo station on our PicoJet; it enables us to transition from flexo to digital without changing substrates or constructions. We can also use unsupported laminations, which save money and is much quieter than a traditional self-wound lamination. Finally, the flexibility of adding to this press in the future is key – this is a true label press and fully modular." added Shawn.
In terms of new business opportunities, ModTek has found that the food and beverage industry boutique markets are an excellent fit for the PicoJet 330s, especially regarding seasonal items, where quantities are smaller and the demand for high quality is essential.
Ben Danon, the CEO of Dantex Group, commented on the investment: "It is great to see a success story like this. ModTek trusted Dantex to help them start their digital journey with the excellent PicoColour and then had the confidence in us to help them raise the bar to our flagship printing press. PicoJet is a fantastic digital press that sets new standards in digital print technology. ModTek is a true partner to Dantex, and we wish them much success with their new PicoJet 330s Hybrid."
PicoColour uses the latest Xaar 1003 printhead, which delivers exceptionally smooth print tones and solid areas, which are perfect for printing amazing lifelike images, pin...