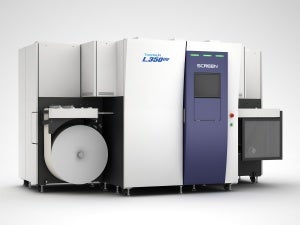 At Packaging Innovations 2014 Dantex will introduce Truepress Jet L350UV, a digital label press that delivers photo realistic quality and fast, stable output. Dantex's stand K12 will also feature the Dantex 1290 Label Press, ideal for short runs and variable data, plus the Star Plate and Star Proof systems.
Truepress: for high-speed, maximum efficiency printing
Truepress offers high-speed UV digital label printing for short to medium run. Jobs can be easily prioritised according to run length, material and finishing requirements. Job setup requires minimal time and offers ultra-fast turnaround and minimal downtime. Truepress is able to achieve a printing speed of 50m/min.
Dantex 1290: a compact, digital label printer
Based on a single pass 4-colour LED technology, using four print heads to produce 7,500 imaging dots, its colour scale technology is capable of scaling each dot to 16 different sizes for accurate, photo quality imaging. It is the ideal solution for fast, short run label print production.
Rapidoflex: the true solvent-free solution
A high-quality UV flexo plate designed for use in the narrow web label printing market, Rapidoflex offers ease of use and fast, clean processing. It is the ideal choice for quick turnaround flexo plate making, offering deep reverses, fine resolution, excellent ink transfer and wide latitude to maintain isolated dots.
Star Plate
A digital imaging solution for direct inkjet imaging to film for plate production. Star Plate's Actual Dot technology provides powerful imaging controls on inkjet printers to produce an extremely high quality dot formation. The software is proven to produce fine solid line work and hard dots up to 175 lines per inch.
Star Proof
An innovative dot proofing solution, which has the ability to produce up to 200lpi, high-quality proofs on inkjet printers, Star Proof is cost-effective, simple to use and produces realistic results.
Dantex will give presentations and information on these products on stand K12.