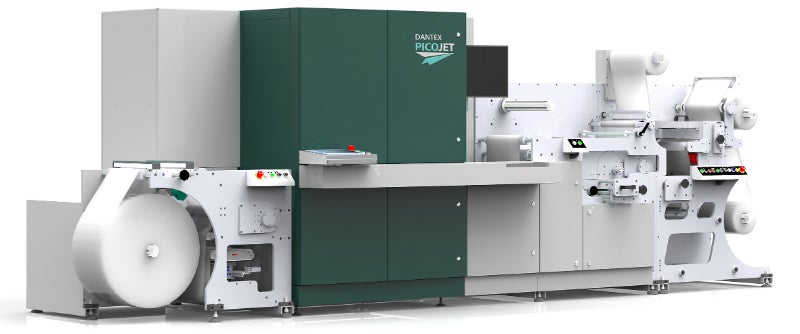 Following the success of their PicoColour UV Digital Label Press, Dantex will present its latest innovation, PicoJet Digital UV Inkjet Press at Label Expo Europe, Brussels.
Richard Danon, Dantex Group chairman, says: "It was a natural progression for our Company to consider expanding our range from PicoColour. We needed to go wider, faster and finer in resolution, and Ricoh became the partner of choice for us."
PicoJet, developed by the Dantex Advance Engineering Team, works at 350mm width and at 75m/min (250ft/min); using Ricoh heads, PicoJet offers 1,200dpi x 1,200dpi resolution at 2.5pl dot size. It is ideally placed for high quality and long run lengths. PicoJet is a 7-colour printing system, which can be custom configured to offer wide colour gamut printing. PicoJet includes static control, web cleaning and corona treatment for wide choice substrate printing capability, for which Ricoh heads are ideally suited.
Richard Danon adds: "At this year's Label Expo we are proud to present Ricoh inkjet head technology in our PicoJet, which is capable of printing high quality at high speed. Dantex has been delivering high tech consumables, equipment and services to the label printing industry for 40 years. It was important for us to choose a partner who was able to understand the high-end quality needs of our industry. The development of PicoJet required close technical collaboration with Ricoh, and thanks to their support we were able to meet the timetable to present PicoJet at this year's Label Expo.
Richard adds: "Ricoh has given us the ability to meet today's challenges, and their technology has given us the opportunity to develop a state-of-the-art inkjet printing solution for the Label Printing Industry."
Peter Williams, general manager, Commercial Printing and Industrial Printing Business Groups, Ricoh, said: "The partnership with Dantex further demonstrates our commitment to collaboration and empowering digital workplaces. We take pride in pushing the boundaries of inkjet print head innovation and look forward to supporting Dantex on their own exciting journey."
Dantex will be exhibiting on stand 3A20.