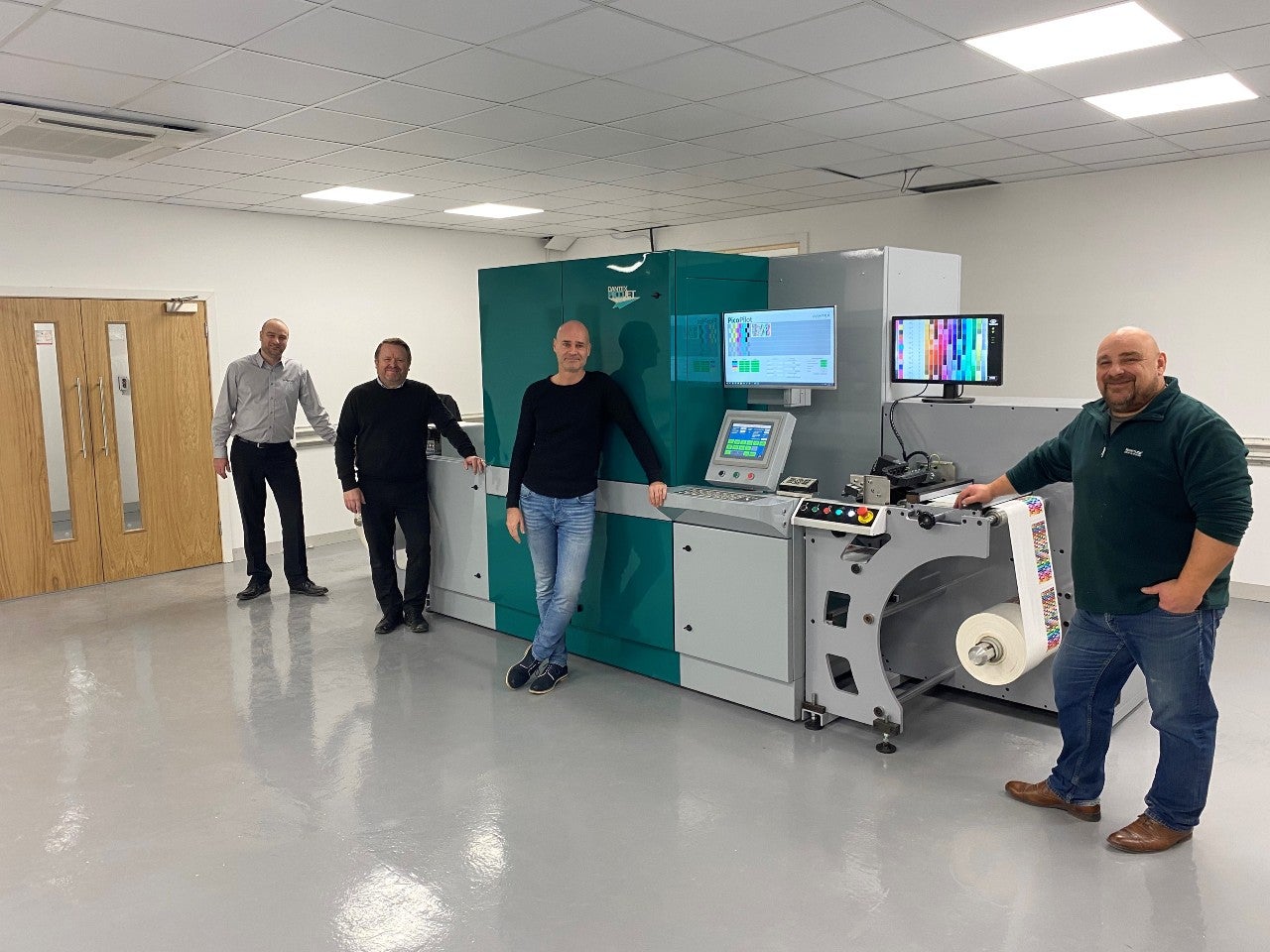 With a full order book of jobs in the offing, Norfolk-based Spectrum Digital Labels eagerly welcomed the delivery of its Dantex PicoJet 330 UV inkjet digital press at its premises recently. Engineers from Dantex Digital, part of the Dantex Group, had the press powered up by the end of the first day, and fully operational shortly after.
"The Dantex Digital team is brilliant – they all know exactly their roles in the installation process and their training is second to none. The whole process was textbook from start to finish and I'm absolutely bowled over by the whole experience," said joint founder and managing director, John Parker. "We currently have £1m worth of business ready to hit the press, so we are delighted to take delivery. We have 100% confidence in the press and its ability to process anything we throw at it – from 25 micron film to paper and card with excellent results."
If further convincing was required, both John and co-founder Ian Tregay saw the PicoJet 330 being put through its paces in testing at the Dantex Digital site in Kettering, where it produced an actual job for one of Spectrum's customers. "High quality, high volume digital label production….look no further than PicoJet!" said John Parker following the test. "With a speed of 75m per minute, we ran 1 million labels, 27,000 linear metres of substrate all in one shift for our customer Anglian Chemical Hand Sanitiser!"
John and Ian, Spectrum's sales director, established Spectrum Digital Labels back in June. During their lengthy careers in the print industry, both had developed a strong working relationship with Dantex, which helped provide the initial impetus for PicoJet 330 investment. The final decision to opt for the PicoJet 330 came after both founders had looked at other manufacturers ahead of the investment, but decided that no other presses matched the PicoJet 330 in terms of outright performance.
PicoJet 330 is a highly productive UV digital inkjet press, with ultra-high-speed production capable of producing more than 9 million linear meters of printed labels per year. As a five-colour printing system, it offers superior print quality thanks to its 2.5 picolitre droplet size and an effective resolution of 1200 x 1200 dpi. It also has a highly sophisticated transport system that controls the print run without displacement, whilst maintaining extremely stable Reel-to-Reel transfer conditions.
Profiling can be set up in minutes with simple adjustments to parameters when switching between standard substrates such as coated paper, PP, PE, Silver/metallic materials. The inking system offers superior laydown of each colour on the previously printed colour and maintains constant accuracy.
In addition, PicoJet's operator friendly PicoPilot software also makes it easy to prepare, print and switch from production to production.
PicoJet is a high specification CMYK printing system including, a recirculating ink system, web cleaner, specially designed ink delivery system, temperature-controlled backup roller, corona Unit and anti-static bar. This digital press also offers a range of optional features; clear white varnish (opacity at 86%), variable data, additional mark sensors, chilled roller, full rotary die cut station & matrix remover, lamination, backslitter and slitter.
Dantex's director of operations, Andy Abbott, said: "Both John and Ian know this industry extremely well and it's great that they have so much confidence in Dantex to deliver them an exceptional machine as the PicoJet 330. Spectrum is certainly powered by digital now and we wish them every success for the future."