As the world leader in digital imaging and print management solutions for commercial and enterprise printing, EFI is well positioned to meet the growing demand for high-quality digital colour printing through its three product categories: server and embedded controllers, industrial inkjet systems and professional printing software solutions.
Digital colour imaging technology
EFI is at the forefront of delivering innovative digital colour imaging technology to the printing industry with its award-winning solutions and best-of-breed, document management tools integrated from creation to print.
Headlined by EFI's flagship Fiery® brand, the company's core business transforms digital copiers and printers into networked printing devices. Networked EFI-powered printers and copiers can be shared across workgroups, departments, the enterprise and the internet to quickly and economically produce high-quality colour and black and white documents.
Fiery production solutions are designed for customers in mission-critical environments, such as high-end graphic arts, design firms, commercial printers, and pre-press businesses, delivering value-added applications that enable these customers to maximise their digital printers. EFI workflow software enhances productivity across the production printing job cycle, from pre-press to digital or offset print production. EFI's consistent, intuitive user interfaces reduce the potential for operator error, streamline complex job cycles, and decrease job completion time, leading to maximum productivity and profitability.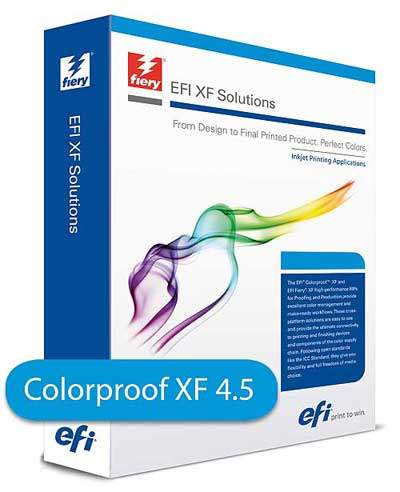 EFI's Colorproof XF 4.5 boosts colour quality and productivity for large to super-wide format printers.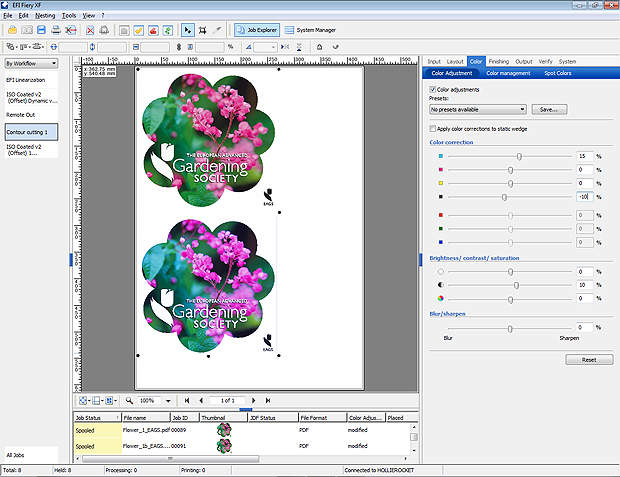 Fiery XF allows you to make last minute colour corrections and still stay on schedule.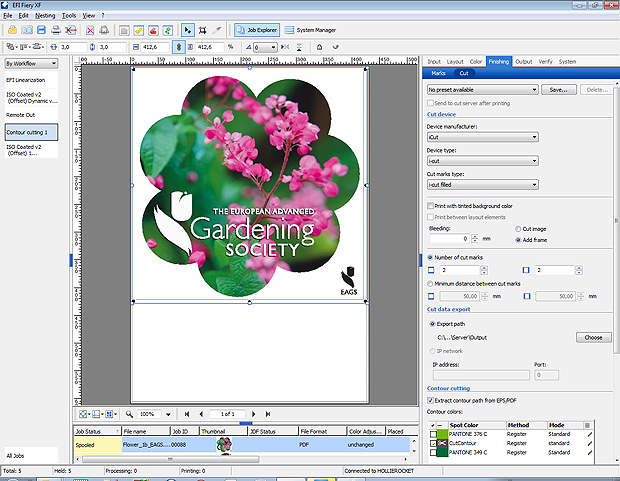 Fiery XF comes with powerful production tools, preview features and layout and editing capabilities, such as this cutting path.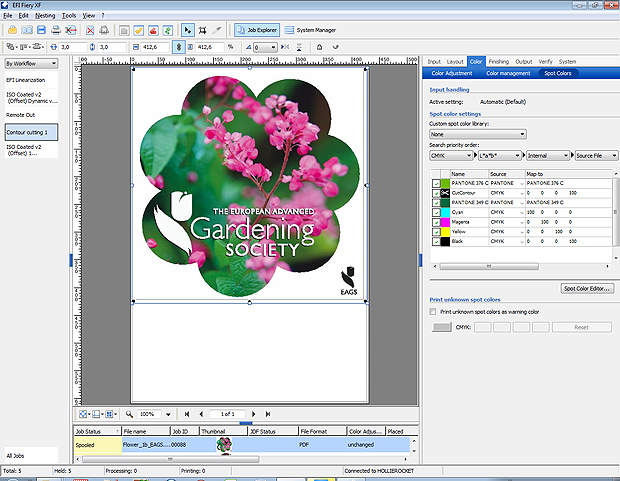 The Fiery XF spot colour option enables you to easily manage, simulate and optimise spot colors. Unknown spot colours also can be quickly defined or simply linked to known spot colours or to specific printer inks.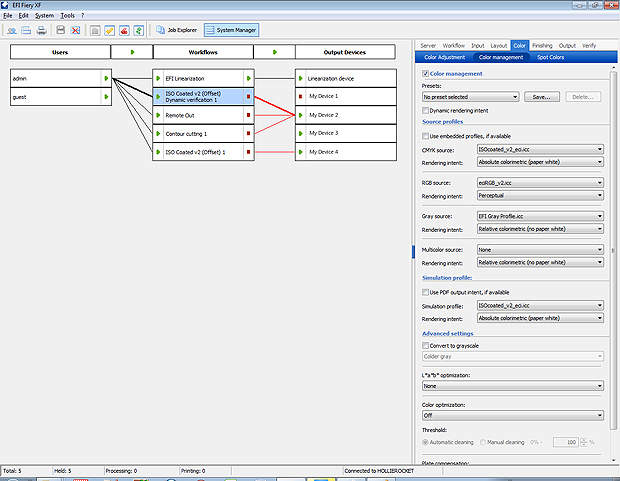 The XF 4.5 increases your productivity by automatically integrating all elements of your job processing and by providing you with a workflow.
Digital printers and inks
The VUTEk® product line delivers the industry's leading digital printers and inks for the fast growing super-wide segment of the professional print market. Customers include commercial printers, screen printers, photo labs, sign shops and reprographic houses that print on a variety of grand format surfaces, including paper, vinyl, corrugated, textile, glass, plastic, and nearly any other flexible and rigid substrate up to 2in thick.
Eco-friendly UV printers and custom printing
EFI's Rastek line of environmentally-friendly wide format UV printers, with excellent functionality and quality at a slower print speed and smaller machine size, target smaller print shops. The Jetrion product line-up includes inkjet printers, inks and custom printing systems for the label and packaging industries, including hybrid digital printing systems, which handle variable printing and a full colour UV inkjet label press.
Print MIS, web to print and proofing solutions
EFI's advanced professional print software business comprises software products for graphic arts and commercial print customers, including print MIS, web to print and proofing solutions. EFI proofing solutions like Fiery XF and eXpress allow professional printers to accurately and affordably proof colour documents before sending them to an offset printing press. By skipping traditional proofing methods, professional printers save time and reduce costs-without sacrificing the quality of their final printed output.
EFI print management solutions provide the foundation for connecting all prepress production and business management processes together, including specification, estimating, planning, purchasing and costing. They enable printers and print buyers to improve productivity and reduce costs. EFI web to print solutions provide intuitive user interfaces that increase customer satisfaction and collaboration while reducing operator error, streamlining complex job cycles and decreasing job completion time.