GPac™ Environmental Pallets Classified as Reconstituted Wood Product by Australian Quarantine and Inspection Service (AQIS)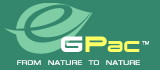 GPac™ environmental wood pallets are compressed under high heat and classified as a reconstituted wood product by the Australian Quarantine and Inspection Service (AQIS). According to condition C10219 found on AQIS' import conditions database (ICON), 'Reconstituted wood products are not of interest to quarantine as they are deemed to pose minimal quarantine risk and can be released without inspection. Reconstituted wood products are those that as a result of the manufacturing process no longer contain solid wood.'
In addition, there is no requirement to declare timber on the packing declaration if the product is classified as reconstituted wood product.
About GPac™ environmentally friendly wood pallets
GPac™ environmental wood pallets are manufactured in Malaysia, with an expanding distribution network in countries such as Singapore, Malaysia, Thailand, the Philippines, Australia, New Zealand and India. GPac™ pallets are used by various industries, including electronics, chemical and food, for both in-house and export.
GPac™ Technology is committed to product innovation and has patented design, technology and formula for its compressed wood pallets. GPac™ Technology is an ISO 9001 company and has been awarded the Singapore Packaging Star Award and the Asia Star Packaging Award. For additional information visit GPac™ Technology's website.