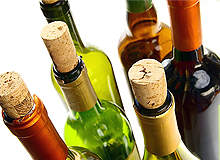 Each year, the UK consumes around 1.3 billion bottles of wine. Ignoring the obvious alcohol-related social and health issues, this figure highlights how significantly the wine sector contributes to the UK's overall waste production – it is now estimated that glass wine bottles contribute approximately 560,000t of glass to the UK household waste stream.
Unsurprisingly, the UK Government and the wine industry have turned their attention to reducing this amount of glass and what better place to start then with the wine bottles themselves. The average weight of a wine bottle sold in the UK is 511g with glass wine bottles varying in weight from as little as 300g to as much as over 1kg.
Since 2006, however, the average weight of a wine bottle sold in the UK has decreased by 24%, thanks in part to Waste & Resources Action Programme's (WRAP) GlassRite scheme. The organisation works with the international wine community to encourage the use of lighter-weight glass wine bottles in the UK as well as increase the use of recycled content in UK green glass bottle manufacturers.
Fair trade
The UK's Wine and Spirit Trade Association (WSTA) – which represents over 310 companies producing, importing, transporting and selling wines and spirits – has been closely monitoring and supporting the actions of WRAP for the last few years. Gavin Partington, head of communications at WSTA, says he believes the industry is now taking its own steps to promote a more environmentally sustainable future.
"WRAP works with the international wine community to encourage the use of lighter-weight glass wine bottles."
"Certainly one of the reasons we became involved with WRAP and its GlassRite project is that we recognise this is an important area for the future of the industry. A lot of companies are now taking their own steps to look at their carbon footprints and examine the materials they use to see if there are alternate options," Parrington says.
"The scale of import of wine bottles is a significant issue. Companies are now looking into the different options available – such as importing in bulk and bottling locally – which can also have massive commercial benefits as well as helping the environment."
As an independent trade body, WTSA offers impartial advice and information to its members regarding best business practices.
The organisation is a strong advocate of the economic benefits of both lightweighting and bulk transportation and has recently put together its own carbon calculator in conjunction with logistics giants JF Hillebrand, which allows businesses to estimate the savings from implementing such measures.
"The logic behind putting these measures into action is that they can actually have an economic benefit across a company's entire supply chain. Competitive companies will always want to reduce costs and these are areas which they can do so while simultaneously reducing their impact on the environment," Parrington says.
Weighing up the options
UK-based WRAP has worked with more than 80 partners in the international wine supply chain to promote GlassRite and has so far reduced the industry's overall waste production by 27,000t of glass a year. Yet as Nicola Jenkin, key account manager and drinks specialist at WRAP, is quick to point out, the wine sector wasn't initially so keen to change.
"Our first move was to expose some of the myths that had prevented the industry from moving, such as consumers wouldn't like lighter bottles or that lighter bottles will break more easily during shipping. We carried out research which indicated that light-weighting does not damage brand equity nor does it have a direct correlation to the strength of a bottle," she says.
"Things such as reducing the shoulder shape can drastically reduce a bottle's weight."
"What WRAP has tried to do is provide information for the wine sector that it can use to implement change more quickly than it would have perhaps done otherwise.
Since we first launched the project in 2006, the impetus and drive has become increasingly in the hands of the wine sector, which is showing greater evidence of actively and positively promoting lightweight bottles."
The speed in which the wine sector has moved towards lightweight bottles in recent years may come as a surprise given the traditions surrounding the design of wine bottles. To cater for the "traditionalist" thinking companies – whose customers demand a classic bottle and cork format – WRAP has tried to offer lightweighting solutions for all different areas of the wine sector.
"The consumer really is critical, especially with the wine sector, which has such a vast cross-section of different wine ranges. A company has to be very aware of where they sit in the market and what lightweighting can offer them. There are some huge changes that can be implemented which affect both the bottle's shape and height," Jenkin says.
"Things such as reducing the shoulder shape can drastically reduce a bottle's weight but it leads to a shorter and stumpier design, which may only be suitable for budget wines. What we have discovered is that premium bottle designs are usually slim and taller so in order to maintain that height, WRAP recommends removing glass from both the wall of the glass and from the 'punt' [the dimple at the bottom of a wine bottle]."
WRAP has therefore developed a three-tiered approach to lightweighting, which recommends budget wine ranges (priced below £5) move towards a 300g bottle, core ranges (priced between £5-£10) move towards a bottle below 400g and premium wines (priced above £10) aim for a bottle between 400g and 600g.
"The wine industry is now starting to sprout some high-profile lightweighting success stories."
The highs of lightweighting
The approach seems to have worked, and at this year's London International Wine Fair, WRAP was able to witness firsthand the change in mentality across the wine sector. "When we first attended the London wine fair in 2006, there was a lot of confusion about what WRAP was and what it was doing there. Four years on and we had a sold-out industry briefing where we had a number of speakers from within the industry – including brands retailers and glass manufacturers – showcasing their success," Jenkin says.
The wine industry is now starting to sprout some high-profile lightweighting success stories. UK-based food chains Tesco and the Co-Operative are two examples of retailers which have been very proactive in experimenting with lightweight bottles. Both have successfully moved towards the 300g bottle and now boast the world's lightest screw-cap bottle. Equally important, glass manufacturers such as Quinn Glass have played their role in helping to introduce the 300g wine bottle in the UK.
"Table wine alone contributes over half a million tons to the household waste stream – higher than any other food or drink category that we consume at home. If you look at the amount of glass we have already been able to reduce, it is essential we continue the momentum and that WRAP is able to provide the support the wine sector needs to make that change towards lightweighting," Jenkin says.