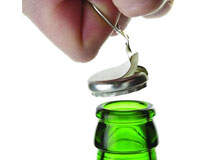 French soft drinks group Orangina Schweppes says its packaging development is based around four principles: design, sustainability, functionality and convenience.
"Design, in that we see packaging as a way to differentiate and add value to our brands; sustainability, because, as a socially responsible company, we strive to minimise the environmental effect of our activities; functionality, because packaging is not only a product carrier but an element that supports our product quality strategy; and convenience because we have a format strategy to make products available to consumers at every consumption opportunity," explains Orangina Schweppes packaging development and innovation engineer Elodie Juillot.
"The latest round of development in PET has seen Orangina Schweppes' 150cl PET bottle slim down by 10.4% to 43g."
SABMiller follows a similar strategy, with sustainability playing an integral part. According to corporate affairs director Pawel Kwiatkowski, the group's packaging strategy is based on two pillars: sustainable development priorities and consumer insights.
Approaching sustainability
Sustainability is approached in different ways, with one being the drive to reduce the weight of glass, metal and PET containers.
"An ongoing trend is for lightweight packaging," says Bericap sales and marketing director Volker Spiesmacher. "The reasons are different: on the one hand, everybody wants to reduce their raw material costs. On the other, in saving raw materials, companies fulfil one of their environmental targets, which is the reduction of greenhouse gas emissions, thereby improving the carbon footprint of the package."
The latest round of development in PET has seen Orangina Schweppes' 150cl PET bottle slim down by 10.4% to 43g since 2008, with the target weight of 40g by 2011 in its sights. Nestlé Waters has broken the 10g barrier with its 0.5l Eco-Shape bottle for the North American market. The slimline bottle weighs 9.3g and uses 25% less plastic than its predecessor. In Europe, meanwhile, Nestlé Waters has shaved 20% off the weight of its 150cl bottle.
For alcoholic drinks, lightweighting projects have seen glass bottle weights falling. Anheuser-Busch InBev has reduced the weight of its 284ml Stella Artois bottle for the Western European market by 7%. In Eastern Europe, SABMiller's Czech business, Plzeský Prazdroj, has completed a lightweighting exercise to reduce the average weight of its glass bottles to 0.64g/ml and in Hungary Dreher Breweries has changed its refillable bottles to a 15% lighter bottle type and reduced the weight of its cans by 2.3%.
Conscious containers
Another way of increasing the sustainability of soft drinks packaging is the use of post-consumer recycled (PCR) PET. A few years ago, just a handful of brands were incorporating rPET into containers, whereas most major soft drinks companies have an rPET inclusion policy. The Coca-Cola Company, for example, has a target to source 25% of its PET from recycled material by 2015.
Today, the company uses up to 50% recycled content in individual bottles, whereas arch-rival PepsiCo has pledged to incorporate at least 10% rPET in its soft drinks containers in the US and expand the use of rPET across key international markets. In comparison, Orangina Schweppes is using 50% rPET in its Oasis Thé and Pulco Citronnade bottles.
"The Coca-Cola Company has a target to source 25% of its PET from recycled material by 2015."
However, supply deficits mean there is a limit to how much recycled plastics manufacturers can get their hands on. Consequently, some beverage producers have been exploring sustainable raw materials, such as bioplastics, that can be sourced more reliably and conveniently. Coca-Cola has recently developed PlantBottle, a PET plastic bottle made from a blend of petrochemical-based materials and up to 30% plant-based, renewable materials. The bottle is 100% recyclable in the existing PET stream. Sustainability might be the overriding factor influencing packaging design, but it is by no means the only one.
Adding value to packaging
"There is an ongoing desire to add value and to differentiate brands through the pack format," says Rexam beverage can breakthrough innovations manager Steve Howell. Broadly speaking, there are two ways in which beverage producers are adding value: making packs more functional and increasing their aesthetic appeal.
Aluminium bottles are another resealable option being embraced by beverage producers. "They offer all the benefits of a beverage can – cold to the touch, light and recyclable – and fuse them with the aesthetics of a bottle," says Howell, whose Fusion bottle went into full production in the first quarter of 2010.
One of the most high-profile examples of added functionality is the Ball Resealable End, which was developed by Ball Packaging Europe in collaboration with Coca-Cola and is being used to energise burn cans in France, the Netherlands and Switzerland.
Alcohol innovations
Another World Cup-inspired innovation, much like the limited edition 'alubottle' Budweiser bottles, was the full aperture end or 'can cup' which made its debut at the World Cup on the Castle Lager brand from SABMiller's subsidiary, The South African Breweries. "The entire can lid can be removed, turning the can into a drinking cup and providing an exciting alternative to traditional cans and glass bottles that are prohibited at stadiums and arenas," explains Crown Bevcan Europe & Middle East marketing director Caroline Archer.
Like the 'can cup', most packaging innovations in the beer market aim to enhance the user experience. Diageo's overhauled Guinness can for the UK market has a wider mouth and carries instructions to help achieve the perfect serve by ensuring the correct temperature, time and tilt. Meanwhile, since July 2010, SABMiller's Polish brand Lech has come in an 'easy to hold' can with side panels embossed with spots.