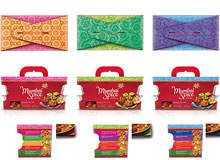 As consumer choice steadily expands, food producers and other suppliers are forced to fight hard for prime retail real estate. Products that lack sufficient sales are quickly swept aside in favour of the many competitors itching for a larger slice of the customer's eye line.
A good product should speak for itself once a shopper takes it home, but what is the best way to convince consumers who are spoilt for choice that one particular product is worth trying over the others? Millions of dollars are spent every year on elaborate advertising campaigns to do just that, but innovative packaging design can be an economic way to communicate with the consumer on the shop floor, where purchasing decisions are made and products live or die.
Brand and designer: a packaging partnership
One of the most important aspects of creating good branding in packaging is establishing a collaborative relationship between the brand and the design team. This allows any packaging project to reflect the objectives of the brand and enhance the way in which it communicates with its customers.
For Kate Bradford, managing director at packaging design firm Parker Williams Design, collaborating with clients is a vital part of the process. "What's important is that we're very clear in sharing and explaining our thinking and having the clients understanding where our thinking is going, and where our creative approach is going," she says. "Obviously, anything that you do needs to be done in a brand-relevant way."
"Innovative packaging design can be an economic way to communicate with the consumer."
Few mainstream packaging concepts can afford to be thought of as just a standalone item. Designers also have to think about the retail space in which the product will be placed, and how best to elevate that product from its rivals. "The packs that you see performing most strongly are the ones which have a very strong sense of brand and consider how they need to perform within a shelf block versus competitors," says Bradford. "If you're designing for a brand that is in a very cluttered, noisy category, actually having a little bit of clear space on a pack can help it stand out against the competition."
An example Bradford cites for grabbing the consumer's attention is the packaging for Mumbai Spice, a new range of high-end Indian ready meals that Parker Williams worked on for Noon Products, which is served in an easily portable banquet box.
"For that we used very rich colours and Indian fabrics as the graphic on the top lid of the banquet box, these wonderful jewel-like colours that stand out on the shelf. But in the die cut of the handle, as well as the die cut window on the side of the pack that would allow you to see through to the inside, we've echoed those Indian shapes. Simple die cuts actually help the packaging stand apart without a massive on-cost in the packaging. That sort of small detail gives quite a significant point of difference."
Trending topics
Just as the advertising industry has to keep two fingers on the pulse of society to identify emerging trends, so too does the consumer packaging industry. For example, the reduction of packaging materials for the benefit of the environment is something that the general public is becoming increasingly aware of as the virtues of recycling and conserving materials is extolled by governments and awareness groups.
"Designers have to think about the retail space in which the product will be placed, and how best to elevate that product from its rivals."
Gillian Garside-Wight, packaging technology director at packaging consultancy Your Packaging Partner (YPP), notes the trend. "There has been a drive towards reduction for environmental reasons as well as reducing the associated cost," she says.
"Customers don't necessarily purchase a product based on less packaging, but I do think it's a positive added extra that factors into a purchasing decision."
It's not as simple as taking a trend like material reduction and applying it to all brands, however. As always, the relationship between individual brands and their customers has to be considered.
"It's about understanding the profile of the customers going forward, because the customer base can make a huge difference to what is termed sustainable," says Garside-Wight. "They determine, for example, the disposal infrastructure they've got available to them. For example, if you've got a more premium retailer, their customer profile is more likely to compost packaging, so you'll see more compostable packaging in high-end retail rather than budget retail."
Bringing innovation into packaging
Premium retail spaces can give designers the opportunity to be more creative with packaging, pushing concepts to innovative and occasionally wacky new levels. Parker Williams, for example, recently conceived the packaging for high street lifestyle store Oliver Bonas' new range of collectable jewellery, called Ju Ju. The company came up with a new idea for using the packaging after it had been opened – it folds into a photo frame.
"We wanted it to feel very special and gift-worthy for the recipient as they were unwrapping it, and that's when we decided to use the idea of the photo frame as something that can both display the product in-store but then actually has a bit of use afterwards," says Bradford. "It's all about how you can enhance the brand experience and think about packaging and all its possible uses, in the broadest sense."
Ideas like the folding photo frame provoke a reassessment of what simple packaging can achieve with a little imagination. But, as Garside-Wight points out, a lot of innovation simply comes from taking a familiar idea and applying it in an unexpected way.
"From a visual perspective, it's not always about brand new packaging formats, it's about utilising packaging formats that are being used in other sectors and applying them to a new category. For example, stand-up pouches in the last couple of years are being used for ready meals, which has historically never happened; it was always a tray and sleeve."
Indeed, Your Packaging Partner worked on the packaging for UK supermarket Asda's Fresh Taste range of ready meals, sealing the meals in pouches to reduce excess packaging and to allow the colours of the food to entice the customer into making a purchase.
"Premium retail spaces can give designers the opportunity to push concepts to innovative and occasionally wacky new levels."
Innovation in an industry like packaging will always be a case of making baby steps. This is not because the industry is uncreative, but because it must not outpace the comfort zone of the customers it is targeting. The most appealing consumer packaging concepts are those that mesh seamlessly with the demographics of a particular brand's customers.
"We always keep the customer right at the very heart of our thinking," Bradford says, "because at the end of the day our design for any brand is about affecting people's behaviour and purchasing patterns. So putting the consumer at the heart of those considerations is crucially important."
Although the customer is king when it comes to dictating perceptions of brand and the acceptability of new packaging ideas, there is plenty of room within the industry to experiment by moulding existing concepts for new markets and subtly improving on tested formulas. As Garside-Wight says, "True innovation doesn't happen very often, but ideas evolve and they transfer from one category to another."